New features improve interoperability within the Adobe family and add significant improvements to audio.
In honor of IBC, Adobe updated its video tools, new features, and long-awaited fixes. In addition, Adobe introduced new mobile tools called Project Rush. This latest update pushes Adobe's video tools into new territory and gives it more power for finishing as well as animation and immersive content.
As the film and video industry moves into awards season, Adobe is highlighting the films made with its tools including the new Robert Redford movie Old Man and the Gun directed by David Lowry (Ain't Them Bodies Saints), the Coen Brothers' The Ballad of Buster Scruggs.
Adobe talks about their updates in a new blogpost. The company has gone through and improved its tools to ensure they work better with the rest of the Adobe's creative tools as well as with third party tools, etc. Adobe says the emphasis this time is to streamline workflows and eliminate tedious tasks. Adobe is also adding more power to its computer graphics tools and also its streaming animation tools including characterizer, which enables users to make their own puppets using photographs.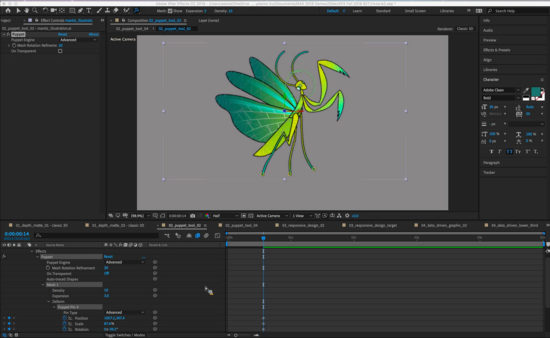 Probably the most important message from Adobe at IBC this year was an almost offhand statement about offering optimized outputs for every platform. On the face of it, that hardly seems revolutionary. Adobe and its competitors have to offer a variety of output formats to meet the keep up with the rapidly changing digital media landscape and to create content that goes where the audience is. But, Adobe also promises to enable creators to customize their content for their target platforms and that includes new formats including immersive. In addition, the company has added new templates and content to Adobe Stock including motion graphics content, video effects, etc.
Adobe's animation tools have gotten more updates as people put them to work. Adobe says that many of the improvements have come through their Sensei technology for artificial intelligence and machine learning. Adobe has updated the Puppet Engine tool with more powerful options for pins to control movement of puppets, parts can be bent, scaled, and warped using the Mesh Sculpting features. The new Characterizer lets people capture or create a face and turn it into a puppet, which can be controlled by camera and microphone. The images can be stylized in a variety of ways. These tools were introduced last year at Adobe Max, so they don't come as a huge surprise to Adobe's followers, but they are an interesting direction for video tools. They fall into the "because we can" bucket for Adobe and that's a very deep bucket.

In addition, Adobe has tackled audio in Audition, with new automatic tools including DeNoise and DeReverb. The new "intelligent cleanup tools" can automatically recognize reverb and random noise and can take it out but also users can dial down the degree of cleanup they want to avoid an unnaturally cleansoundtrackk. Actually, we can't say enough about the Audition tools; it's really pretty magical what Adobe has enabled for audio.
Color grading is an advanced skill in video content creation, and this is an area where Adobe has put considerable effort into making it easy for anyone to make color adjustments and match colors. It's easy for the average person who dives into the realm of color correction to get lost and lose control of their work. The new tools in Lumetri provide a baseline to work against making it easy to see the effects of the adjustments and to easily get back to the starting point. Users can set and stay within the proper color space and presets can be sure the color is consistent throughout the piece. The Lumetri selective color grading tools are available in Premiere Pro and After Effects.
Other new features include the ability to create Motion Graphics templates using data from spreadsheets to create information graphics like animated graphs, stylized data visualizations, etc. By linking to spreadsheets the data can be updated and dynamically driven. Adobe's Motion Graphics templates are, by the way, pretty spectacular on their own. They are packages of effects that can be applied in Adobe Premiere and open up new creativity for people who have their hands full just getting projects done, but who would love to add effects and a little flair.
Other new features include new tools for 180-degree immersive content in Premiere Pro and After Effects including optimized ingest, effects, and output to Google VR180.
Adobe has updated its Team Projects tools to enable team members to collaborate. Adobe is not supporting cloud-based collaboration. The company says it does not, because its customers do not want it because of security reasons. This was a theme we heard quite a bit at IBC.
Finally, Adobe has integrated stock workflows into Premiere Pro and After Effects with the Essential Graphics panel. Check this out on Adobe Stock, these are really nice touches that can add a bit of professionalism. Other video products, most notably Corel offer quite a few effects, images, fonts, etc. What Adobe is doing really well is making it accessible. What also helps is that Creative Cloud is a central portal for all Adobe Products, features, add-ons, and customer creations. Adobe is making the most of their inherent edge with tools that most artists use at one point or another in their workflows.
All these new features and more are coming with the next release of Creative Cloud. No one is putting a firm date on it, but expect to see more when Adobe Max rolls around in October.
For a more in-depth look at what Adobe was up to at IBC 2018, check out their YouTube channel.