New brushes, AI features, performance improvement, and Sidecar support.
Painter Essentials 8, the latest addition to Corel's Painter family, has arrived. Painter Essentials is essentially a slimmed-down version of Corel's high-end painting tool Painter for digital artists which sells for $429 on the Corel site. The Painter Essentials tool is $49.99.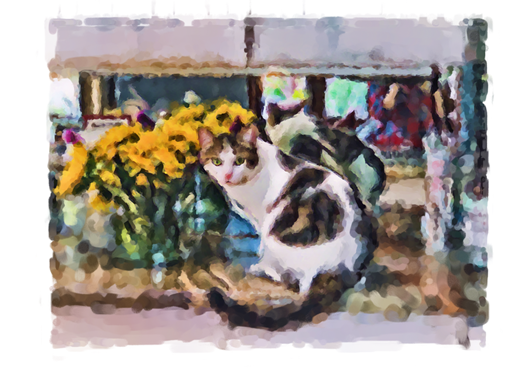 Slimming down Painter isn't a bad idea for artists and hobbyists who like the idea of using photos or other digital images to create new art because Painter has many options that digital artists use but that can be bewildering for people who have more simple objectives. Painter Essentials has been built using a sample of Painter's capabilities curated by Corel's community of artists.
In this new release of Essentials, there are 23 new brushes and all the brushes have been better organized according to their capabilities. Corel has added a painting menu that makes it easy to go straight to Auto-Paint, and let Painter Essentials dab away in a chosen style to create a painted version of a photo but it's hard to imagine anyone staying very amused at that for very long but sometimes that's just the effect you're looking for.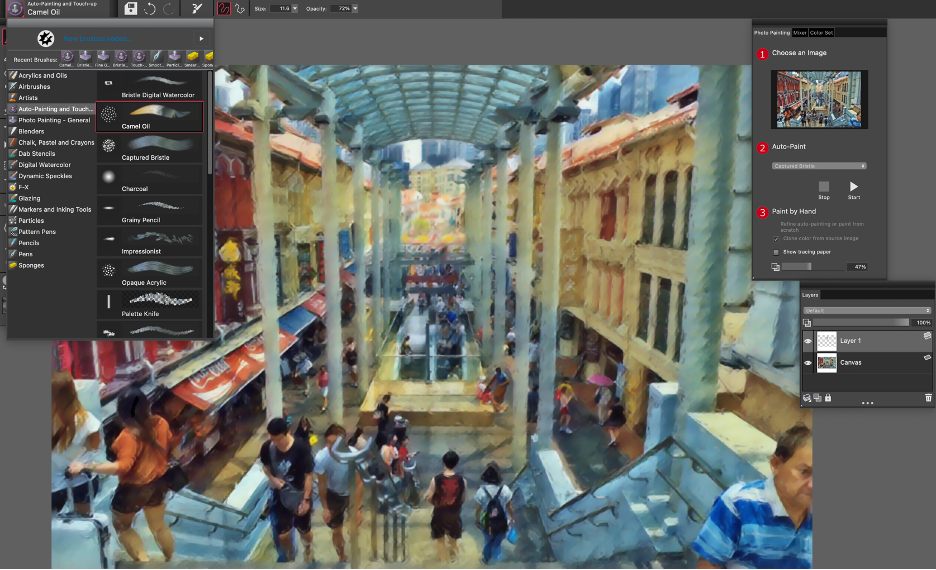 Auto-Paint has been updated with 10 additional painting styles, performance is noticeably better, and Corel claims to have added more AI features. Corel says it has worked with Apple specifically on AI and specifically on the painting styles. During the demo, Corel's Painter specialist, Tanya Lux, mentioned that Apple has worked on saliency in AI, which of course I had to look up. It means that the program tries to identify what's important in the image. So, in the cat image above, perhaps the AI was careful to go lightly over the cat's eyes. It's also possible to use the retouch tool to knock back the painting and bring out details from the image underneath. In this case, the program did a pretty good job with Sam the cat. There are some more AI features in the portrait presets for Auto-Paint.
Much of this is included in Apple's Vision Framework, a set of APIs that help developers use facial recognition, and other tools to identify important features in an image to add depth and focus where it might enhance the image.
Probably the best new feature in Painter Essentials is the ability to use Apple's Sidecar to use an iPad as a tablet. It's fairly limited. You set the Sidecar feature to mirror so you can use the pencil. It's a simple implementation, but being able to use the pencil is huge.
Corel is also supporting the Macbook Pro's Touchbar and multi-touch Trackpad.
Other new features include the new harmonies and color sets to help users narrow down the colors for their project, which can come in handy for adding text or accent colors, but otherwise seems unnecessary. If you want to do digital painting, you should have basic ideas about color already, right? Still color palettes are becoming an expected feature in paint and drawing tools.
Painter Essentials is designed for people who want to get into the art of digital paint and illustration.  For $49.99, it's a good option, but the smart buyers will give the free trial version a whirl. One big advantage to the easier workflow and clear menus is that you'll probably know immediately whether you want it or not. Moreover, there are other tools to give a try. On the iPad, Adobe's Fresco and Procreate are both coming on strong.
Auto-Paint is probably the feature that sells Painter Essentials but, as an introduction to digital painting, it opens the door to whole new capabilities. Users may graduate to Painter, they may graduate to other tools, but some will find their identity as a painter.
What do we think?
Painter's edge is in imitating different paint and drawing media: oils, water paints, pastels, etc. It has never had the field to itself, but it has attracted a dedicated following of artists who like the way it works. Painter Essentials has the same quirks and advantages. I've found it useful for creating backgrounds and illustrative effects. For anyone who really gravitates to digital painting, the full Corel Painter makes more sense. For either package, you're going to have to put some work into it. Painter is more work, but it's more rewarding with a wealth of tools.