The message for 2020 is sustainability and connectivity.
CES is all about show, whether it's the biggest TV ever or the most pixels one can cram into a computer display. So, not surprisingly, on the PC side, monitors are big, bezels are small, resolutions are high, and they've got new stands! Dell has updated its display manager with options for multiple window layouts and multi-mon setups. We're also seeing the changes wrought by USB-C coming to fruition. As we work our way through all the CES announcements, let's start with monitors and with Dell.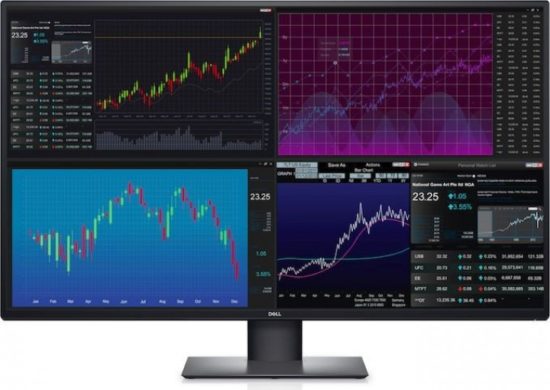 Dell introduced the UltraSharp 43 4K USB-C Monitor (U4320Q) as a work-horse 4K monitor that can replace multiple small monitors on the desktop or meet the needs of more specialized workplaces. For instance, USB-C ports enable the monitor to be used with 4 different devices for applications if you find that sort of thing useful. Dell has introduced a Picture-by-Picture option (PBP) and offers templates so users can choose how they want the windows to be sized and arranged. The PBP feature shows up on quite a few Dell monitors for CES to also enable different configurations for more common multi-monitor applications. The monitor is 2840 × 2160, 350 nits, 1000:1 contrast ratio, 60 Hz refresh rate and supports sRGB color.
Another feature, that's turning up in monitors all around CES this year, including the U4320Q, thanks to USB-C, is powered USB-C slots on the monitor allowing users to plug in their laptops to their desk mounted monitor.
Dell created a special stand for this monitor. The good news is that it's actually included with the U4320Q. (By now, you've heard that Apple is offering a stand that costs around $1000 to complement the already extravagant Mac Pro Desktop. This isn't that.) Dell's new stand lets users adjust the height and also enables tilt and swivel. At the same time, it is compact to save disk space but engineered to support the 43-inch monitor.
The UltraSharp 43 4K USB-C Monitor is coming at the end of January with a starting price of $1049.99.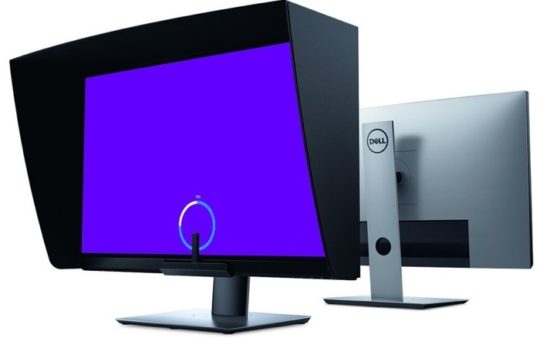 Also at CES, Dell is introducing two UltraSharp monitors for creatives. The Dell UltraSharp 27 4K PremierColor Monitor, UP2720Q, has a built-in colorimeter. The monitor is Calman ready, meaning Dell and Portrait Labs have collaborated to create a direct connection environment between the display and the Calman software, which is sold separately, enabling automatic features and fast, accurate calibration.
The monitor is factory-calibrated and features wide color gamut including 100% Adobe RGB, 80% BT2020 and 94% CCI-P3 and 98% DCI-P3. Dell wants you to know that the DCI-P3 color space achieves better color reproduction than sRGB.
Like the U4320Q, the 27-inch PremierColor monitor also has Picture-by-Picture, which in this case, says Dell, comes in handy for creative users who might want to compare the same image in different color spaces, or from two different input sources.
It also has Thunderbolt 3 enabling laptops to have a charging connection with the monitor.
The monitor's resolution is 2840 × 2160 Ultra HD 4K with 163 PPI and a contrast ratio of 1300:1.
This monitor comes with a shading hood that snaps to the monitor with magnets and is covered by a special material that absorbs ambient light.
Finally, Dell has also improved its Display Manager which includes quick access key, more templates, remote monitor control, and asset management capabilities.
The 25-inch UltraSharp USB-C, U2520D, is a QHD, 2560 × 1440 with 95% of DCI-P3, Dell's borderless InfinityEdge. It also has powered USB-C and allows daisy-chaining monitors.
The Dell Display Manager (DDM) supports display across monitors, tiled side by side, and multiple layouts. Dell says the monitor is factory calibrated to 99% sRGB. It bears the VESA DisplayHDR 400 badge which means it is a monitor that can read 400 cd/m² peak brightness.
The updated spec, DisplayHDR version 1.1, includes tighter performance requirements, including for luminance and color gamut, as well as new test requirements, such as for active dimming, to address recent advances in HDR technology. Companies can begin certifying their display products under the new DisplayHDR 1.1 spec today. In addition, VESA will continue to allow products to be certified under the previous DisplayHDR 1.0 spec through the end of May 2020 in order to allow for products already in development that have been designed to meet the original spec, which was published in November 2017.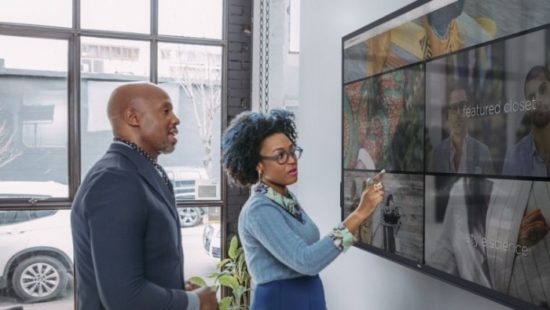 Big presentation 
Dell is also headlining its large, very large, 86-inch 4K (C8621QT) interactive touch monitor that's coming in April. The large size coupled with 20-point touch and support for a dual-tip stylus are all added to increase the usefulness of the monitor for groups.
The monitor has anti-glare and anti-smudge coatings to reduce reflections and fingerprints. It is network manageable with support for RS232, RJ45, JDMI CEC ports and good old TCP/IP.
And, continuing Dell's trend of flexible mounts, this monitor has the Dell Screen Drop feature, which means the screen can be lowered or raised using buttons on the side of the panel to give users access at different heights.
The monitor is 4K UHD. IPS (In-Plane Switching) technology means the monitors have wide viewing angles. It has reduced blue light emission for viewer comfort. It also has built-in 2× 20 W speakers.
The stylus has been designed for this display; it magnetically attaches to the side of the display. It has a fine writing tip and precise eraser.
The monitor also has USB-C to power laptops.
Gotta game
It's not all work at Dell, thanks to the company's Alienware division. This year at CES, the company is introducing their latest gaming monitor, a 25-inch FHP, 240 Hz IPS monitor.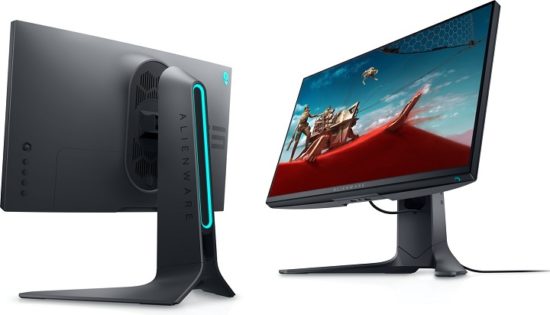 Their new Alienware 25-inch gaming monitor (AW2521HF) is a 240-Hz IPS monitor with a 1-ms response time. Obviously, it's all about fast, but Dell says their new gaming monitor can do pretty too with 99% sRGB color at wide angles. Okay, pretty enough. Resolution is 1920 × 1080 and supports AMD Radeon FreeSync and G-Sync.
The AW2521HF also has a redesigned stand with slim legs that can fit under a keyboard and true to gamer tradition, it's got lighting options.
Dell's new styling is slim, with very narrow bezels around three sides and features AlienFX, customizable lighting that can respond to game events. An on-screen display offers menu items but also, if desired, gamer-oriented information including stats, a built-in FPS counter, etc.
It's possible gamers aren't going to want to give up one inch of their precious screen real estate to see how they're doing. In that case, Alienware is proposing a second display for critical information such as PC performance monitoring, FPS, game developer integrations such as kill count, health, maps, inventory, etc. The company is soliciting ideas from gamers for what they might want to see on a second display. The idea is that gamers would use their phone or another mobile device as their visual sidekick.
This is purely a concept so there's no information on date or additional price, etc.
The Alienware AW2521HF will be available on March 11, 2020, and starts at $499.
Related stories: