HP stands out with application-specific enhancements.
The PC business is pretty standardized these days. People know they want a computer, a display, a mouse, a tablet. Many of those people know they'd rather have a major brand for the reassurance of support and security. So, the struggle for the PC companies is to figure out some way to stand out and thrive selling similar stuff to people who usually know what they want. CES is a great place to do that.
HP's mission is to bring something extra to its products—to add a unique premium to their products. This year, 5G is an obvious value add for PC vendors and it's a key enabler for the Always-On computer. HP's cute new DragonFly, a "business convertible," comes with a 5G radio. And, HP has another twist on connectivity. HP's very portable DragonFly has integrated Tile support. Tile tracks connected devices through their Bluetooth signal to provide location information. In fact, that Dragonfly is a great example of the many ways HP is adding value in engineering as well as design appeal, and we'll be returning to that.
But first, displays. CES just wouldn't be CES without displays—okay, and cars, weird gadgets, and controversial keynoters (seriously, Ivanka?), home entertainment, speakers, and yeah, PCs.
On the display front, HP showed a new HP S430 Curved Ultrawide Monitor with HP device bridge and two "advanced docking" monitors, the HP E24 and E27d G4. This year support for the USB PD specification is showing up as a valuable monitor feature because it enables USB-C ports to provide up to 100 W of power. The result is fewer cables clutter desktops.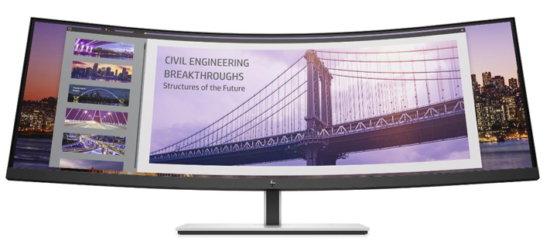 In 2020, two monitors become one. Again. This isn't exactly a new trend, but as monitors go wide with high resolutions, multi-mon users are finding it easy to go back to a single monitor as long as it's a very nice monitor. HP has opted for a curved monitor for the business-oriented HP S430C.  Curved monitors appeal to gamers who like to sit up close and feel immersed in their game. HP says that the curve creates the illusion of depth within the screen, which HP believes will also appeal to business users, and they do look great on the desk. Also, monitor manufacturers argue that curved monitors are more comfortable for users because the edges of the screen are closer to the viewer, so there is less eye strain. By the same argument, it's easier to see more of your screen at once.
The S430C is a 43.4-inch VA (vertical alignment) monitor with a 32:10 aspect ratio.  That's another distinction from curved gaming monitors, which tend to be IPS (In-Plane Switching). IPS monitors are faster, but VA monitors are better at contrast with deeper blacks. The S430C monitor delivers 350 nits brightness and 99% of RGB color. HP's new mount enables easy height adjustment and conformance to the 100 mm VESA pattern enables wall mounting.
HP has updated its Display Assistant to allow multiple screen partition approaches. Display Assistant also has a theft deterrent. Screens that are disconnected without approval are dimmed.
HP says the monitor can replace two 24-inch displays because it doesn't have the discontinuity caused by bezels. In addition, it's definitely nicer to eliminate additional cables with one monitor instead of two. Because the monitor also has a powered USB-C slot that can power up a PC, there's yet another option to reduce on-desk cables. The monitor also has a pop-up webcam with IR to support Windows Hello.
HP Device Bridge provides the monitor with the ability to control two devices at the same time without an additional KVM box. Ports include DisplayPort, HDMI, four USB ports and two USB-C ports with up to 100 W total power delivery meaning users can charge both their PC and their phone if they wish.
HP also introduced two flat-screen monitors with modern features, the E24D, and E27D which have advanced docking features—powered USB-C and offer remote management using RJ-45. Users have enough ports to plug-in devices, mobile phone, and their PC.
HP suggests users might want to connect their HP EliteDesk Mini Desktop PC behind the display via the USB-C. From there, the PC and display can be on an adjustable arm, or mounted on the wall.  HP also supports a speaker bar, specifically, the HP S101 Speaker Bar8 has an easy mount to the lower bezel of the HP display.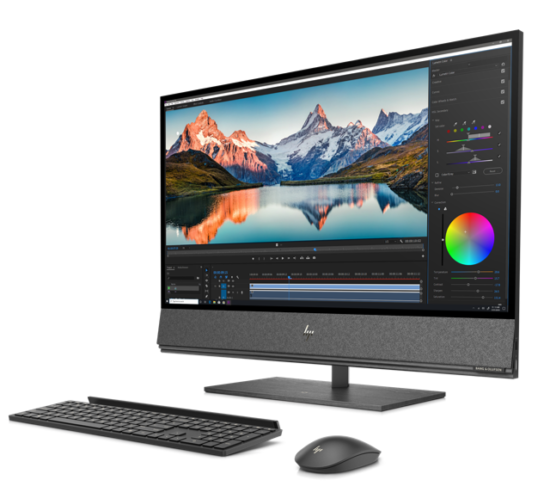 HP helped create the AIO space, and it remains the most committed supplier of the form factor. We saw it initially as a great family device or dorm-room appliance, but HP has gone much further recognizing the device's ability to offer a lot of functions without a lot of clutter.
With the HP 32 All-in-One, HP goes full-on for the creatives. HP's new AIO includes Nvidia RTX graphics along with Intel's Corel i7 S 8-core processor. The 31.5-inch display has a lot of glass and almost eliminating the bezel. It has a 6000:1 contrast ratio, 600 nits brightness and displays 98% of DCI-P3 color. The display supports Delta E color calibration.
It's wider, brighter, and, says HP, it's louder with Bang and Olfson sound.
It is also available with 1 TB PCIe SSD or dual storage. And if that one really widescreen isn't enough, Thunderbolt 3 and HDMI-out enables the addition of another monitor. There's more on HP's new AIO here.
A new Dragonfly arrives
The newest Dragonfly is an HP headliner for CES this year. The latest convertible is very desirable. It weighs just under 1 kg, is always connected (with an LTE connection this time out), has an extended battery life—HP is saying 13 hours—and what we like, not a lot of compromise. The machine has a 1.6 GHz Intel Core i5-8265U processor with 8 GB of RAM, integrated UHD graphics, and a 256 GB SSD. HP is very happy with this baby. The Dragonfly was originally launched last year, and the company said it decided to break with convention and introduce the Dragonfly early because this new design breaks previous weight barriers and it's pretty. HP is introducing a new color, Dragonfly Blue, which has a bit of the iridescence of the real thing but HP opts to leave the machined magnesium showing in the hinges and trackpad.
HP also takes a step up by using ocean-bound plastics where possible in the machine and recycled materials in the packaging.
There's not much compromise in the price tag either. The Dragonfly starts at $1549.
Alternatively, HP offers its lightweight Spectre x360 machines. Introduced last year with a 13-inch machine, HP has added on a 15-inch. The new machines have smaller bezels and improved trackpad. They compete head to head with Dell's XPS computers and Lenovo's Yoga C930 and again HP has added some thoughtful features including the "gem-cut" corners, which get the cable for attached devices out of the way, directed toward the back of the machine.
Beyond that, HP has introduced a higher-end Spectre, which is available with an OLED screen or an IPS display with DCI-P3. Both are 4K. The new Spectre has 10th Gen Intel Core i7 processing and "the latest" GeForce graphics from Nvidia. The new machine is coming in March 2020 and starts at $1600.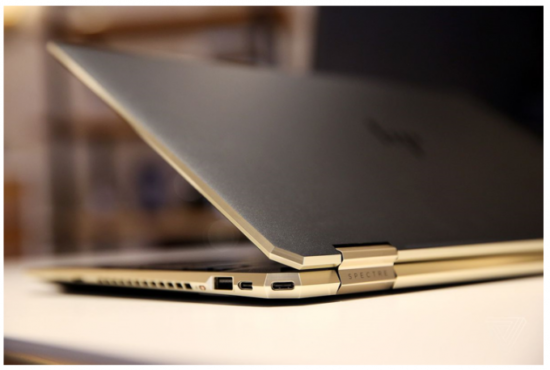 VR to go or in the office
The HP Reverb is getting a long product rollout as HP hopes to traverse the hype curve for VR and ski safely out of the slough of despond.
The new Reverb is based on Microsoft's Hololens 2. It came to CES 2020 and promptly won an Innovation Award. HP is offering the headset in two different configurations, a professional device, and a consumer device, but the HP is focusing first on industrial as is Microsoft.
We've written about the Reverb, thanks to getting a couple of advance looks and a short trial period in our office. It's always fun to be among the first to know, but it's also valuable to see how OEMs are pushing Microsoft's technology and again, how HP is adding value.
It is worth going over the Reverb's features because we really are getting to a point where VR headsets can provide a useful experience for a number of applications.
The display is built using two 2.89-inch 2160 x 2160 display, and a 114-degree field of view. Microsoft is very coy about their display resolution saying only that its displays are 2K, 3:2. However, other reports mention that Hololens 2 is 1440 resolution compared to the previous version's 720, so there you go. The Reverb also has a wider field of view. Subjectively, in comparison, we could see that the Reverb's display looks better.
The Reverb supports 6DoF positional tracking with two front-facing cameras and spatial audio.
It has Bluetooth motion controllers and is very responsive. HP says they're pre-synced to the headset for easier setup.

HP's customization includes an adjustable head-strap with built-in cable management and it is better balanced on the head. It doesn't have quite the same "tippiness" like other models.
The Reverb is available in a Pro version for $649. The Pro version has a replaceable, washable face cushion (0.6 m headset cable for HP Z VR PC, which you will have to buy on your own). It also has a one-year commercial warranty.
The consumer version is available for $599 and does not have the special Z VR cable and comes with a one-year consumer license.
Both models come with the controllers. The Reverb requires DisplayPort 1.3, which again, means it's not a mainstream device quite yet, but if you're looking for a computer to go with the Reverb, HP can suggest its Z VR wearable backpack PC.
What do we think?
Selling PCs is a tough business which is why we're down to a handful of leaders: HP, Dell, Lenovo, LG, Asus, Acer, Toshiba, Samsung, and Apple. Each is looking for ways to distinguish themselves in the market.  Apple is content to be a premium brand with a strong appeal to creatives. The company has found a way to avoid competing head to head with the rest of the market, but it doesn't sell as many PCs either. HP has taken a focused approach to differentiation. Often, its machines have features tailored to specific users. For instance, anyone who has had to balance their notebook on a tiny coffee-shop cafe table knows the value of getting cables out of the way so the machine doesn't get pulled off the table. Likewise, the AIO-32 has a wide-gamut of color and great sound. They're going for wide and specialized markets.
Each company is searching for just the right niche—something other than the cheapest brand, though Acer and Asus do kind of fall in that perceptual sunken place. HP has gotten a nice edge and it's done it with showy little features like the cut-out corners monitors with support for back-mounted PCs. We really like the support for Tile technology, and we hope to see more of it in the device world.
To us, the devices that make HP standout in the PC crowd are the Dragonfly that's just so pretty, we don't mind that we may be seduced by its looks. The HP 32 All-in-One that makes me want to go to art school so I could develop the skills worthy of such a machine.
Related stories: