$2.91 billion in sales, $1.1 billion profit up 33% from last quarter.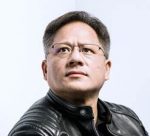 Nvidia reported record revenue for the fourth quarter ended February 8, 2017, of $2.91 billion, up 34% from $2.17 billion a year earlier, and up 10% from $2.63 billion in the previous quarter, with growth across all its platforms.
The company's GPU business revenue was $2.46 billion, up 33% from a year ago and up 11% sequentially, which the company claimed was led by strength across all platforms, including datacenter, gaming, and professional visualization platforms. GeForce GPU gaming results were led by strong adoption of Volta in the datacenter, and Pascal-based GeForce GTX gaming platforms, said the company.
"Industries around the world are racing to incorporate AI. Virtually every internet and cloud service provider has embraced our Volta GPUs. Hundreds of transportation companies are using our NVIDIA DRIVE platform."
The list goes on: datacenter (including Tesla, GRID, and DGX) revenue was $606 million, up 105% year on year and up 21% sequentially. Nvidia said its Tesla V100 GPU accelerators are now available through every major computer maker and have been chosen by every major cloud to deliver AI and high-performance computing. Thirty-four GPU-accelerated systems were added to the Top500 supercomputer list, bringing the company's total to 87. Partnerships in AI included initiatives with GE Health and Nuance in medical imaging; Baker Hughes, a GE company, in oil and gas; and Japan's Komatsu in construction and mining.
Professional visualization revenue grew 13% year over year and 6.3% sequentially to a record $254 million, led by high-end mobile platforms. Visualization is hardware only. Nvidia's ray tracing software, Mental software is separately reported in "other," and other was zero for the quarter.
During the quarter, Nvidia announced gaming laptops using the Max-Q design, which are 3× faster and 3× thinner than previous-generation gaming laptops. At CES, the company introduced BFGDs, big format gaming displays, providing ultra-low latency PC gaming and integrated streaming on a high-end 65-inch display using Nvidia G-SYNC technology with Nvidia Shield. Also introduced were two new collector's edition Star Wars-themed Nvidia Titan Xp GPUs, tied to the release of Star Wars: The Last Jedi.
During fiscal 2018, Nvidia returned $1.25 billion to shareholders through a combination of $909 million in share repurchases and $341 million in quarterly cash dividends.
For fiscal 2019, the company intends to return $1.25 billion to shareholders through ongoing quarterly cash dividends and share repurchases.
Nvidia will pay its next quarterly cash dividend of $0.15 per share on March 16, 2018, to all shareholders of record on February 23, 2018.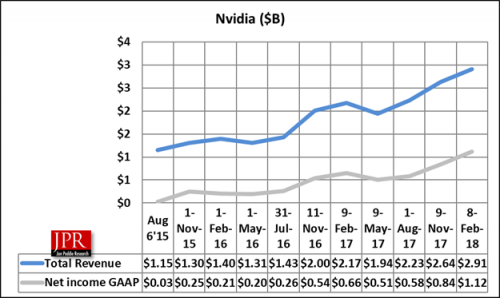 During the quarter, Nvidia announced it had established a new partnership with Continental to enable worldwide production of AI self-driving cars.
Outlook
Outlook for the first quarter of fiscal 2019 is as follows:
Revenue is expected to be $2.90 billion, ±2%.
GAAP and non-GAAP gross margins are expected to be 62.7% and 63.0%, respectively, ±50 basis points.
GAAP and non-GAAP operating expenses are expected to be approximately $770 million and $645 million, respectively.
GAAP and non-GAAP other income and expense are both expected to be nominal.
GAAP and non-GAAP tax rates are both expected to be 12.0%, ±1%, excluding any discrete items. GAAP discrete items include excess tax benefits or deficiencies related to stock-based compensation, which we expect to generate variability on a quarter by quarter basis.
Capital expenditures are expected to be approximately $100 million to $120 million.
What do we think?
Nvidia's GPU Business revenue for the quarter was $2.64 billion, up 17% from last quarter, and up an impressive 30.4% from the same period last year. It was driven mostly by gaming (71%) but also contributed to by the data center, and pro viz.
Gaming is still the big money maker for Nvidia as shown in the following chart, with growth (and higher ASPs coming from the datacenter).
Tegra sales due the big influence from Nintendo's Switch, is showing seasonality, and was up 7.4% from last quarter and 75% from last year, driven by automotive and Nintendo.
The numeric values are shown in the following table.

Nvidia includes its Nintendo (Switch) business in with its gaming revenue.
The valuation placed on the company is getting still quite high, and the company's gross margin remains high, increasing 4% from last quarter, and 3% from last year, driven by the high ASP Volta and Pascal boards sold into the data center where every cloud compute service has incorporated Nvidia's products. Demand in that sector remains high, driven by AI and machine learning, and we expect Nvidia to grow with the market, if not slightly ahead of it.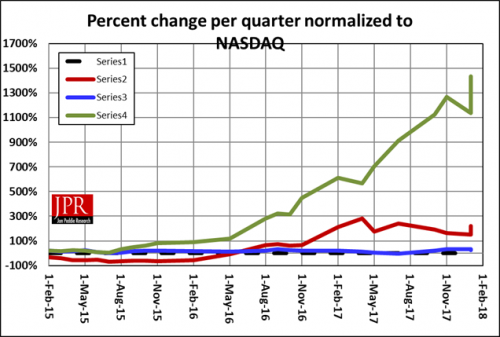 Nvidia is certainly at the top of their game and should be complimented for having the vision to invest and pursue nascent markets in autonomous driving and AI. We believe AI will be the biggest thing to haven computing since the introduction of the PC and is proving to be a delightful offset to the sluggish PC market. Within the PC market, gaming is the bright spot and that is another strong segment for the company. In pro-viz the company has always been strong and maintains a ridiculously large market share. Pro-viz doesn't grow as dramatically as the other market, but is a high ASP segment, and contributes to the company's high margin.
Finally, there is the continued demand for midrange and high-end graphics AIBs used by crypto miners. Nvidia chief financial officer Colette Kress acknowledged that cryptocurrency mining contributed to the solid sales of GPUs during the company's fourth fiscal quarter, which ended January 31.
"It's difficult to quantify, but cryptocurrency accounted for a higher percentage of revenue than the previous quarter," Kress said.
But she added that the company is cautious about projecting the future impact of such activity, as "cryptocurrency trends will likely remain volatile."
During the company's earnings conference call, Nvidia CEO Jensen Huang said that he is pushing retailers and system builders to prioritize gamers over cryptominers.
"We typically have somewhere between 6 to 8 weeks of inventory in the channel, and I think you would ascertain that, globally, the channel is relatively lean," Huang said.
Nvidia said its channel inventory is at historical lows in the fourth quarter. The low inventory has naturally led to a huge spike in prices for graphics cards, which has put a serious burden on gamers. (See story https://www.wsj.com/articles/the-computer-part-people-are-hoarding-i-felt-like-i-was-buying-drugs-1518195876?shareToken=st47c08674f7a24d269ec57283f4f4536d&reflink=article_email_share.)
The ASP of AIBs has, in some cases, doubled from last year due to supply and demand issues, and has put Nvidia (and AMD) in an awkward position. As much as the companies enjoy the crypto mining boost, at the same time they don't want to alienate their core customers in the much larger and longer term gaming market. The net result will be gamers pulling back from the market (due to the higher prices) resulting in slower growth in sales and a decline in units shipped (sales increasing due to the higher ASPs created by the crypto mining demand).