As the first quantum dot OLED gaming monitor to hit the market, the 34-inch curved QD-OLED display gaming monitor is impressive.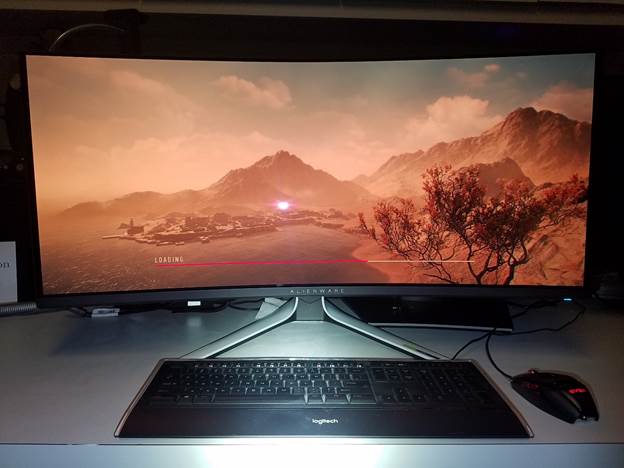 Alienware's 34-inch curved QD-OLED gaming monitor (AW3423DW) was the first and may be the only true gaming quantum dot OLED gaming monitor. A few other companies are offering repurposed 4K 45-inch-plus flat-faced 138 Hz TVs as a gaming monitor. Alienware is curved, has quantum dot display, G-Sync, and is 27% faster. Samsung, which makes the panel for Alienware, announced their branded version in September, and MSI showed a rebranded Samsung prototype at Computex in May and again in September.
The AW3423DW has incredible contrast that only an OLED panel can provide, and peak brightness of 1000 nits makes it a certified HDR display.
The 3440 × 1440 screen has a 0.1 ms response time, which eliminates any display ghosting—the trail of pixels behind a moving object (also known as motion blur). A typical LCD response time is under 10 ms, but with QD-Display, you reduce that time two orders of magnitude to 0.1 ms. And, it has a great wide-angle viewing range of 178 degrees.
The monitor also has a fast 175 Hz refresh rate, which gives amazingly smooth gameplay. The standard for gaming monitors has been 144 Hz, which is faster than the repurposed TVs that are marketed as gaming monitors. It also comes with Nvidia G-Sync Ultimate, which eliminates tearing and stuttering—a critical feature when dealing with super high refresh and response time monitors—also, 178 degrees vertical viewing so you don't have to sit just right to see the full color quality. You can swivel the monitor 20 degrees either way, tilt it from -5 to 21 degrees vertically, and raise or lower it by 4.3 inches.
The OLED screen with quantum dots gives the ultimate in wide color gamut with DCI-P3 and sRGB color spaces, with DCI-P3 offering a wider color range. The QD-OLED monitor can cover 99.3% of the DCI-P3 color gamut and 149% coverage of the sRGB color space.
That color gamut is matched with a 1,000,000:1 contrast ratio—a true HDR must have high contrasts and ultra-bright colors. QD-Displays can produce over a billion colors that help to represent luminance of the brightest white and the darkest black. You really haven't seen black on a monitor until you've seen an HDR monitor with quantum dots. But with the super high contrast ratio, you can also see shades of gray in dark areas. And it is bright—250 cd/m² (typical), 1,000 cd/m² (peak). The monitor also benefits from Dell's ComfortView Plus (TÜV Rheinland-certified Hardware Low Blue Light solution) and an ambient light sensor, AlienFX lighting.
The monitor has two HDMI (version 2.0) ports plus a DisplayPort (version 1.4) port, as well as two SuperSpeed USB 5 Gbps (USB 3.2 Gen1) downstream port (located at the front bottom, one with BC1.2 charging capability at 2A). There is also a SuperSpeed USB 5Gb/s (USB 3.2 Gen1) upstream port in the rear. The monitor has an audio line-out port (in the rear) and a headphone-out port (at the bottom). The monitor draws a scant 43 watts.
The Alienware 34 AW3423DW has set a new standard for response time, contrast, HDR, and performance.
What do we think?
Is this the future? Of course it is. Will you win more games with it? That depends. Are you any good at gaming now? Seriously, the monitor's response time of 175hz means images hit the screen faster Increasing your odds of hitting where you're aiming.
The quality delivered by quantum dot, HDR technology makes everything better on the display and that includes games, design, movies, and zoom meetings. We expect to see displays like this will be appearing for the desktop and the living room by the end of 2023.