While Lytro is shutting itself down, some of the company's talent has been hired by Google.
One of the tech industry's most promising startups, Lytro, looks like it's headed for the dustbin of startups. The news has been a little muddled early on with early stories reporting a sale to Google for around $25–$40 million or so. That's not much for a company that seemed so promising at one time and now it seems it's not even that. The deal has been recast by Google as more of an aqui-hire. Lytro has announced it is winding down operations. Lytro CTO Kurt Akeley is now working at Google and other Lytro employees have gotten jobs throughout Google. Jon Karafin who headed Lytro's cinema division and was also at RealD has started spin off Light Field Labs with Brendan Bevensee (former lead engineer at Lytro) and Ed Ibe (former lead hardware engineer at Lytro Cinema). The company plans to develop a hologram projector.
European executives including researchers from Airbus, Peugeot, SNCF, Thales, voted Light Field research one of the most influential new technologies at the Laval Virtual conference in 2017, and a demo of light field video capture by a Lytro capture dominated the news at NAB 2016.
According to Tech Crunch, Lytro raised $215.8 million since its founding in 2006 by Ren Ng to further develop technology he worked on at Stanford and estimates go higher. Ng's work including the plenoptic camera which uses a multilens array to capture images with enough information to allow the image to be refocused after capture. A traditional convergent camera lens attempts to use captured light to produce a focused image, while the plenoptic camera tries to capture all the available light in the scene and make it available for post processing. There are, as you might imagine, much better descriptions available including this article by José Manuel Rodriquez-Ramos in SPIE.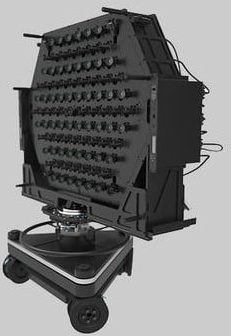 Lytro managed to introduce three cameras, the basic Lytro camera for consumers which can still be acquired on Amazon and elsewhere for around $120, the higher end Illium camera designed for DSLR types, which is now around $500 online, and a car-sized Immerge, which is heavily reliant on the cloud because so much processing was required in the capture and processing of images.
The photographic results were disappointing. The depth of field flexibility was minimal and software can manage similar effects.
The company's website has gone uncommunicative. VR content creators Within collaborated with Lytro and published a use case story about capturing a grand performance of Leonard Cohen's Hallelujah. That video has disappeared from Vimeo. The Hallelujah has only been shown as a 360 video and not as a volumetric VR piece as promised. By 2017, when the Hallelujah video was due for release, projects and announcements from the company had the distinct smell of desperation.
In January, Lytro acquired Limitless, an innovative cloud-based VR content creation company with ambitions to create interactive VR content. Limitless founder Tom Sanocki was part of the JPR panel at Siggraph last year. With the acquisition of Limitless, Lytro revealed its ambitions to become a content creator as well as tools provider.
Meanwhile Google has built its own lightfield camera using 16 Go Pros in a vertical arc array that swings around in a circle. It has been used to capture scenes and is being hosted on Steam's Welcome to Lightfields. Content is compatible with the Oculus Rift, HTC Vive, and Microsoft's mixed reality headsets.
Paths that cross, cross again
Lytro published the following statement prior to clamming up:
At Lytro, we believe that Light Field will continue to shape the course of Virtual and Augmented Reality, and we're incredibly proud of the role we've been able to play in pushing the boundaries of what's possible. We've uncovered challenges we never dreamed of and made breakthroughs at a seemingly impossible pace. We've had some spectacular successes, and built entire systems that no one thought possible. More importantly, we built a team that was singularly unified in its focus and unrivaled in its dedication. It has been an honor and a pleasure to contribute to the cinema and Virtual Reality communities, but starting today we will not be taking on new productions or providing professional services as we prepare to wind down the company. We're excited to see what new opportunities the future brings for the Lytro team as we go our separate ways. We would like to thank the various communities that have supported us and hope that our paths will cross in the future.
What do we think?
None of this work is for nothing. Light Field photography is real, and it will enrich content from photos, to movies, to VR, and … why not holograms? So, now some of the talent as well as IP has gone to Google and also to Light Field Labs, where the technology will be further explored.