Back in July 2020, Lenovo became the first and only hardware vendor with a Threadripper-based workstation, the P620 … then what happened?
By Jon Peddie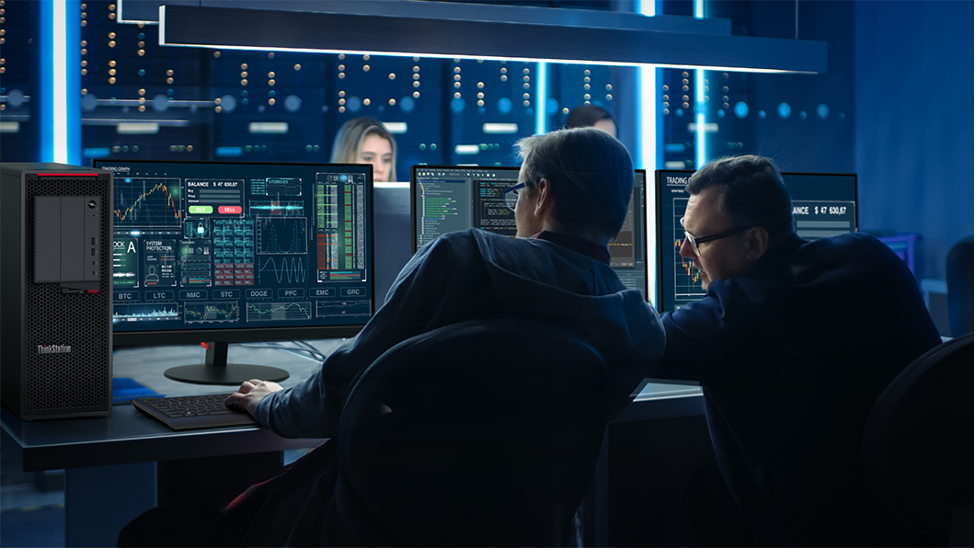 AMD has been an underdog since the introduction of the ill-fated Bulldozer processor which resulted in the career change of several CEOs, CMOs, and CFO at the company. And then, along came Lisa Su. Saddled with a company no one wanted to work at, no one wanted to buy, and no one thought had any future, she saw something others didn't and gathered talent to help her. She offered them a chance to exploit the IP AMD had been collecting for 30 years and to do something different, something bold, and something a little risky. None of the people she invited were worried about their next meal, so being given a blank sheet of paper and a challenge was irresistible.
But a great design will just get you so far. To succeed you need two things: a reliable and supportive supply chain and customers. AMD hasn't had a competitive workstation CPU for over a decade. So when AMD's sales engineers started knocking on doors they got a polite, Hmm, interesting—we'll get back to you.
Lenovo entered the workstation market in 2008 with the ThinkStation brand. What is not generally known is that Lenovo started with a clean sheet of paper. The ThinkStation did not come from the IBM PC acquisition. What a clean sheet of paper does for a company is ignore a lot of legacy junk and make bets. Lenovo did that and as a result has risen from zero to third place with 21% market share. And, remember who workstation suppliers sell to—very cautious, very conservative enterprise companies and government agencies. To get those accounts, companies have to prove themselves and keep proving themselves. You just imagine what it takes to keep that account once you get it.
So when Lenovo said, "Hmmmm," it was followed with a "let's do a mock-up and see just how good it really is." And they did, and it was—really good. Lenovo liked what they saw, liked it a lot. BUT, AMD had been on the bottom of page four of Lenovo's catalog as an also option for graphics boards. If Lenovo took on AMD as a prime CPU supplier, that would be a big investment in setting up a sales, support, supply, test, and warranty structure—not trivial, and far from cheap. So to buy a little insurance Lenovo made a deal—a head start with exclusive use of the workstation Threadripper processor.
Now AMD had a choice to make. It would have to give up 89% of the PAM and hope Lenovo could, and would, get the industry interested in a revolutionary single socket workstation that was less expensive and had higher-performance than a dual-socketed workstation.
Remember the customers. These are careful buyers and conservative.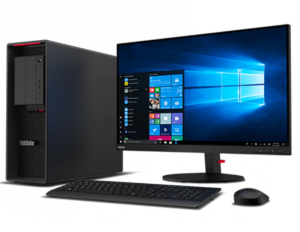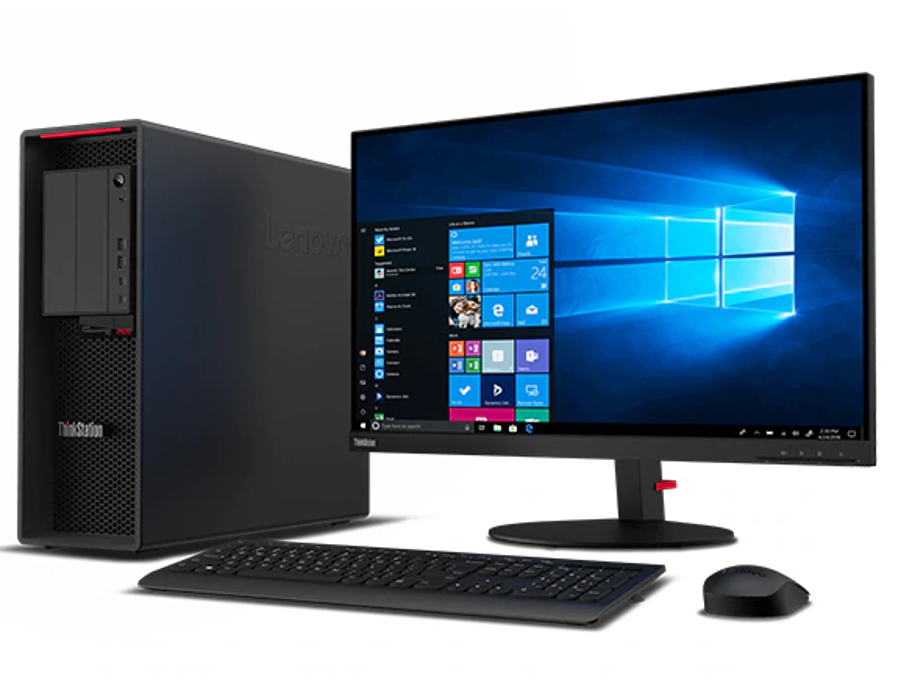 But Lenovo had made the investment, has done their homework, and bullet-proofed the ThinkStation P620. Not only did they bullet-proof it, but they also offered it with a choice of OS (Windows 10 Pro, Ubuntu Linux, Red Hat, and certified Enterprise Linux). And speaking of homework, when Lenovo decided to roll the dice and commit to AMD, they didn't know a virus was on its way from China that would send everyone home. Companies suddenly found their mission-critical projects in jeopardy and they needed to act decisively and fast. Lenovo was ready with a full-blown high-end workstation equipped with a Threadripper Pro 3945WX Processor (4.00 GHz, up to 4.30 GHz Max Boost, 12 Cores, 24 Threads, 6 MB Cache) at a starting price of $2k—not much more than a notebook. But you can't jam 128 GB of 3.2 GHz DRR4 into a notebook.
The basic system comes with an Nvidia AIB, but the Radeon Pro is also available. All AIBs have certified drivers. And the P620 supports dual AIBs. Those AIBs offer HDMI 1.4 port and DisplayPort 1.2 outputs.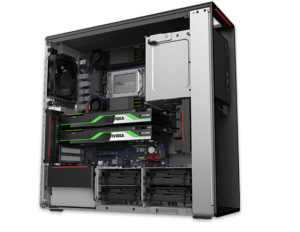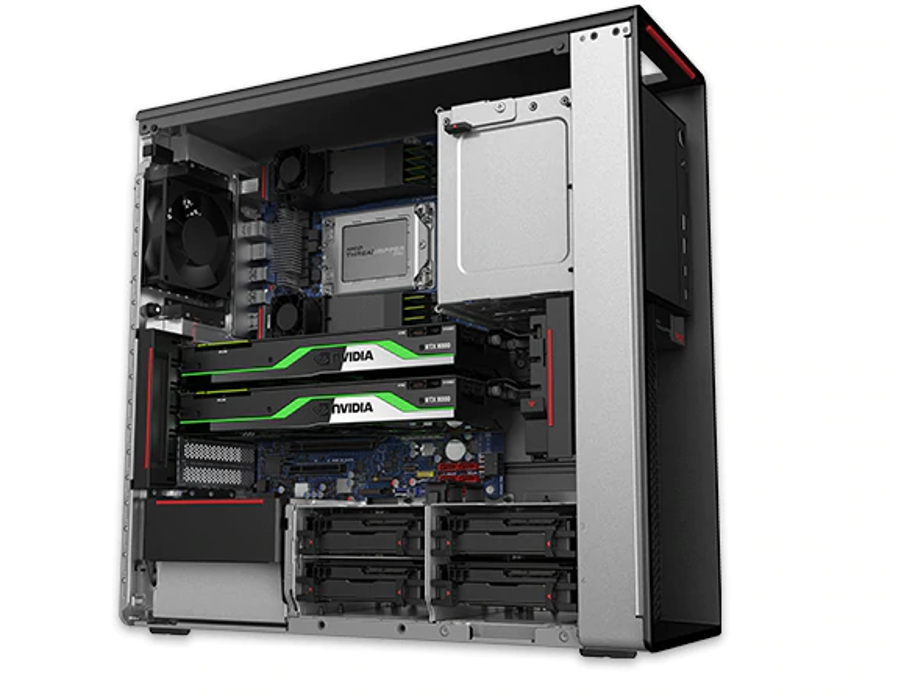 There are also two USB 3.2 Gen 2 Type-A, and two  USB 3.2 Gen 2 Type-C ports in the front, and a microphone/headphone Combo Jack. On the back panel, there is an RJ45 for wired Ethernet, and four USB 3.2 Gen 2 Type-A, plus two USB 2.0 Type-A.
And if you needed no further proof about how confident Lenovo felt about the Threadripper-based workstation, the company offers a three-year, on-site warranty.
What do we think?
Lenovo sold every machine they built and are building more to satisfy the backlog. Not only did their gamble on AMD pay off, it may just increase their market share. Lenovo has created a new category in the workstation space.
The exclusivity deal ran its course this month, and new Threadripper workstations are on the way from Asus, Supermicro, and Gigabyte.
From Lenovo's point of view, the company made its point. "We've proven we aren't afraid to explore the technology ecosystem to deliver the right combination of solutions, said Jeff Wood, Chief Strategy Officer for Lenovo Workstations. "The ThinkStation P620 is the only tier one solution with AMD Threadripper Pro technology. It has been a game-changer for multi-threaded workflows "