By Jaydeep Bhattacharjee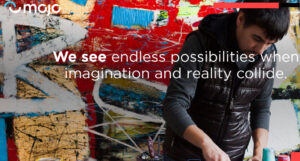 Recently, a nascent augmented reality company, Mojo Vision announced that they have raised a total of over $50 million in Series A funding, directed to develop an invisible computing platform which would use augmented reality and deliver instant and relevant information people are interested in. The funding has been raised with the help of venture firms like Shanda Group, Khosla Ventures, NEA, Fusion Fund, Liberty Global Ventures, 8VC, Dolby Family Ventures, AME Cloud Ventures, and Open Field Capital.
Mojo Vision, founded in 2015, is a California-based startup and was co-founded by industry veterans like Drew Perkins, Mike Wiemers, and Michael Deering. The company boasts of a team of ex-employees from Apple, Amazon, Google, HP, Infinera, Agilent, and Marvel. Drew Perkins has been the prime author of Point-to-Point Protocol and has been co-founder of four successful companies in the past. Dr Deering has been an engineer in Sun Microsystems and also an inventor of 133 patents.
Mojo Vision is trying to explain what could be expected of Invisible Computing. Its aim is to provide immediate and relevant information to the user, without distraction. A survey conducted by the company showed that 54% of 1000 respondents would benefit from the ability to move more freely without the obligation to handle their devices. Almost half of the respondents mentioned that this type of access to information will help avoid accidental situations. The respondents were also interested in getting exclusive information on a mobile device that was invisible to others. Such information proves very useful while socializing and during business meetings.
Mojo Vision is working around following aspects for developing its Invisible Computing platform:
Focus: enabling a user to focus on the useful information, keeping eyes up instead of looking down at a screen.
Freedom: quick access to valuable information on the go without a device.
Confidence: focus and freedom bring new level of confidence and self-assurance.
Presently Mojo Vision is not revealing any specifications related to the product and the platform. However, it is expected that if the company intends to minimize the size of the AR headsets, then that will be akin to contact lenses or viewing glasses. Although the company is maintaining thorough scrutiny in its public revelations, Amazon backed startup North has recently launched its Holographic Smart glasses and opened its retail stores to support sales. There has been a great investment push from Microsoft as well in developing HoloLens.
Mojo Vision has the aim of creating an 'invisible computing platform' to help people access information seamlessly without the need of holding their devices. However, we hope that in the coming years they will be offering a device as unique as the public interest the company has been generating recently.
Jaydeep is an experienced research professional with more than a decade of experience in various relevant industries and has worked in companies like Flextronics, Frost & Sullivan and Information Services Group in the past.