Intel reports a significant drop in sales of both client and server processors but predicts a rebound for the end of the year. Based on smaller loss than predicted, Intel's shares jumped 6.8% on early Friday trading to $31.85, a move that still left the stock down 15% for the year.
Intel has reported its first-quarter 2023 earnings, which barely beat analysts' projections on revenue and reported a slightly smaller loss than predicted. Still, overall revenue for the quarter was down a whopping 36% from the same quarter last year—the largest quarterly loss Intel has ever had.
It's no secret that Intel has struggled with the client-side business, while the server/data center business has been doing well. But in this quarter, both businesses took a nosedive, with PC revenue off 38% for the quarter, while data center revenue fell 39%.
This is the first quarter where sales from the AXG graphics unit were no longer broken out individually. Instead, they are split and mixed in with client and data center revenues.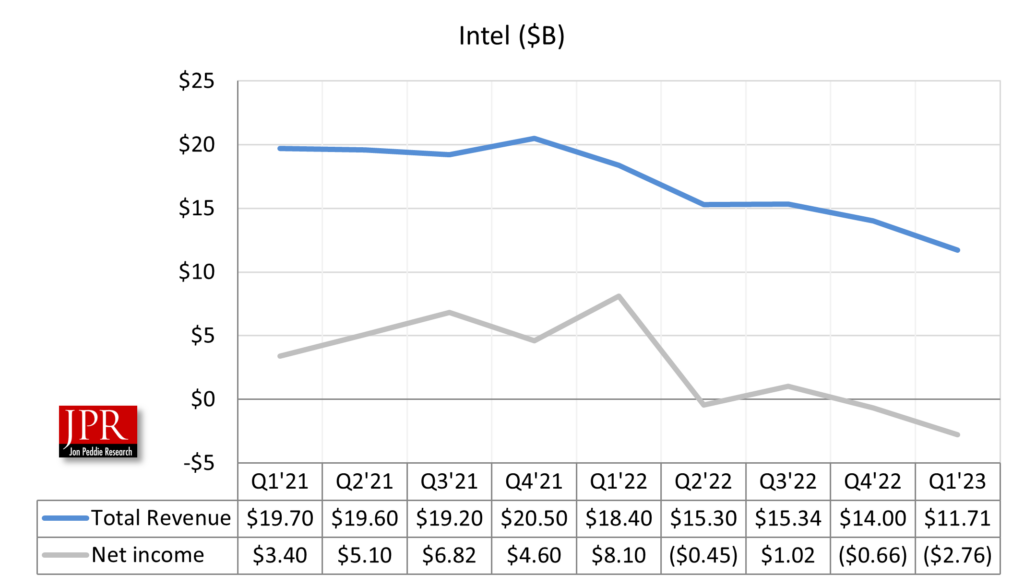 Lower gross margin from revenue was primarily driven by notebook and desktop declines.
"We delivered solid first-quarter results, representing steady progress with our transformation," Intel CEO Pat Gelsinger said in a statement. "We hit key execution milestones in our data center road map and demonstrated the health of the process technology underpinning it. While we remain cautious on the macroeconomic outlook, we are focused on what we can control, as we deliver on IDM 2.0: driving consistent execution across process and product road maps and advancing our foundry business to best position us to capitalize on the $1 trillion market opportunity ahead."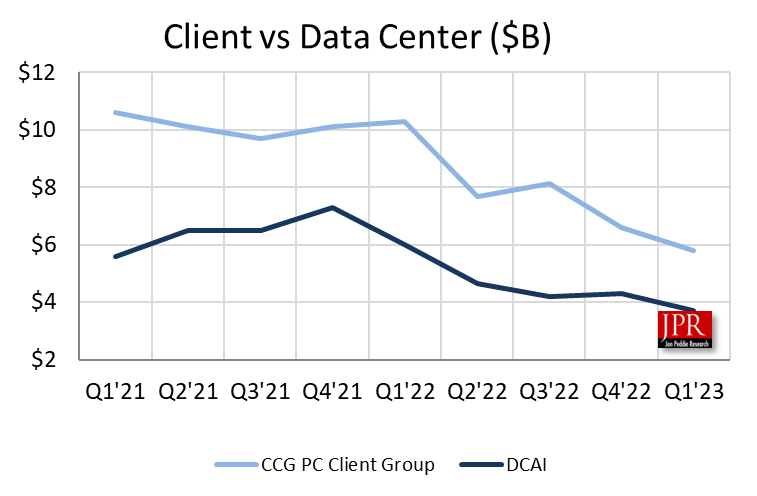 As bad as the year–over–year drop was, it is still better than was projected earlier. The Client Computing Group (CCG) business for the quarter was $5.8 billion but was expected to be $4.9 billion. The Data Center and AI (DCAI) business unit saw sales of $3.7 billion when $3.5 billion was expected.
In 2023, Intel partners—including Acer, Asus, Dell, HP, Lenovo, Fujitsu, Panasonic, and Samsung Electronics—are expected to deliver more than 170 notebooks, desktops, and entry-level workstations.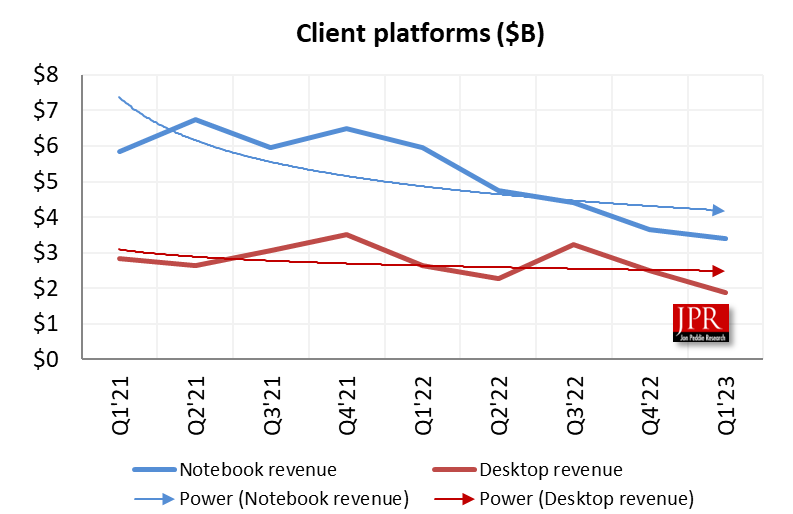 During a conference call with financial analysts, Gelsinger said the PC market depleted a significant amount of inventory in Q1 and is tracking to be at a healthy level by the end of Q2. He also said that the better-than-expected Q1 "strengthens our view that the PC market is on track to a sell-through of 270 million units in calendar-year '23."
While all segments have weakened, Gelsinger reiterated that the correction in the enterprise and the rest of world where they have stronger positions is further along and will likely recover more quickly.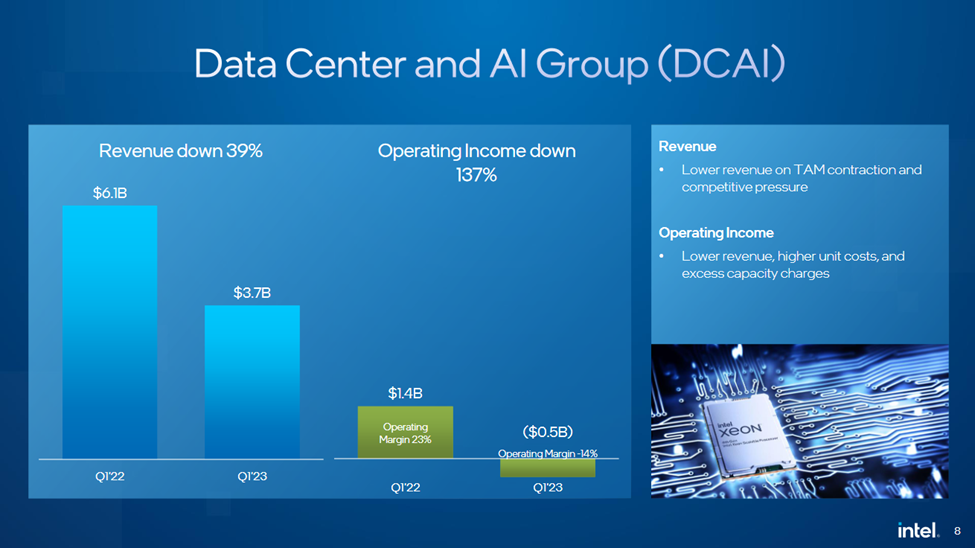 DCAI announced it expects to deliver Intel's 5th Gen Xeon Scalable processor, Emerald Rapids, later this year—not even a year after it shipped the 4th Gen Sapphire Rapids. In addition, the follow-up to that, Granite Rapids, is expected to follow in mid-2024.
Gelsinger was asked about this rapid release schedule on the call and sidestepped the issue. "While we're not speaking a lot about that next generation of product, that would be the introduction of the next-generation platform, which will change package architecture, power delivery architecture, memory channel, you know, key steps in memory scalability with our CXL technologies. And I'll just say every aspect of our road map is getting well received by our customers for both enterprise, but also and critically for cloud customers as well."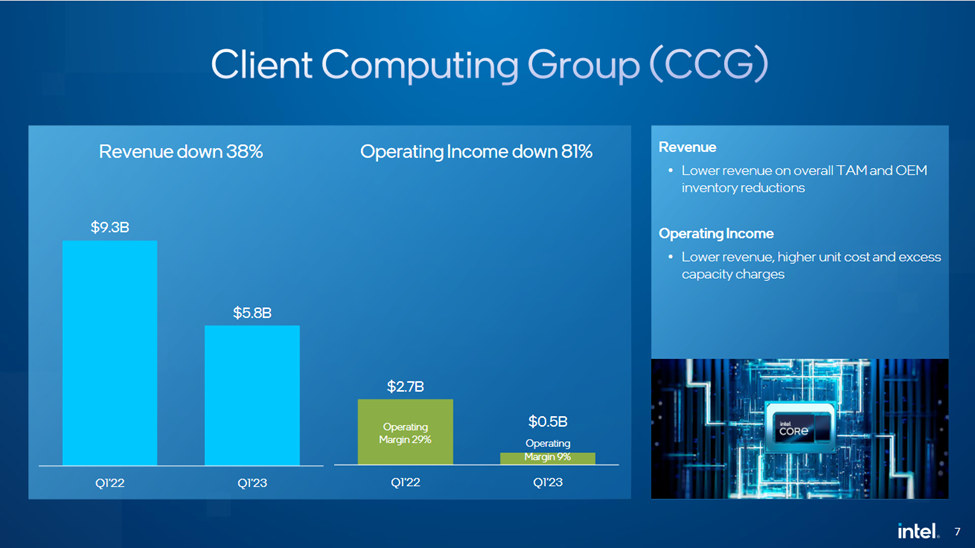 CCG introduced the 13th Gen Intel Core mobile processor family last quarter, led by the launch of the first 24-core processor for a laptop and world's fastest mobile processor. Intel also introduced the new Intel vPro platform powered by the full lineup of 13th Gen Intel Core processors.
CCG's next-generation client processor, Meteor Lake, will be built on Intel 4 process node and is ramping production wafer starts for an expected launch in the second half of 2023, just as inventory will balance out.
"We think we end the first half [of the year] with a very healthy inventory position by our OEMs and by the channel that positions us very well for natural improvement in a stronger second half," said Gelsinger. "Overall, this is just going to be a positive every quarter as we go through the year. We're seeing strong, strong momentum from our customers for our road map."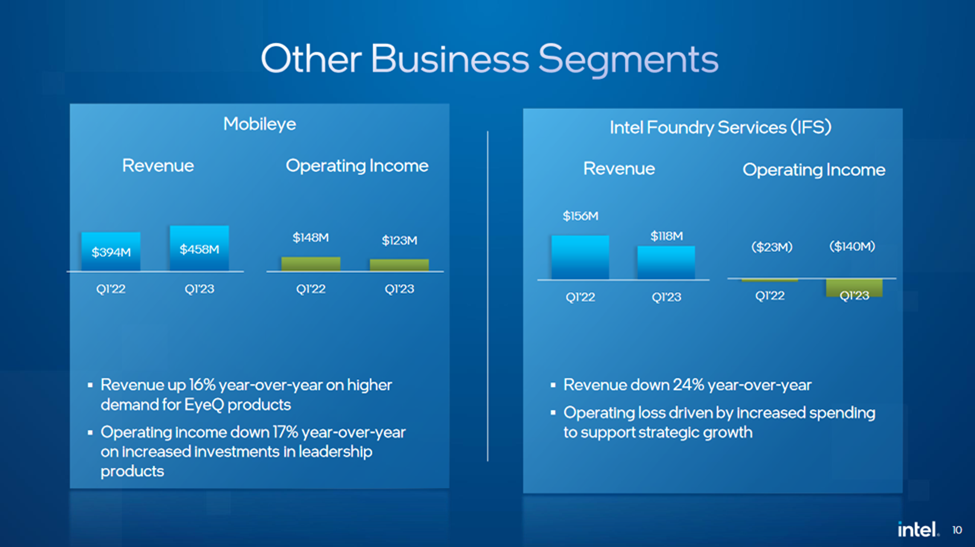 Outlook

Intel's guidance for the second quarter of 2023 includes both GAAP and non-GAAP estimates.
Q2 2023 GAAP and non-GAAP revenues are both projected to be between $11.5 billion and $12.5 billion. GAAP gross margin is projected to be 33.2%, while non-GAAP margin is around 37.5%. The estimated GAAP loss per share is expected to be $(0.62), while non-GAAP EPS loss is put at $(0.04).