Design initiatives propel the industry.
In addition to the HP leather accented launch reported earlier, some of the other notebooks introduced at Computex were equally interesting. Some of them were concept devices and may never be commercially available, but the ideas are inspiring nonetheless.
The many faces of dual screen notebooks
The added weight, cost, and power drain of a large second screen might make the offerings impractical for road warriors, but gamers may gravitate toward them. Asus' ZenBook Pro Duo and Intel's dual-screen Honeycomb Glacier concept gaming prototype, and Intel's Twin River are three new dual-screen concepts.
Intel's Honeycomb Glacier has a secondary 920 × 720 12.5-inch screen above the keyboard, which moves the keyboard down and replaces the palm rest area. The secondary screen can lay flat and the main screen folds on top of it in a conventional clam-shell fashion for transportation. When in use, the secondary screen can be titled up giving the notebook two very functional screens and putting the 15.6-inch 1920 × 1080 main screen at eye level—no more hunchback laptop use. Intel built in a Tobii eye-tracking camera that enables the user to switch between the screens by just looking at either one.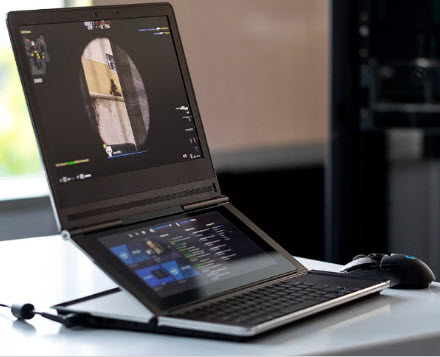 As mentioned, the system's main screen can be lifted up to eye-level, pulling the secondary display with it to a tilted position, which is an appropriate angle for glancing down at. The dual-screen assembly stays in place due to a one-way roller clutch that can be released by pressing a button on the side.
Intel says the Honeycomb Glacier has been designed with both gamers and creators in mind. It features a 45-watt 8-core Intel CPU and Nvidia GeForce 1060 graphics, and thanks to the extra space under the hinge, all the hardware is kept cool using one fan rather than the usual two.
Intel's Twin River concept notebook replaces the keyboard with a screen that can become a virtual keyboard. The Twin Rivers notebook is a fabric-clad dual-screen device that could be used as a magazine or book and feels very comfortable to hold.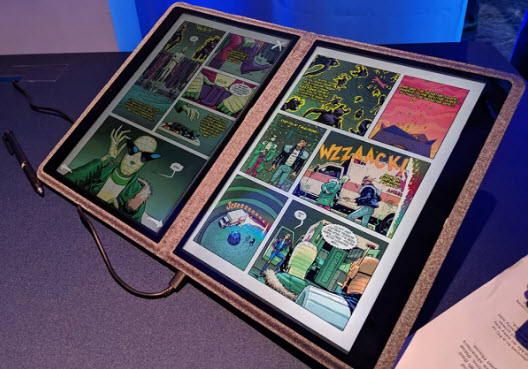 The Twin River concept has a pair of 12.3-inch, 1920 × 1280 touchscreen displays powered by a quad-core, 15-watt Intel Whiskey Lake U-series processor. The system supports an active pen for the lower screen.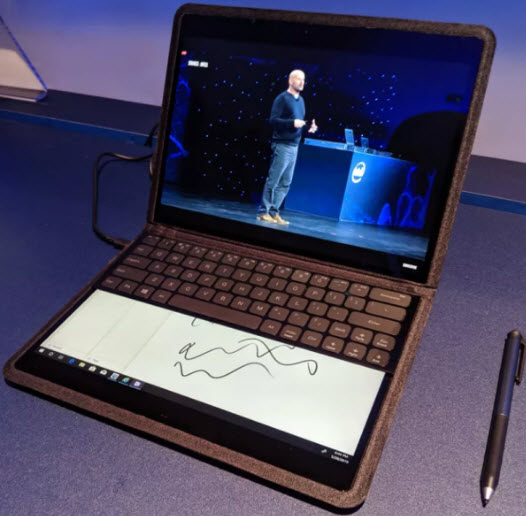 Microsoft had a project in 2008 (canceled in 2010) called Courier which was a booklet-like PC. The unit would have contained dual touchscreens that faced each other in a booklet form factor and would have used a stylus and finger touch for input. Twin River may be the final instantiation of that concept.
Intel didn't have any OEM announcements for the Twin River concept notebook, but it sure seems like it would be a desirable product.
Asus' ZenBook Pro Duo has a similar screen configuration as the Intel concept machine, but the secondary screen doesn't lift up and remains flat above the keyboard. However, the Pro Duo secondary screen supports an active pen, which could be a very clever use of the screen. Asus calls the second screen ScreenPad. The main screen is a 15.6-inch 4K OLED IPS NanoEdge display, and the secondary screen is a 32:9 14-inch 4K IPS as well. The two screens can be used as one contiguous display with 3840 × 3260 resolution.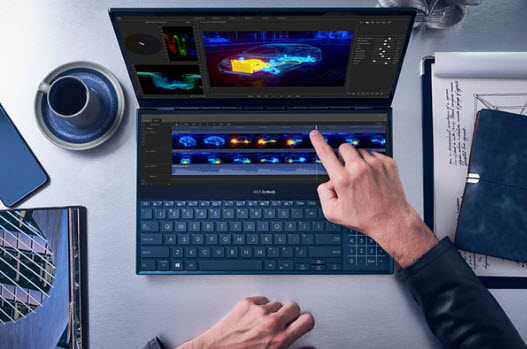 The laptop has a Core i7 CPU with Nvidia's MX250 GPU and optionally up to an Intel 9th gen core i9 CPU, and an Nvidia RTX 2060. It's a heavy laptop by today's standards for a 15-inch, weighing 2.5 kg (about 5.5 lbs), the added weight due to the second screen and packaging. It has a mix of Thunderbolt 3, USB Type-A and an HDMI port. No details about the ZenBook Pro Duo's pricing, it is expected to go on sale at some point in Q3 2019.
Other noteworthy notebooks
Asus also introduced its newest ZenBook, Edition 30; a laptop with a white leather lid and with an 18-karat rose gold Star Trek-like logo and strip design statement.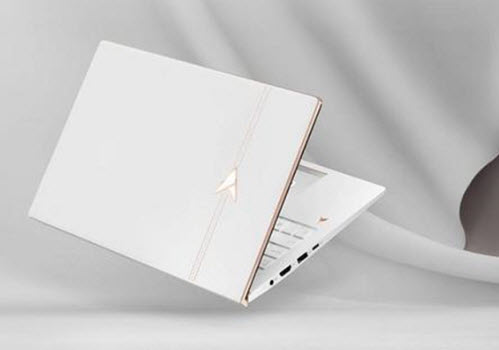 Asus said the laptop was launched to celebrate the company's 30th anniversary. It comes with an Intel 8th-gen Core i7 processor, Nvidia's GeForce MX250 discrete graphics, up to 16 GB of RAM, and PCIe SSD storage.
The notebook has a 13-inch bezel-free display with a 95% screen-to-body ratio, and a ScreenPad in lieu of trackpad. Price wasn't stated but it should be in the $1,400 range like other 13-inch ZenBooks.