Report from annual HxGN Live conference 2019.
Hexagon is best known as a sensor company, making 3D laser scanners and articulated-arm sensors that check the fit of finished products. After a car comes off the assembly line, for instance, robotic sensors scan the exterior, looking for deviations from tolerances. Other sensors reverse engineer parts or create point clouds of buildings. The sensor industry prefers we speak of its work as "metrology" and its sensors as "coordinate measuring machines."
On the backs of dozens of acquisitions, however, Sweden's Hexagon has become a CAE powerhouse, with sales of over US$4 billion a year, close to what industry leader Dassault Systèmes makes. Its collection of 230 hardware and software products are divided among many divisions.
The company realized that it should offer focused, multipart solutions from this disparate lot of products. All the large CAD vendors do this, of course, by offering solutions that start from the design stage, on to simulation, then into manufacturing, with some project management tossed in to oversee it all.
But here's the difference: Hexagon has the technology to do what no competitor can do: close the loop by using its sensing machines to report back whether the end result was successful. If not, then iterate. The company uses the word "smart" to indicate the sensor-based feedback loop—Smart Factory, Smart Build, Smart Farms, Smart Mines, and so on.
Sensors to the rescue
Smart Factory was one of several grand plans Hexagon showed at its annual HxGN Live conference in June (see figure 1). You would use software from Hexagon (and their hardware, in some places) in four stages: design, simulate, machine (using machinery from third parties on the factory floor), and validate. All the data involved in these stages will move in and out of the cloud, for which Hexagon will charge subscription fees.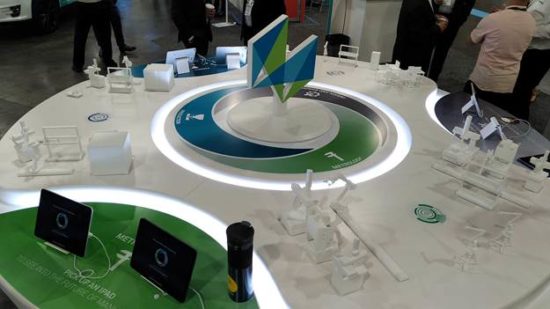 The closing-the-loop part was of greatest interest to me. In one case, a car hood bracket was reworked with generative software, and then 3D-printed in titanium. We were shown flaws in the output, where gravity caused the part to sag slightly during printing.
One of Hexagon's scanners scanned the part (see figure 2), identified the flaws (measured as deviations from the CAD model), and then adjusted the 3D printer to output the part a slightly manner. This, said Simufact managing director Hendrik Schafstall, is the advantage Hexagon has over competitors—the feedback loop made possible by its scanners.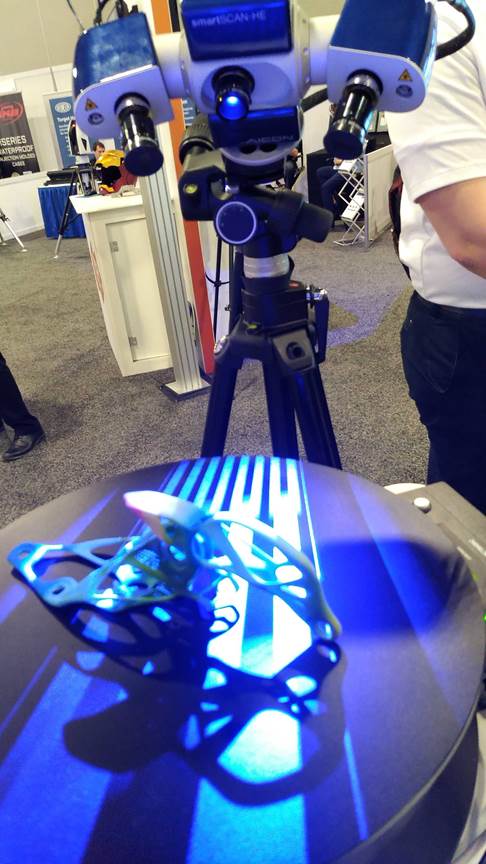 But there is a catch: Smart Factory is not available; we were shown what Hexagon hopes to ship. Parts are missing, such as the cloud system that massages the data between software and hardware. There is no connection to outside software, should customers prefer to continue using their licenses from the likes of Solidworks and ANSYS. As a result, Hexagon's idea is to approach customers with a piece-meal solution, rather than impose a full solution all at once, as some of its competitors do.
Another smart system is Smart Build. This one is interesting because it is Hexagon's initial foray into AEC (architecture, engineering, construction). It is so new that the company website has no information on it. At the conference, we learned that BricsCAD would be used to design buildings, and then the Smart Build cloud-based project tracking utility would read inputs from users and sensors on the construction site to report progress and problems.
Smart Build vice president Cathy Hayes said, "We are building an end-to-end workflow for building design and construction." A limited release is due this fall.
Yes, we have no CAD
There is one kind of engineering software that Hexagon does not own: CAD. This is why for CAD journalists like me this company has flown under the radar. Hexagon does own several CAD packages through its acquisitions of Intergraph, Vero, and Bricsys. So it puzzled me that Catia was the CAD program mentioned most often at the conference.
By "own," I mean that CAD does not figure into the thinking of most executives and staff that I met at the show. Their enormous Smart Factory display, which took up a quarter of the show floor, began with the Design + Engineering phase. But MSC vice president Tom Downey told me Hexagon defines "design" as what we would call pre-design, and defines "engineering" as simulation; CAD is someone else's solution to provide, for the most part.
Conclusion
The conference theme was "Can Data Save the World?", for which CEO Ola Rollén's answer was, "Yes!" (see figure 3). He explained the company's moto "Do Well to Do Good" meaning that the world's problems can be solved through capitalism, and Hexagon's services. Money is a great incentive to do well.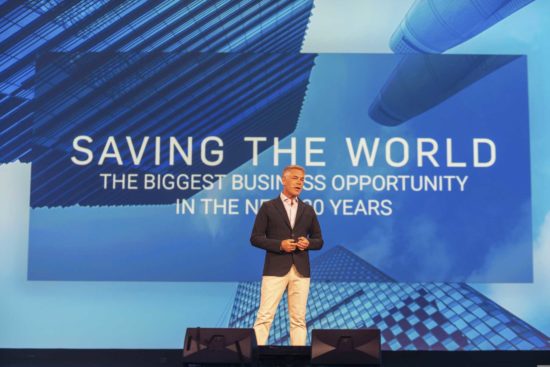 His aim is to make the future autonomous, which he defines as "putting data back to work." Hexagon's ultimate goal is to connect all those smart systems—smart construction, cities, factories, and autonomous vehicles—through Hexagon's core capability, sensors.