Graphisoft's annual Building Together Conference celebrated the digitalization sweeping the industry but also presenters warned architects they'd have to up their skills to stay competitive.
Graphisoft tends to look outward to complement its in-house tools. Its wholehearted support of OpenBIM gives users choices. Over the last three years, Graphisoft has opened up those choices with ongoing support for Rhino Grasshopper and by extension for Rhino; thereby beefing up the modeling options for designers to include NURBS-based modeling. The Archicad 24 introduction brought users the ability to create parametric components through the new Paramo tool. And, as a member of the Nemetschek family, Graphisoft has beefed up the choices for rendering. Archicad has integrated support for Maxon's CineRender, and support for Twinmotion rendering, and, coming soon support for Maxon Redshift. Likewise, Graphisoft has added new capabilities for MEP and structural design and analysis by building on the Nemetschek tools and beyond. OpenBIM means building in broad support for other programs and vendors so customers can pick the best tool for their purposes.
But perhaps the most striking message came from within the industry as architects and Graphisoft execs challenged the community to up their data management skills personally and within their companies.
As part of that message, Graphisoft Chief Product Officer Shesh Gorur talked about industry trends. He says the most obvious shift they're seeing is the increased pace of digitalization because of the Covid pandemic. He notes that uptake has increased as much as five-fold. This has had a positive effect on the acceptance of Graphisoft's BIMx tool for communication for on-site communications and making the bridge to construction, and BIMcloud, which also enables more advanced and efficient communications across the entire project. BIMcloud is central to Graphisoft's strategy for better collaboration.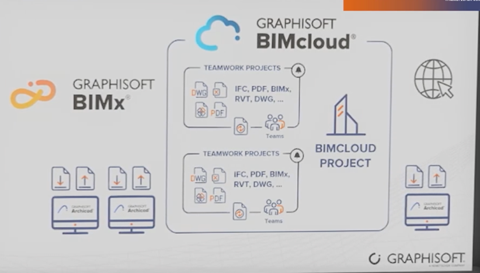 Gorur also observed that the commitment to sustainability in the AEC industry is growing. He notes, there are opportunities to address climate change through building operations and the use and production of materials, and the use of sensors in design is helping this drive towards an integrated Internet of Things (IoT) in AEC.
As part of that drive, Gorur pointed to Graphisoft's recent merger with Data Design System, which brings MEP data into Graphisoft to complement last year's integration of Nemetschek's Structural tools including RISA and SCIA as examples of the way Nemetschek and Graphisoft are working together to strengthen the ability to use data.
Graphisoft's support for OpenBIM also reaches outside Nemetschek.  Specifically, Gorur points out that Graphisoft's API ecosystem will give their customers an advantage in integrating processes into the BIM model. Graphisoft CEO Huw Roberts echoed this during the Building Together Q&A, in which he noted that Graphisoft has made sure that there are a variety of development tools available for customizing workflows including programming languages like C++ and easier to use options like Python.
It's the little things
Looking inward, ArchiCAD 25's advances are more customer-centric rather than technology-centric. The company worked off its list of customer requests and has put some time into going through the product and improving workflow. An example is Archicad's new visualization features for elevations that give users the ability to add materials and shading in with a few clicks. Previously, the company admits, customers were resorting to convoluted processes and even exploring third-party products. The company has added graphic overrides via a straightforward menu system. Graphisoft also points to smart modeling tools in Archicad 25 like the Curtain Wall and Stair Tool that makes processes easier and encourages exploration within design standards.
From the highest level view, Graphisoft has simplified many tasks in Archicad through easier menu choices and dialogs putting more power in front of users—there for the clicking. This includes the specification of components and materials and the development of schedules and estimates. In this, Graphisoft is taking straight aim at the tedious tasks in design.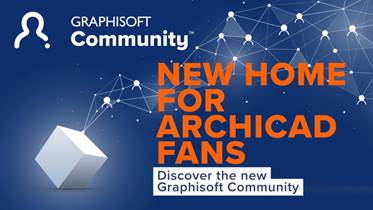 Getting together
Also at the Graphisoft Building Together conference, the company introduced the Graphisoft Community as a resource for users to communicate with each other and also get expert support.
Graphisoft has combined Archicad Talk and Graphisoft's English-language Help Center giving users an easy single sign-in. The company says the new platform offers "fast, efficient support, and search functions" to enable quick feedback for users from their peers and from Graphisoft's experts.
Users can sign up for a Graphisoft ID to gain access. The company says it will be adding out multi-language support gradually. The company invites current users of Archicad Talk to migrate their accounts to the new Community portal and they promise a seamless process. Users' previous activities and the content will be there waiting for them. In addition, the new portal promises engaging features including incentives, badges, rankings, challenges, and competitions.
For more information, visit community.graphisoft.com.