Graphisoft's latest release includes Param-O for Mac and Windows and enables easier import and export for structural analysis data.
At the end of 2020, Graphisoft announced its plan to release incremental updates for Archicad when they become ready. They're ready now with Archicad 24 Update 3, which includes the latest release of Param-O as a built-in tool for Windows and macOS versions. As the name implies, Param-O enables users to create parametric components using Param-O's node-based visual programming language.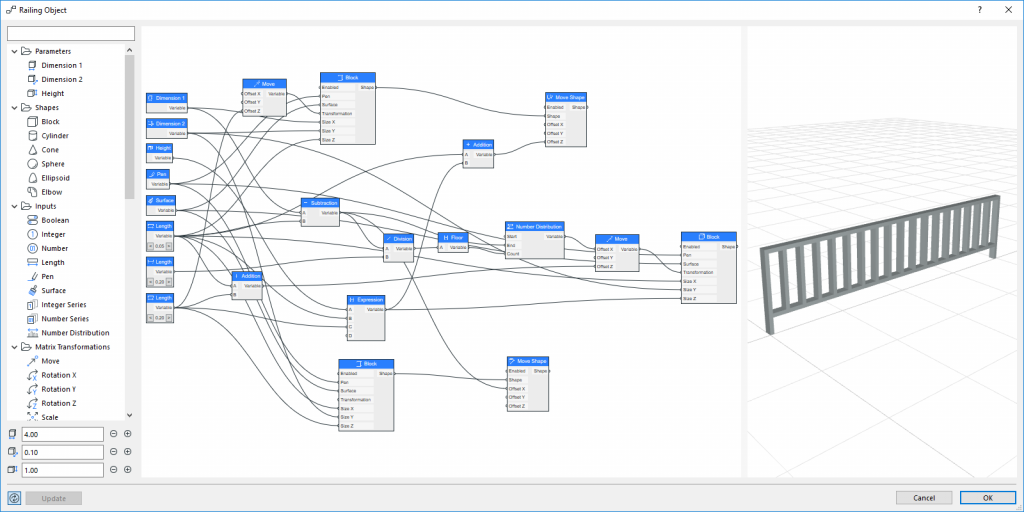 Param-O was introduced with Graphisoft's latest release, Archicad 24. At the time, Param-O was in the early days of its introduction and was offered to users for review and comment. It was a separate add-in and only supported Windows versions of Archicad. With Update 3 for Archicad 24, Param-O has been updated with more capabilities and supports macOS as well as Windows.
Param-O will enable users to:
Create custom, reusable object libraries
Create multiple design variations and options
Create unique shapes and forms
Param-O is offered as an entry point into working with Graphisoft's Geometric Description Language (GDL) without having to learn how to code. It allows users to use techniques developed for Graphisoft's algorithmic design technology. Also, designers can see what they're doing as they work so it's easier to experiment and learn along the way.
Objects created with Param-O will be recognized as Archicad objects even if Param-O is not installed.
The ability to create custom, reusable objects, and building components means architectural practices can develop libraries according to their own design and documentation standards, and they can add manufacturer-specific objects. Designers can also create repeatable designs using arrays and specify variations, spacing, etc.
Param-O created a lot of excitement with its introduction in ArchiCAD 24 last July and, not surprisingly, the first demand was for a macOS version. Graphisoft has met that demand and says they're continuing to improve and add more capabilities to Param-O.
Graphisoft's other major improvement for ArchiCAD 24 is an improvement in its integrated design workflow for structural analysis. Users can work with Excel files to automatically map Manufactured Profiles to SAF (Structural Analysis Format) Cross Sections at export. This improvement eliminates the need to do the mapping by hand. The database files can be used for import, export, or both.
The complete list of improvements for Archicad 24 is here.
Graphisoft has more information about Param-O on their site.
What do we think?
I think I'm lucky to have lived long enough for visual programming to become ever more capable. It's not really correct to say that tools like Param-O save us from programming. Rather it makes programming a lot easier to understand. Just as important, by making it much easier to create custom shapes, and components, the CAD companies are on the path to make design itself more accessible to more people.