New features including 3D tools and customizable blocks.
Graebert introduced its latest CAD engine at the end of 2018 and new products based on it are rolling out now in 2019. The highlights of the new version include the company's Trinity strategy to make mobile and cloud versions available to users as well.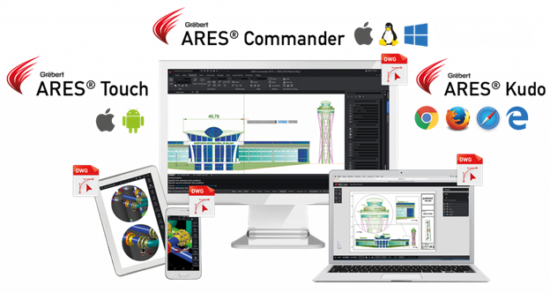 Graebert sells its own products as Ares Commander and it offers its APIs to developers to build their own CAD products such as CorelCAD or Dassault's Draftsight. Graebert's Kudo for cloud-based CAD tools has been adopted by OnShape to offer drawing support to their customers.
Job one for Ares or any product seeking to compete in the AutoCAD market is to maintain compatibility with the most recent programs using DWG including Autodesk and Bentley Systems. The 2019 Ares product has been brought to compatibility with DWG 2018.
Graebert works with several companies to provide support for cloud workflows, which may not be ideal, considering we all use a variety of companies to park content in the cloud. Graebert supports Google Drive, Box, DropBox, OneDrive, OnShape, and Trimble Connect. Graebert seeks to save their customers from themselves by providing a cloud storage palette, so they can sync changes across apps and devices and find their content in the first place. Content is managed through a Graebert account. Files can be shared for collaboration or as view-only files. Collaborators are prevented from stepping on each other's work because a file open by one user cannot be edited by another—that person is in read-only mode until the file is released. Users can also use a Commenting Palette to communicate. Comments be added to drawings or attached to specific entities and users sharing the file can reply and add their own notes.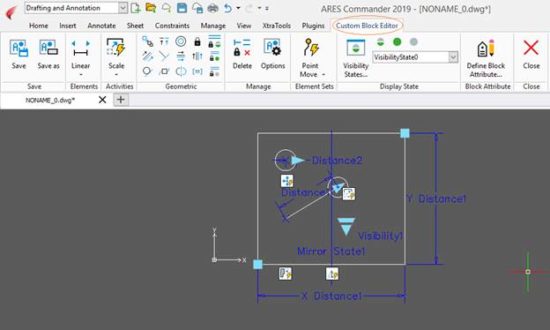 Ares has had 3D features since the start, but the 2019 version is pushing it further along the lines of using 2D sketches to build a 3D model. New Push Pull features let users create a sketch and turn it into a 3D model.
Graebert has also added chamfer edges and fillets for 3D solids. The PolySolid feature allows 3D walls with constant height and width can be created with lines or curves. Also, 2D entities can be converted into 3D PolySolid entities.
Ares has added customizable blocks that let users create reusable elements which can be edited according to user-based constraints. Blocks may have hidden elements. Graebert says the ability to scale and resize blocks enables users to streamline their saved content rather than saving each block as a different size. Dialogs let users see the views attached to a block and pick between them.
The customizable blocks features let users build libraries of frequently used drawings. (Source: Graebert)
Ares has updated their layer manager with a new palette and dialogs. The main issue was that the dialog took up a lot of screen estate. Now it can be resized, moved, and docked. As a docked palette, it can provide quick access to layers. Layers can now be merged.
What do we think?
The customers for AutoCAD and AutoCAD compatible products like Ares Commander and the products derived from it are primarily looking for a drafting tool. They may occasionally want 3D to create models for rendering or to create call outs, or other occasional uses. Graebert has always had 3D options and has added on but in the end, Graebert's 3D looks pretty much like SketchUp and other tools that are designed for 2D users. There's nothing wrong with that as millions of SketchUp users will angrily attest to.
People want 3D and many of them need 2D.
Increasingly, Graebert is bringing its tools up to speed with AutoCAD and customers are showing their satisfaction with it by buying the tools. AutoCAD's iron grip on the drafting market has been broken and there are several competitors in the field that can fill the need for 2D drafting.