Would you pay $300 for a 5mp camera?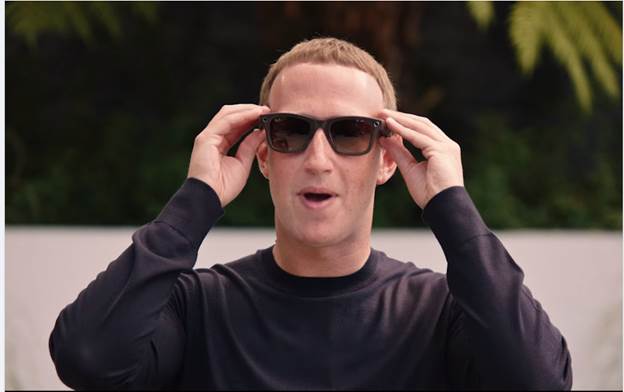 Facebook worked with Ray-Ban to design sunglasses to take photos, record video, answer phone calls, and play podcasts. You need to be a Facebook subscriber to use those services, but who isn't a Facebook user? The unstylish-looking Wayfarer sunglasses is the first product from a multiyear collaboration with EssilorLuxottica, the Italian-French vertically integrated multinational corporation based in Paris. The firm was founded in October 2018. It was the merger of the Italian Luxottica with the French Essilor. The group designs, produces, and markets ophthalmic lenses, optical equipment, prescription glasses, and sunglasses. Ray-Ban is one of their product lines.
The glasses have two 5mp cameras in the upper right and left corners of the frame. And when Mark Zuckerberg or anyone else takes your picture, by tapping on the frame, a little white LED lights up—don't blink, you might miss it. You don't want to blink anytime someone takes your picture—who needs another dumb picture of themselves. The wearer can also take a 30-second video, and the light stays on for the duration.
The glasses have Bluetooth for communicating with your phone, which gives you access to text to audio apps, music, and alerts. It also lets the wearer send their photos and videos to the phone. Social media apps like Facebook, Instagram, WhatsApp, Messenger, and others will never be the same. A three-microphone audio array supports phone calls. Think of how great it's going to be in the car messaging and talking and listening while you are not paying attention to driving. And no more risks of getting a ticket for being on the phone; the cops will never know; only those unfortunate drivers near you will.
The smart glasses also feature open-ear speakers mounted at the top of temple, so someone standing close to you could hear what you're hearing.
The Facebook voice-activated, Assistant app will help users control various functions of the glasses. Facebook says the use of Facebook Assistant is optional. However, the voice assistant will keep a log of the commands given by the user. The wearer can erase their record, turn off voice storage along with Facebook Assistant from settings in case you've said something you wish you hadn't.
There is also dual-band Wi-Fi—2.4 GHz and 5 GHz bands in the glasses, which seems redundant if your phone is needed to use the glasses.
The frames come in four color options—Black, Blue, Brown, and Green. These come with six options for lenses that include regular, polarized, and transition lenses. Users can select between Clear with Blue Light Filter, Brown, Dark Grey, Green, Polarized Dark Blue, Transitions Clear with Dark Green lenses.
The glasses are charged through a special port in the hinge and have about six hours of battery life. The bundled USB Type-C cable is used to charge the AirPods-like charging case. The Facebook glasses also have a physical switch for turning them off.
The glasses sell for $299 to $379 in the U.S.
What do we think?
Bone conductive earphones would have been better for privacy, but they are expensive and use more power than piezo. Facebook adds cameras and charges $100 more than Razer does for their audio-only glasses.
For people who like the Wayfarer Ray-Ban look, the Facebook glasses will be an easy acquisition. And the rounded lens style popularized by Snap and copied by others evidently appeals to a certain demographic and financial level.
There was no mention of prescription lens being available, but if the glasses prove to be popular, and with the big Facebook and Ray-Ban brands on them, they probably will, no doubt such options will become available.
Facebook enters a crowded pool which is going to get really crowded when Apple cannonballs in.
It's a tricky consumer marketing problem. For AR glasses to really become ubiquitous, they have to be inconspicuous and no more noticeable than ordinary corrective glasses or sunglasses. But, if you are entering a nascent market with competition, you want to have an easily differentiated product. We'll be able to measure the cross-over point from expensive novelty semi-AR glasses to real, inconspicuous AR glasses when the costume design aspect fades away. In the meantime, the cool kids with their Ericdress sneakers and baggy T-shirts will adopt them. Watch the news for glasses snatching muggings.