Business Advantage (BA) has been measuring the CAD market since 1992. The company conducts surveys worldwide on a custom basis. The group also conducts a regular trends survey to help them keep an eye on the interests of CAD users and promote their services.
BA's trend surveys have also proved to be a valuable weathervane about CAD users real requirements and interests. This year's survey was taken from the company's large database of one million CAD users and decision makers. The survey drew 626 qualified responses, which is in the range of past surveys. The global distribution of responses between North American, EMEA, and Asia is equally distributed between Europe and North American with 41% each of respondents and 18% for Asia. The response from Asia is relatively low compared to our estimates for the worldwide distribution of CAD users but consistent with our own experience conducting surveys.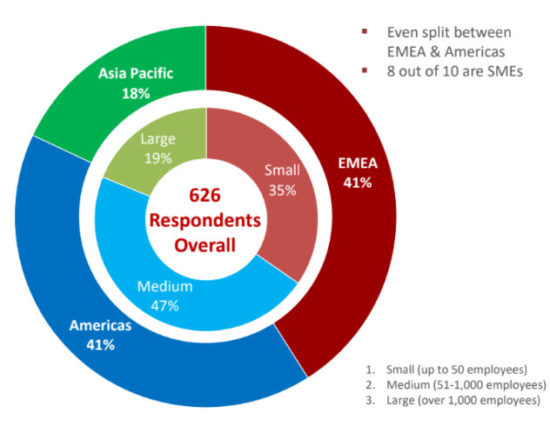 The Business Advantage group tries to consistently cover the same topics over a period of years but also add new topics as they bubble up in the CAD community and to drop topics as interest falls off.
This year BA surveyed their database on 16 topics:
3D Modeling
BIM (Building Information Modeling)
Cloud-Based CAD
Mobile Access to CAD (via laptops, tablets, mobile phones)
Collaborative Design
PLM (Product Lifecycle Management)
Rendering
CAD licensing options
PDM (Product Data Management)
Augmented Reality
2D Drafting
CAM
Virtual Reality
Machine Learning
Artificial Intelligence
Generative Design
New to the list this year are Rendering, Virtual Reality, Machine Learning, Artificial Intelligence, Generative Design. These new topics are trending as vendors add new tools to make the technology accessible to customers. This is reflected in the awareness vs. usage figures shown below.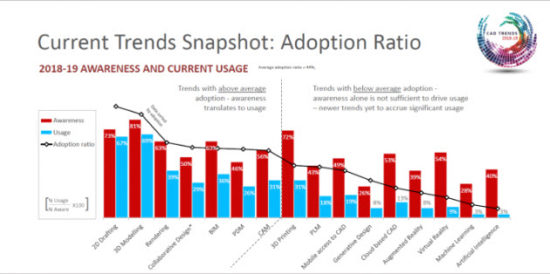 Standard tools
In some cases, the correlation between awareness and usage is obvious. CAD users are aware of 2D drawing and 3D modeling and a high number of them are using these tools. The other aspect of the 2D/3D split for CAD users is that 2D and 3D are not mutually exclusive. In the future, 3D may grow, and we expect that to be the case; and perhaps 2D will drop off as users become accustomed to working entirely on digital platforms, but it's now clear that 2D and 3D workflows will remain in use at most organizations.
As an aside, the high proportion of use for rendering in Business Advantage's results surprises us a bit, because it indicates the trend is a little ahead of what some of us might have thought. Sixty-three percent of respondents indicated rendering is relevant in their work, and 39% use the technology. Enterprise providers Dassault and Siemens have acquired rendering technology and have brought them in house. Nemetschek, a strong player in AEC has powerful rendering tools in its portfolio, thanks to its Maxon division. In addition, the processor companies AMD, Intel, and Nvidia are making ray tracing technology tools and programs freely available. As rendering becomes easier, faster, and less expensive, we expect to see its use become more widespread in the large population of CAD users.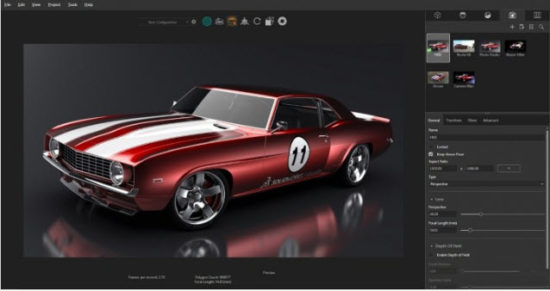 Up and coming or misunderstood?
On the opposite end of the scale, machine learning, AI, virtual reality, cloud-based CAD all score well in user awareness, but relatively few users are actually taking advantage of the technology. The challenge of measuring AI and machine learning usage is that these are not usually optional features for customers, they're examples of technology to be integrated into the software so, customers will probably not realize the extent to how AI and Machine Learning are being used in their products.
On the hardware side, machine learning also comes into play in IoT, and on that front, we do expect to see customers reaping the benefits of machines being able to self-monitor and report on their relative health, even though they will not be directly involved with the mechanisms. However, this is not an area where the majority of designers and drafters will directly interact.
Business Advantage sees a similar disparity for virtual reality, with 54% of people saying they know about the technology, but only 9% are using it. These results don't surprise us and are in keeping with our own estimates.
Nonetheless, VR is a really interesting topic in 2019. Only 12 months ago, it looked like VR was headed towards becoming another promising technology lost in the purgatory of the hype cycle, doomed to endure another round before getting another chance for the brass ring. In comparison, AR seemed to have some staying power thanks to its use in IoT, industrial maintenance and repair, automotive, and other fields where hands-free working makes the heads-up display afforded by AR glasses a benefit.
But, in 2019 we are seeing and expect to see significant announcements in the industrial and scientific segments around VR from leading providers, which points to a gradual pick up in the technology. It's hard to overstate the importance of Microsoft's entry into the AR field with the Hololens and Windows support for head-mounted devices. Microsoft can provide the consistent hardware and software infrastructure that emerging trends require. AR and VR are both going to benefit.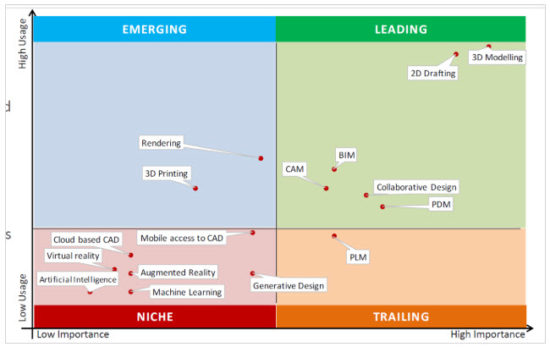 Business Advantage has a plot graph of the major trends it is tracking. Some of those trends down in the lower quadrant where awareness may be low, and usage is lower are going to start rising. Some trends are not well understood by users or by analysts. When technology is new it's not always clear how users will eventually put it to work, if at all.
Cloud-based software is a perfect example of this. Customers have had a sharp reaction to the possibility of losing their computer-resident, boxed software but vendors have had other plans. It has been evident for quite a while that the cloud is going to play a very important role in digital technology. What vendors, customers, and analysts have all been struggling to understand is how will the cloud be most useful to customers and when?
The benefit of the cloud is that it puts content in a central location where all stakeholders in a project can access the most current files. The CAD program itself could be resident in the cloud, or it cloud be on a client computer, and there are hybrid approaches. Cloud-based applications are always the latest version.
Also, cloud-based programs are accessible on any device, regardless of operating system and, for the most part, onboard processing power.
These are features that appeal to customers.
We're seeing a lot of variation in the ways in which the cloud is being used by customers. They're taking advantage of processing in the cloud, storage, and they're showing increased willingness to actually do their work in the cloud. For example, The cloud-based CAD programs OnShape and Autodesk Fusion are seeing steady growth. These new tools may be used in addition to traditional CAD products or on their own but, the acceptance is clearly growing.
Another look at the lower left quadrant of Business Advantage's plot of survey answers shows mobile access to CAD programs and data, cloud-based CAD, moving up. Collaborative Design is in the upper right quadrant where trends are considered important and people are putting them to use. The way we see it, collaborative design is a driving trend that will make incorporation of cloud resources a necessity. Access to CAD on mobile devices and to CAD program access anywhere are bonuses.
Summary
The digital revolution has swept through the industry like wildfire, dramatically changing everything it touches, and utterly transforming work practices. Meanwhile, CAD customers are doing critical work in the design and creation of our modern world. In some cases, they may be ahead of the curve, and in some cases, they may be so busy getting work done, they're not really thinking about how to add new practices to their workload. But, it's always a good idea to ask customers what they think.
This article is an opportunity for us to look at Business Advantage's survey results in the light of our own experience and research, and we recommend you go see the survey and listen to the company's own analysis.