The company is building a platform for construction planning, costing, and management.
The themes and news coming out of Autodesk University aren't big surprises. The company focused heavily on AEC and zoomed in on construction. Well why not? These conferences aren't about surprise. Companies use conferences to telephone their customers. The message Autodesk wanted their users to think about now is the opportunity provided by an almost inherently inefficient construction industry.
The day before the show officially kicked off, the company unveiled its Autodesk Construction Cloud. The Construction Cloud combines Autodesk's core design tools with BIM 360 and new acquisitions Assemble, BuildingConnected, and PlanGrid. Autodesk says the new system offers customers a builders' network to connect workers and jobs and analytic tools for predictive insights.
It's probably fair to say that Construction Cloud also represents the assimilation and integration of PlanGrid, Assemble, and BuildingConnected with Autodesk's AEC product line. The work has also given Autodesk a cloud platform on which to build its AEC products going forward. Similarly, Construction Cloud connects everyone on a project—those in the field and those in the headquarters and everyone in between.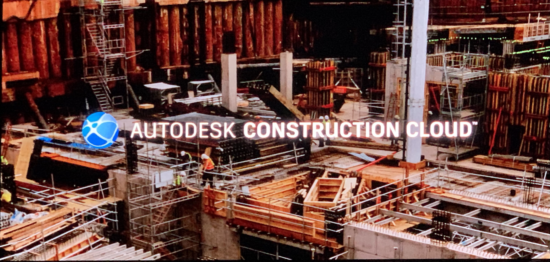 Autodesk says it has included over 50 new product enhancements across products. It has also added new AI and machine learning tools. During Autodesk University, Autodesk CEO Andrew Anagnost talked about the company's commitment to improving workflows with AI and ML. As he correctly notes, no one wakes up in the morning and says I can't wait to start modeling today. During the keynote, he showed a directed modeling capability that could provide hints and best practices for creating a model. The capability has not been incorporated into any products yet, but Anagnost said it works well enough to enable a CEO to model a 3D part.
 Getting specific
Assemble: Construction Cloud will be updated so that Assemble, Autodesk's tool that enables documents and projects to be linked in meaningful ways, will also support AutoCAD, Revit, and Navisworks.
BuildingConnected is Autodesk's pre-construction tool that connects contractors, subcontractors, owners and enables bidding; contracts can quantify 2D views in BuildingConnected BidBroad Pro.
And PlanGrid, Autodesk's tool that provides access and enables collaboration using plans, drawings, photos, punch lists, and other important project documentation, has a new feature that allows it to record videos from within the PlanGrid app.
Autodesk says it is enhancing all BIM 360 modules with better integration to prevent miscommunication, lost information, RFIs, and change orders.
Integration is the key to Autodesk's AEC strategy. The company says it has improved integration throughout the tools in its AEC portfolio and it is building on BIM 360's Common Data Environment (CDE).
Putting intelligence to work
The list of new capabilities in Construction Cloud also includes some AI that helps mitigate risk and identify problems. Autodesk cites TradeTapp, a sub-feature of BuildingConnected, which provides information on subcontractors allowing hirers to assess suitability for a project. For instance, TradeTapp's parameters include company size, liquidity, profitability, and revenue so bosses know what they're getting into. In addition, Construction IQ is an algorithmically based application that can also flag high-risk projects, subcontractors and issues.
The list of all the features and modules included in the Construction Cloud is long and was considerably shortened out of deference to the reader as well as for the writer's ability to get through this day.
What do we think?
Well, I want to get this said, but I don't think I want to dwell on it. Am I the only one who got a little frisson of dread thinking about lists of subcontractors with their pros and cons? Jobs hanging on data that might or might not be accurate? Obviously, construction workers are not the only ones being profiled and sorted and judged by algorithms. That's the new world entering and if it's going to go this way, at least we can hope that job sites are safer and better managed (and probably a lot emptier, too).
More relevant perhaps, the underlying message of this year's AU is the continuing work going on behind the sites to better integrate all the company's portfolios, get them in the cloud and even open them up to larger ecosystems outside the company. At this point, we're not sure how far this goes, but the work has been going on for years now, ever since Autodesk introduced its Forge APIs.
At AU, Autodesk revealed its open relationship with Esri, which will make geo-location possible in Autodesk's design tools. Forge enables companies to build on Autodesk tools using the same code Autodesk uses for its development.
This is an industry-wide trend. Companies are improving their APIs to make it easier for companies to partner and add functionality to their products, but companies aren't giving the store away just yet. They're buying into the open source philosophy, but keeping their kimonos sashed where it counts.
However, several times through the conference, Autodesk employees endorsed Anagnost's vision for integration and increasing openness. After watching this company for so many years, it's going to be really interesting to see how the company changes and evolves with the times.
Read more…
Autodesk's Interactive News Release
Autodesk expands its construction project management portfolio