Forge development platform comes to the fore at AU 21.
Usually, Autodesk University is a crowded, messy affair, full of front line workers set loose in Las Vegas for a few days of hanging out, learning, sharing tips and tricks, gossiping, and so on. That hasn't happened in two years. Instead, these digital conferences are all business and blessedly a lot less talk.
Over this period, what has also happened is a complete reassessment of how people do their work. Autodesk is taking advantage of the shift to cloud-based collaboration and remote working to build a consistent infrastructure beneath all its products.
It's a truism that during recessions, successful businesses retool and improve their processes in preparation for better times but what we're experiencing today are major technology advances in response to profound social changes.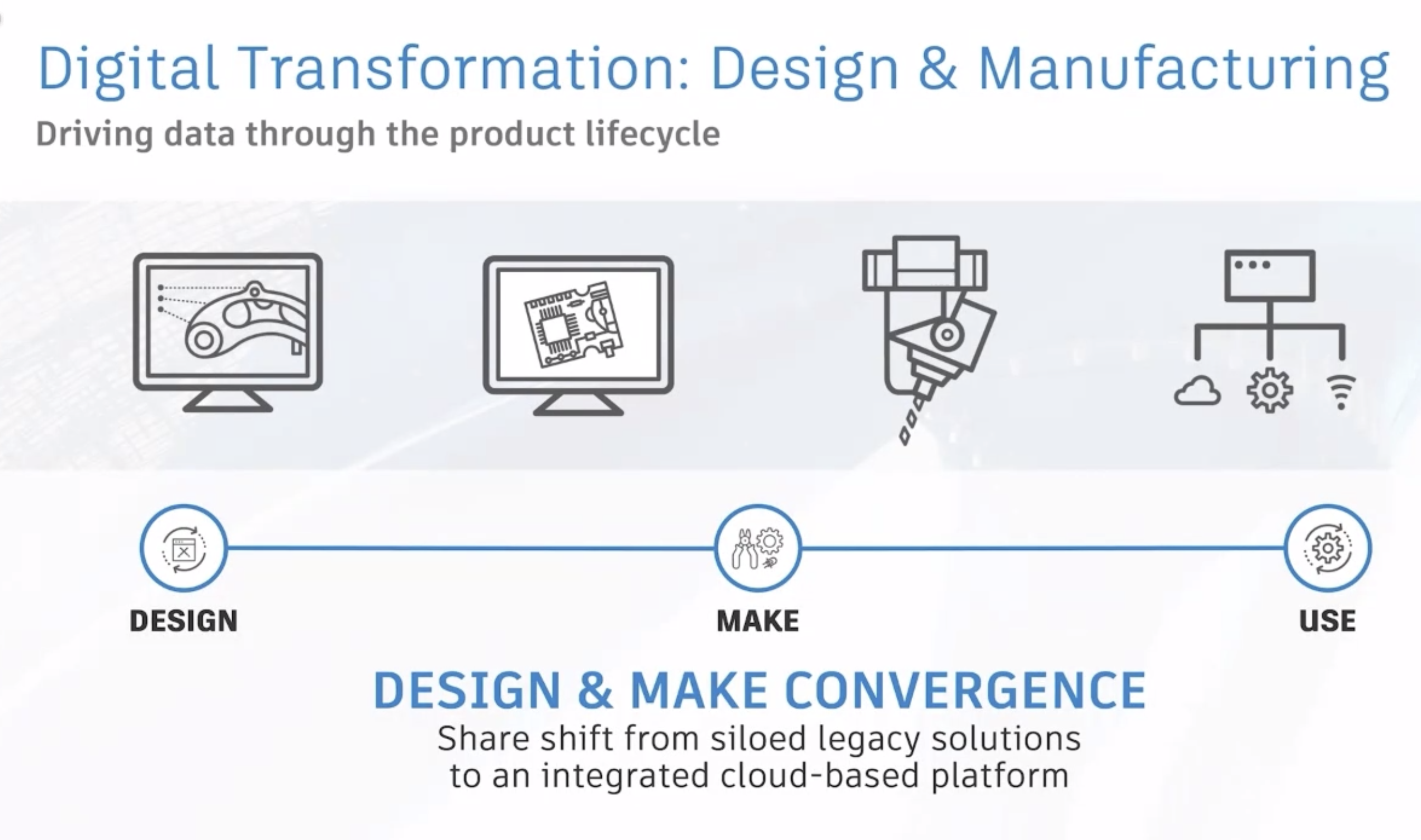 When  Autodesk introduced Forge in 2016, the company stressed it was made of the same tools the company used for internal development. As a result, Autodesk could promise partners seamless integration. It represented the evolution of Autodesk's third party program, which was originally founded to support and encourage the growing numbers of third party developers who were developing applications on AutoCAD. The program is now system wide and once again, Autodesk is stressing the importance of Forge as an internal development tool.
At Autodesk University, Autodesk's new CTO, hired in February 2021, Raji Arasu, said that Forge represents a "new journey for Autodesk," and she observed that Forge has amassed a larger ecosystem of developers than that of AutoCAD. In her talk at AU, Arasu said, "we're expanding Forge to be at the center of everything that we do." Most importantly, Forge has become a cloud-based development platform that is enabling the company to move its products to the cloud.
The work Autodesk has been doing on the AEC side, especially in construction, has gotten plenty of attention inside Autodesk. Jim Lynch says Construction Cloud is built on Forge and the company has been steadily building Forge integration into the companies they acquire. As that happens, says Lynch, a number of common functionalities become available to users as part of the platform. That includes machine learning, more sophisticated asset management, and access to Autodesk's new Docs feature, which sounds humble enough but becomes quite powerful as it becomes universalized across all of Autodesk's products. The Docs feature is based on Autodesk CDE (common data environment). It is actually ISO 19650, which is based on the UK BIM framework. In other words, it is "common" across the AEC industry.
The Tandem digital twin product Autodesk acquired recently is currently getting Forged and Autodeskitized. As a handover tool for architectural products, Lynch says Tandem will bring the Autodesk's AEC platform closer to the ideal of a true digital twin and takes facilities management into real life. Lynch says Tandem brings owners into the construction process where they can have much more visibility and input throughout the project lifecycle. "Tandem strengthens our construction strategy," says Lynch. According to him, owners and the managers of the building will want access to the digital twin because they will want insight into the building process. He says he expects owners to ask for the digital twin at handover because they want to see what happened throughout construction so they can more effectively manage the building.
"We have a lot of runway left in making constructions and preconstruction more efficient," said Lynch at Autodesk's IR day.
By the end of AU 2021, however, it was obvious that Autodesk is now turning to its manufacturing division to start seeing more benefits from the digital revolution. There's been a lot of talk about how the pandemic has affected working people and their jobs, and one of the problems that has tied us all together is the failure of the supply chain. Srinath Jonnalagadda, Vice President, Industry Strategy – Design and Manufacturing, admitted that when the system broke down the philosophy of JIT was to blame but now he says there is wide scale stockpiling, which is leading to new problems. He warned his audience not to lose sight of the gains that have been made through in the last generation of manufacturing advances.
After all the work Autodesk has done to digitize the construction industry, the company now wants to bring manufacturing back up to speed within the company. In his presentation at AU this year, Jonnalagadda said that as products get more built-in intelligence they are becoming more complex and they are becoming disconnected. He said that capabilities such as CAM, PLM, CAD don't work for their customers if they're disjointed and that is where Autodesk is putting in new work.
And yes, much of that work is taking place through the Forge Platform. Jonnalagadda says the aim of the platform is for the entire supply chain to stay connected and Fusion 360 is addressing that head on—data is at the center.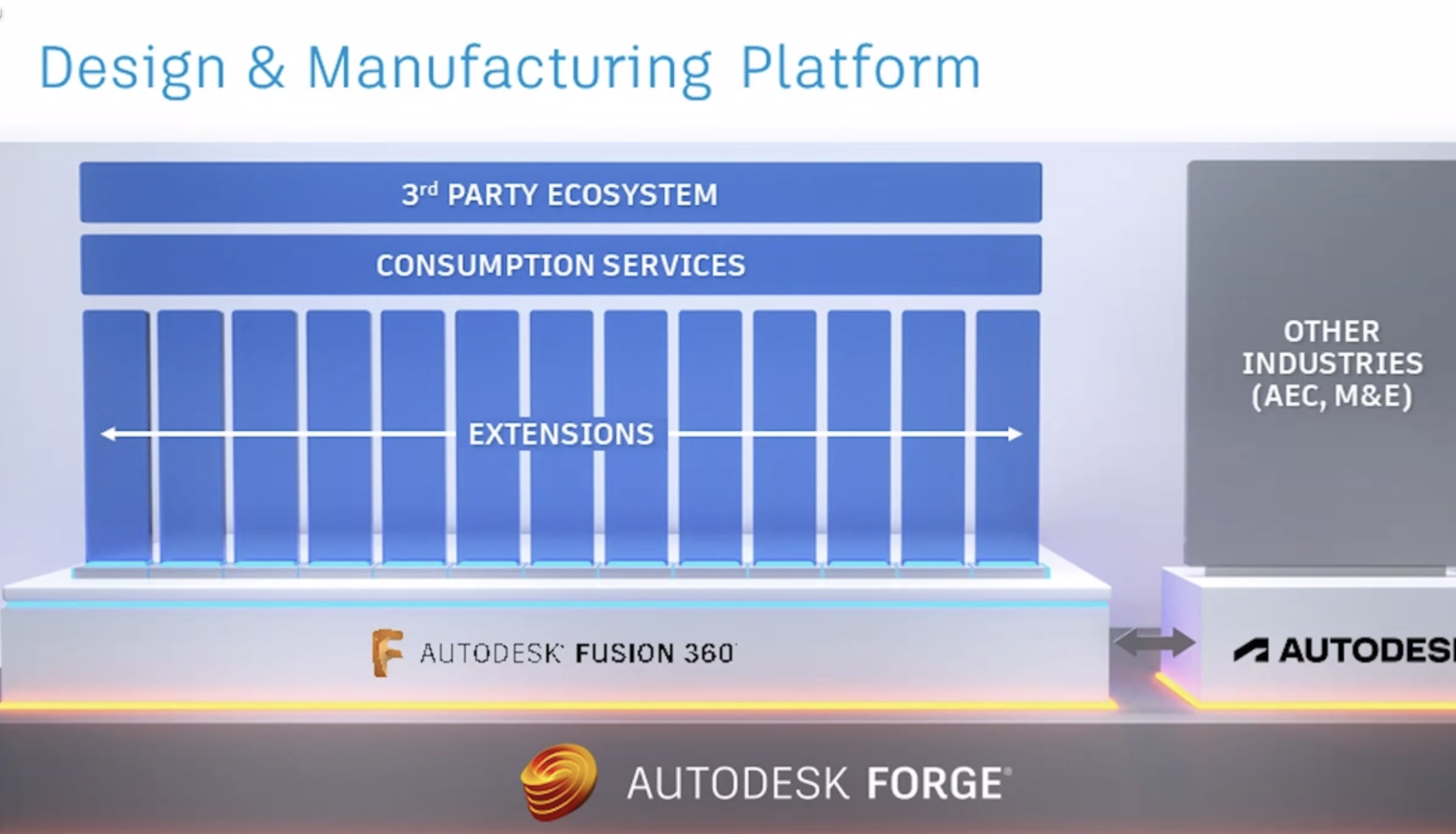 Scott Reese, Autodesk EVP, Product Development & Manufacturing Solutions, explained how Autodesk's interoperability afforded by Forge will expand the company's reach into new markets as well as strengthen the company's products. Similarly, the AEC programs will be interconnected through the CDE; all the data associated with a project is connected and tied together end to end. The extension framework ties right into the data model, which is key to the continued and expanded interoperability of Autodesk's products.
Autodesk has introduced Extensions as a way to expand the capabilities of Fusion 360. It has added generative design, machine tools, nesting, analysis, and there is much more to come. For instance, Autodesk has announced a collaboration with Ansys to create a PCB extension for Fusion 360. You may remember Autodesk's attempt to acquire electrical design company Altium. The extensions capability enables Autodesk to offer its customers a range of capabilities depending on their requirements. For PCB, they can choose Autodesk's own Eagle technology, or they can choose the new Ansys tool, or other options that will come along. Autodesk frames the strategy as a way to keep the cost of basic Fusion 360 low at $495 per year but infinitely extensible. It worked for AutoCAD, right?
Autodesk is going back to its roots for inspiration in more ways than one. The company is increasing the interoperability between Inventor and Fusion 360. Fusion began as an outgrowth of Inventor to allow direct modeling but as a cloud-based app. Fusion 360 is an option for much more interoperability. In May 2021, Autodesk introduced Fusion Team as a collaborative tool between team members or with external companies. At AU 21, presenters talked about ways in which to bring Inventor and Fusion 360 closer together as part of the Design and Make convergence. Autodesk CTO Arasu said in her talk that as soon as next year customers will be able to find product data from Fusion and Inventor in either product and accessed in the same way.
Scott Reese described other work going on through Forge and Fusion 360 that illuminate the huge potential the company sees in completing the Forge layer for all of Autodesk's products. He noted that Tandem could be developed as a manufacturing tool for digital twins.
Autodesk is also promising transformation with the integration of its newly acquired Upchain PLM tool. Upchain is a cloud-based PLM and PDM tool and will give more advanced PLM and PDM capabilities. At the investor's meeting, Reese admitted that bringing Upchain into the family "is tricky." In the first stage, Reese said that some Upchain capabilities will appear in Fusion 360 and further capabilities will be offered through extensions. He said rather than see Fusion as an application, he sees it as a tool for end-to-end product delivery. And in that sense he expects Fusion 360 to grow beyond its traditional base of SMBs and become a choice for enterprise customers.
There was plenty more that went on at Autodesk University. The same sort of transformations is happening on the Media and Entertainment side with Autodesk entering into a partnership with Weta, the adoption of the open collaborative USD format for Maya and 3ds, and building Forge into Autodesk's Bitfrost application to expand simulation and interoperability. But most of all, it's all going to the cloud where it can adapt to the rapidly changing virtual production ecosystem that has only strengthened during the pandemic.
What do we think?
Personally, I wish we could leap ahead a few years so we could be talking about how strange it was during the pandemic years but it's amazing to see the jet-propelled technical development that has happened on every front as a result of something so destructive. It isn't just Autodesk, these same changes are happening across all industries including entertainment and creativity. The idea of applications is changing and breaking down and soon we'll be thinking in terms of separate capabilities rather than packages of tools. Customers will be able to reach for a rendering tool that works with their model as if they were reaching for a wrench in the garage.