AMD released its Q1'23 financials, reporting a mild loss due to onetime charges and weakness in its Client business. Enterprise and Data Center businesses were the star of the quarter.
AMD reported that its earnings for the first quarter of 2023 were $5.4 billion, down 4% sequentially from the prior quarter and 9% from the same period a year prior. Gross margin was 44%, with an operating loss of $145 million and a net loss of $139 million, for a loss of $0.09 per share.
On a non-GAAP basis, which excludes primarily onetime, noncash-related charges, the gross margin was 50%, operating income was $1.1 billion, net income was $970 million, and diluted earnings per share was $0.60.
"We executed very well in the first quarter, as we delivered better-than-expected revenue and earnings in a mixed-demand environment," said AMD Chair and CEO Dr. Lisa Su in a statement. "We launched multiple leadership products and made significant progress accelerating our AI road map and customer engagements in the quarter. Longer term, we see significant growth opportunities as we successfully deliver our road maps, execute our strategic data center and embedded priorities, and accelerate adoption of our AI portfolio."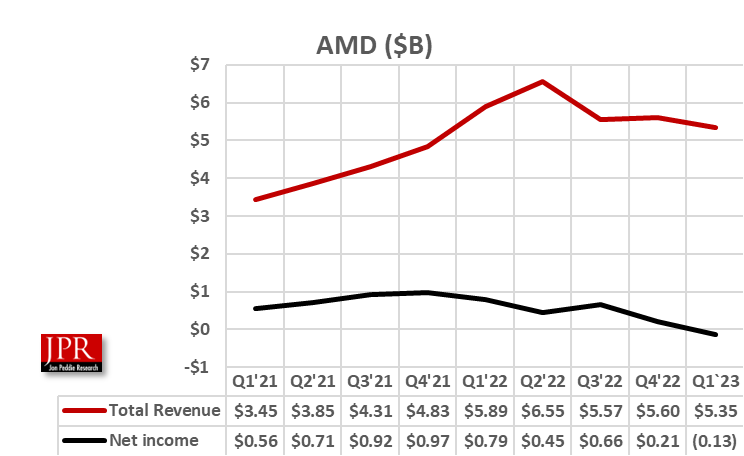 Gross margin decreased from 48% in Q1 2022 to 44% this past quarter, primarily due to Client segment underperformance and amortization of acquisition-related intangible assets.
The company reported an operating loss of $150 million, as compared to a profit of $1 billion in the same quarter last year, primarily due to the Client segment underperforming and amortization of acquisition-related intangible assets. Non-GAAP operating income was $1.1 billion, down $739 million from a year ago, again due to Client underperformance,
Net loss for the quarter was $139 million, or $0.09 per share, compared to net income of $786 million, or $0.56 per share, in the prior year. Non-GAAP net income was $970 million, down 39% year over year.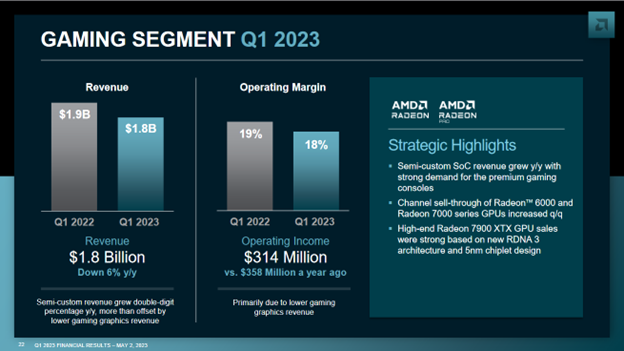 In the Gaming segment, revenue was $1.8 billion, down a modest 6% year over year. Gaming segment operating income was $314 million, or 18% of revenue, compared to a $358 million, or 19%, a year ago.
Higher semi-custom revenue was offset by lower gaming graphic sales. Semi-custom SOC revenue grew year over year, as demand for premium consoles remains strong following the holiday cycle. AMD says channel sales grew sequentially for the Radeon 6000 and Radeon 7000 series GPUs.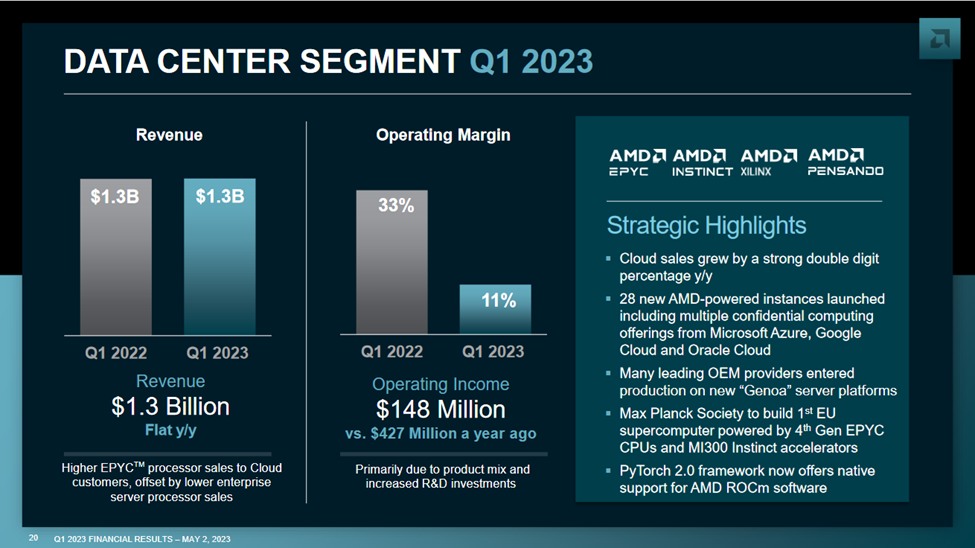 Data Center segment revenue of $1.3 billion was flat year over year, with higher cloud sales offset by lower enterprise sales. Epyc CPU sales in the cloud market grew by a strong double-digit percentage year over year but declined sequentially, as elevated inventory levels resulted in a lower-selling TAM for the quarter.
Microsoft Azure, Google Cloud, and Oracle Cloud all saw AMD deployments in the quarter, for a total of 28 new AMD instances launched, including multiple confidential computing offerings that take advantage of the security features of the Epyc processors. In total, AMD now has more than 640 AMD-powered public instances available.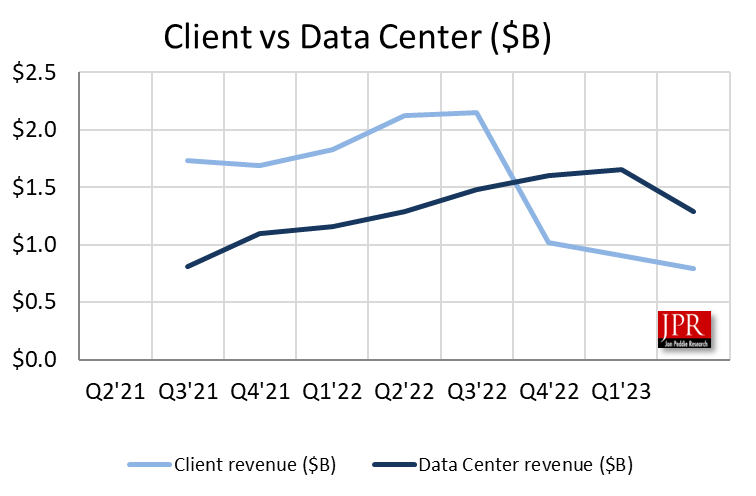 Enterprise sales decline year over year and sequentially as end-customer demand softens due to near-term macroeconomic uncertainty.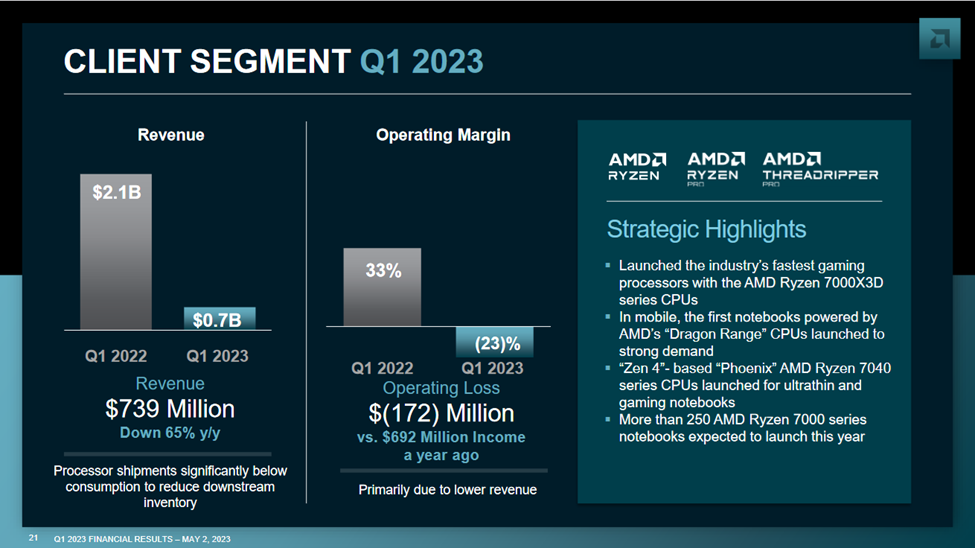 Client revenue declined 65% year over year to $739 million, as the company shipped significantly below consumption to reduce downstream inventory. AMD believes the first quarter was the bottom for its client processor business.
AMD expects the PC TAM to be down approximately 10% for 2023 to approximately 260 million units. It expects client CPU sales to grow in the second quarter and then in the seasonally stronger second half of the year.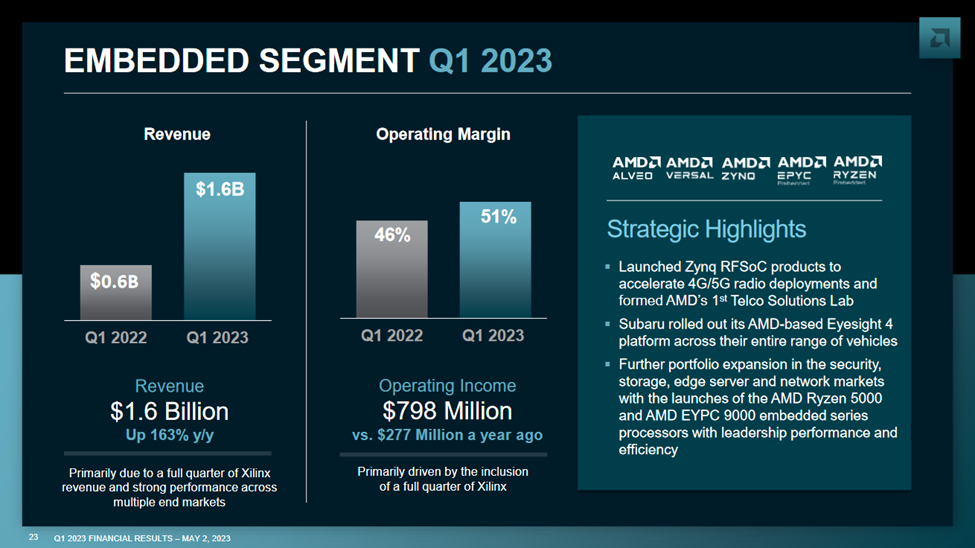 Current outlook

For the second quarter of 2023, AMD expects revenue to be approximately $5.3 billion, plus or minus $300 million. AMD expects non-GAAP gross margin to be approximately 50%.
For the second quarter, AMD expects sequential growth in its Data Center and Client segments, offset by modest declines in its Gaming and Embedded segments. The company remains confident that it will see growth in the second half of the year as the PC and server markets strengthen and its new products ramp up.