Vizible provides enterprise clients with a professional virtual meeting space.
At Siggraph 2017, virtual reality (VR) was all the rage, with several interesting reveals and announcements. Among these were WorldViz's new VR collaboration software, Vizible.
Vizible is targeted directly at the enterprise market, aiming to provide a detailed and easy-to-use VR collaboration platform to professionals from a wide variety of industries. Instead of conducting lengthy Skype sessions or crossing the pond to interact with business partners, Vizible provides a virtual (yet physical) meeting space to share concepts, ideas, and more.
Thanks to VR capabilities, users can communicate from their home or office with an added physicality that other online solutions cannot match. Being able to occupy the same space as your clients — albeit virtual — and literally walk them through your architectural blueprint (for example) can allow for greater insight and understanding of the project at hand.
"Modern communication technologies such as telephony, video conference calls, and PowerPoint sharing simply don't enable decision makers to experience complex products first hand before they purchase them," said WorldViz CEO and co-founder, Andrew Beall. "To circumvent this limitation, companies are spending a staggering $1.25 trillion globally on business travel, and even then, salespeople must still resort to 2D designs or costly physical mock-ups that help them sell."
According to the company, no additional training or technical expertise are required to use Vizible, with the software utilizing intuitive 'drag and drop' features thanks to the WYSIWYG editor. The built-in presentation designer also allows for the addition of animations, triggers, and other forms of user interaction, meaning you can design an entire virtual experience for your clients, something that a PowerPoint presentation can't deliver.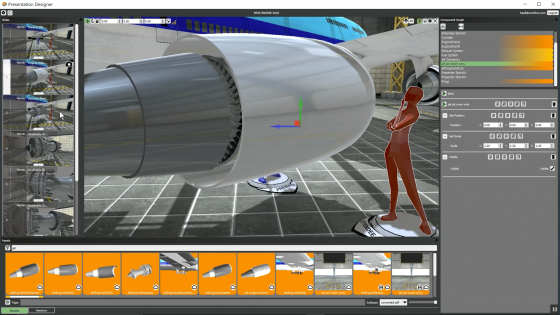 Users can create a VR presentation and then invite customers to join their virtual session just as one would jump in and out of an online game. Users can hand virtual objects to each other for inspection, or do walk-throughs of full-scale models of projects, all while talking with each other in real-time.
Vizible will initially support the Oculus Rift and HTC Vive VR headsets, with additional devices potentially being added over time. The software will be available via a subscription service at $250 per user per month. WorldViz plans to launch the software this October, but anyone interested can apply to take part in their ongoing beta program.
What do we think?
I took a test drive while at Siggraph. As with any immersive experience, it is discombobulating at first. But the disorientation quickly goes away, to be replaced by feeling stupid for not immediately grasping how to use the handheld controls. It didn't take long to get the hang of it. The most difficult part of using Vizible is something WorldViz has no control over, the tethered nature of most VR headsets. Equip a room with some HP Z VR Backpack computers and Vizible, and you have an instant interactive collaborative workspace.  
Vizible is a clever, well thought through program for a first iteration. As hardware matures it could do well in the market. The obvious uses are product reviews, client showings of new architecture or a real estate walk-through, and other uses where the goal is to share and review. It also brings a new twist to the use of PowerPoint or other office software, by sharing screens in the virtual environment.
Vizible – VR for Sales Professionals from WorldViz on Vimeo.
Promotional video showcasing Vizible's capabilities and features. (Source: WorldViz)
Freelance writer Johan Keyter contributed to this article.