All vendors report strong results for a historically weak quarter.
Typically graphics processing units (GPU) vendors report weak results in the second quarter of the year (April-June) as the computer makers deplete inventory to prepare for the second half of the year. Well, not this year. All three GPU manufacturers (AMD, Nvidia, Intel) report significantly higher shipments in the quarter, according to market research released today by Jon Peddie Research.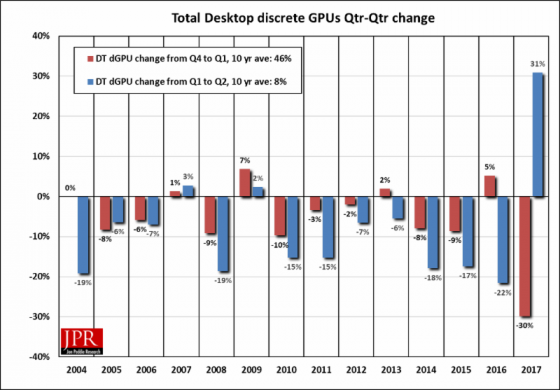 As the chart shows, this is the first time in over 20 years that Q2 has seen a sequential increase in shipments, and never one this dramatic. The big difference is the impact Bitcoin, Ethereum and other cryptocurrencies are having on the market.
GPU Add-In Board shipments are up 29% in the high-end, 520,000 units over the previous quarter. According to Dr. Jon Peddie, high-end unit sales should have been down considerably in the quarter. "We estimate over 500,000 high-end AIBs were sold in Q2 to cryptocurrency miners."
All the cryptocurrencies miners are turning to GPUs as a lower cost alternative to dedicated ASIC computers, which are generally fine-tuned to only work with Bitcoin. With the rise of popularity of Ethereum, GPU sales increased. Ethereum's algorithm is known as Ethash. It is a memory-hard algorithm, meaning it's designed to resist the development of Ethereum-mining ASICs. Instead, Ethash is deliberately best-suited to GPU mining.
The rise is both sequential (quarter-to-quarter) and annual (year-to-year comparison). Year-to-year total GPU shipments increased 6.4%, while desktop graphics increased 5% and notebooks increased 7%. Sequentially, overall GPU shipments increased 7.2%. AMD increased 8%; Nvidia increased 10%; and Intel increased 6%.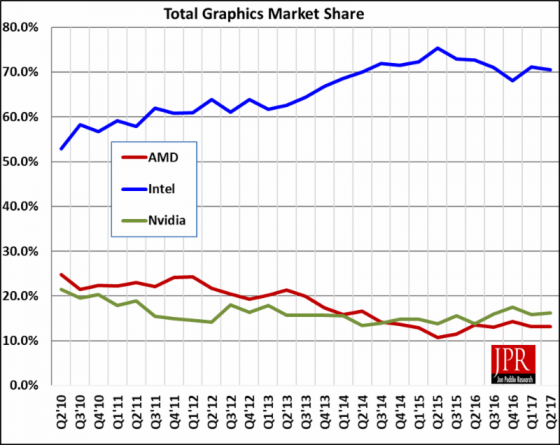 Quick Highlights
AMD

's overall unit shipments increased 7.81% quarter-to-quarter,

Intel

's total shipments increased 6.31% from last quarter, and

Nvidia

's increased 10.42%.

The attach rate of GPUs (includes integrated and discrete GPUs) to PCs for the quarter was 146% which was up 9.57% from last quarter.

Discrete GPUs were in 35.38% of PCs, which is up 4.02%.

The overall PC market increase 0.12% quarter-to-quarter, and decrease -3.98% year-to-year.

Desktop graphics add-in boards (AIBs) that use discrete GPUs increased 30.88% from last quarter.

Q2'17 saw a decrease in tablet shipments from last quarter.
GPUs are traditionally a leading indicator of the market, since a GPU goes into every system before it is shipped, and most of the PC vendors are guiding cautiously for Q4'14. The Gaming PC segment, where higher end GPUs are used, was a bright spot in the market in the quarter.

More details from Jon Peddie Research: http://jonpeddie.com/publications/market_watch/