The third quarter report for 2011 from Jon Peddie Research, now available, shows the workstation market continuing its healthy ways. Lenovo is gaining at the expense of both HP and Dell.
Last quarter, Jon Peddie Research labeled the workstation market's behavior with a simple one-word description: normal. Shipment results weren't great, but they weren't bad either. Now in less volatile times, no vendor would get enthused by such tepid numbers. But these haven't been those times, as the industry hadn't seen anything resembling normal behavior for quite some time.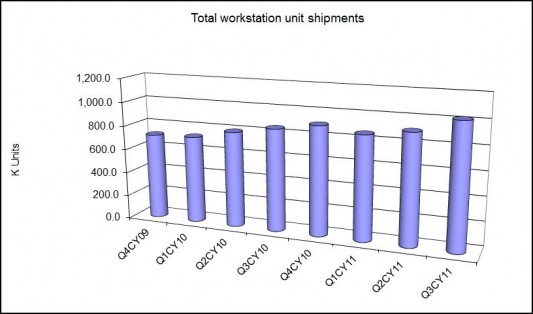 From mid-2008 to mid-2011, the market took a hit from the biggest economic downturn in a generation, followed by a relatively steady, but not stutter-free, recovery. Meanwhile, the closely related market for professional graphics, its results a harbinger for workstations, found its recovery pace a bit too brisk, stumbling into a mild—and fortunately short-term—second dip.  In that context, the neither hot nor cold workstation market second quarter results might not have elicited celebration, but they at least calmed some frayed nerves.
Q2's market stability begged the question: would there be a resumption of growth in the third quarter, more stability, or worse, a return to weakness? Well, Jon Peddie Research has tabulated results, and the numbers look good. Around 1.02 million workstations shipped worldwide in the third quarter, representing robust 12.5% sequential growth as well as 20.1% year-over-year. The quarter saw a new high-water mark for the market, marking the first time shipments have exceeded 1 million units.
"The third quarter did represent a meaningful push forward," notes Jon Peddie Research analyst and Workstation Report author Alex Herrera, "but the question remains as to whether it will last. Global economic uncertainty remains in abundant supply. The financial picture in Europe continues to change on a daily basis— one minute, it's a doomsday scenario and the next a light appears at the end of the tunnel. Until the volatility in financial markets subsides, we have no strong confidence that the workstation market (or any market, for that matter) will find a steady pace forward."
The research firm also reports that among workstations vendors, HP stayed in the top position, despite the company's awkward about-face in its plans for the Personal Systems Group (PSG), the business unit that houses the company's workstation business. Dell remained at number two, though lagging further, while Lenovo gained ground at number three, in part thanks to its nascent joint venture with NEC. And in the closely related market for professional graphics hardware, Nvidia continued its dominance of the market, with its Quadro brand stubbornly refusing to cede much share to a more competitive FirePro line from AMD.
About the JPR Workstation Report
Now in its twelfth year, JPR's Workstation Report for Professional Computing Markets and Technologies has established itself as the essential reference guide for hardware and software vendors and suppliers serving the workstation and professional graphics markets.
Subscribers to the JPR Workstation Report receive two in-depth reports per year providing a comprehensive analysis of the vendors and technologies driving the workstation platform. Clients also receive four quarterly reports detailing and analyzing market results for each calendar quarter. For information about purchasing the JPR Workstation Report, please call 415- 435-9368 or visit Jon Peddie Research at http://www.jonpeddie.com.