Five years in the making, zSpace delivers a highly realistic 3D experience. zSpace will initially ship with support for Autodesk Maya and Showcase.
After five years of development, Silicon Valley start-up Infinite Z is now ready to ship the graphics industry's first virtual holographic 3D interactive display for design work. The device, called zSpace, is immediately available as an early beta purchase. The official price has not been set, but Infinite Z expects it to be in the range of $6,000.
Infinite Z used last week's Autodesk University to launch the device, which will initially ship with drivers to support Autodesk's Maya and Showcase software.  The general impression of those who tested the product at AU is that it offers a stunning way to work with 3D; "I want one!" was the most common phrase uttered around the Infinite Z booth.  A video embedded at the end of this article provides a realistic simulation of what working with the zSpace looks like to the user.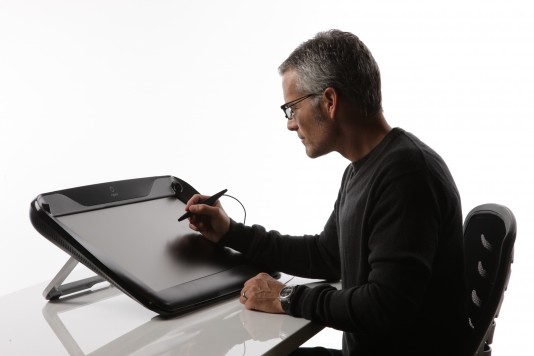 zSpace offers a highly realistic and personal 3D visualization experience unlike any other device now on the market. Designers and engineers will be able to work with product designs in a way not previously possible in a traditional 2D computing environment. The device combines a proprietary stereoscopic display, trackable eyewear, a new type of direct interaction (laser-based) stylus and the supporting software. Objects in zSpace appear "solid" in open space, with full color and high resolution, and can be directly manipulated as if they were real physical objects. It is a bit uncanny to operate at first, but quickly becomes comfortable. Users will generally find using zSpace a comfortable way to navigate, grab, slice, carve, zoom, and explore models as never before possible.
Infinite Z says it is initially focused towards the digital/product design, scientific, medical, GIS/geospatial, and government markets. For now it ships only with drivers for Maya and Showcase, but Infinite Z says other software vendors are on board and the number of products zSpace supports will grow rapidly. A proof-of-concept zSpace demo for Autodesk Alias Design software also ships with the product.
Autodesk senior principal researcher Brian Pene has been working with the zSpace: "The quality of 3D stereo in zSpace is impressive; I feel like we've been living in a 2D world, and an application like zSpace with such immersive qualities gives better cognition to digital 3D content."
Infinite Z is privately held and venture backed. The Mountain View, California company has filed more than 30 patents related to zSpace development.