What started as "GitHub for 3D" and a community of designers has become a legitimate SaaS collaborative product data tool for small groups.
Next week GrabCAD Workbench Pro will exit its beta period and become generally available with new features that realistically allow it to be called a collaborative product data solution (CPD).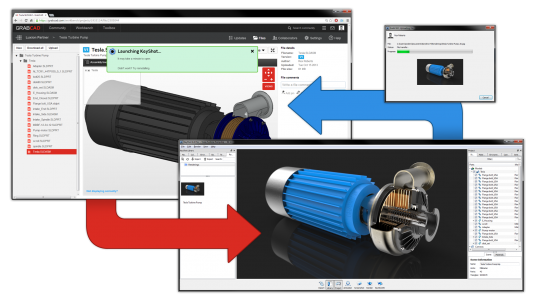 GrabCAD Workbench started out as a desktop extension of the GrabCAD web site, launched as a model-sharing community for mechanical engineers and product designers. Now it offers the ability to:  
Maintain a single master file
Create local cache copies of the file for editing
Lock/check-out the file to prevent multiple edits
Synchronize the cache copy with the cloud-based master on demand or on a schedule
Maintain and restore back-up versions.
New features coming with the January 22 release include a file translator supporting major MCAD formats; revision management features; and a SolidWorks add-in to allow GrabCAD-based file management from within SolidWorks.
GrabCAD Workbench Pro will be delivered as a service, for prices starting at $59 per month per users.
What do we think?
The phrase "collaborative product data" was fashionable in the late 1990's and early 2000s, as a goal of the leading CAD/PLM firms. One leading industry analyst firm was once known as CPDA, as in Collaborative Product Data Associates. But the term fell out of favor at the enterprise level as vendors pushed PLM as the complete solution for product data, and because it became increasingly obvious pure PDM was more complex than most small workgroups would tolerate. Mainstream CAD vendors continued creating PDM products, like Autodesk Vault and SolidWorks Enterprise PDM. In off-the-record conversations, developers would confess sales were always below expectations. Most of the time small design and engineering workgroups continued to share data with email and manage it at the file level.
But technology—and more importantly, expectations—have changed rapidly in recent years. Today engineers and product designers want to take advantage of mobile, social, and cloud technologies in their work the same way they do in their leisure time. "In the software world, workflow has changed drastically," notes GrabCAD's Rob Stevens. "There is reuse, collaboration, open access, and bringing in knowledge from many places; there is a new product development velocity." With more than 1 million members using GrabCAD as well as their favorite mechanical CAD product, the sharing community becomes a significant base for Workbench Pro to become a leading CPD tool.