Pain points, complete 3D data files, and changing social negatives into assets are all part of the way forward.
There is a saying in aerospace: the cost of an error is the cost of the satellite. If you find a way to improve quality control in assembling a satellite, return on investment in that new method is pretty fast. Boeing has been using various methods of augmented reality (AR) for more than 20 years as a way of automating repetitive tasks and improving manufacturing quality. Search YouTube for "Boeing augmented reality" and you get a treasure trove of testimony telling the same story from a dozen directions: augmented reality is valuable technology that can have an immediate impact on quality and efficiency.
The success of augmented reality at Boeing, Airbus, and many other manufacturers of highly complex and expensive products underlines both the opportunity and challenge AR faces. As Jim Novack of Talent Swarm told the audience during a discussion of industrial workplace productivity at the recent Laval Virtual conference, "solve the pain point and you find the way into the budget… It's all about pain and profit." In aerospace pain points are obvious and expensive. In other industries, pain points may be less obvious, hidden under generations of process or obscured by social issues or lack of related automation.
A very specific example of solving a pain point in aerospace was demonstrated at Laval Virtual by Testia, an Airbus Group company commercializing AR technology already in use at Airbus. As each A380 central section is built, quality inspectors must check 20,000 brackets before that part of the aircraft can be certified. The traditional method was to take 2D drawings, printouts from reports, forms to fill in, and a camera to record the linking of inspected parts to the specification. It would take three weeks to check the 20,000 brackets. In 2010 Airbus commissioned research on how to automate the process. What they came up with is SART (Smart Augmented Reality Tool), which uses a Panasonic ruggedized tablet equipped with a camera and a projector. The camera puts the image of the bracket on the screen, while the projector superimposes registration data on the wall of the fuselage. Data from each bracket inspection is entered into the tablet. Each inspector now checks for conformity five times faster than before, dropping inspection time from three weeks to three days.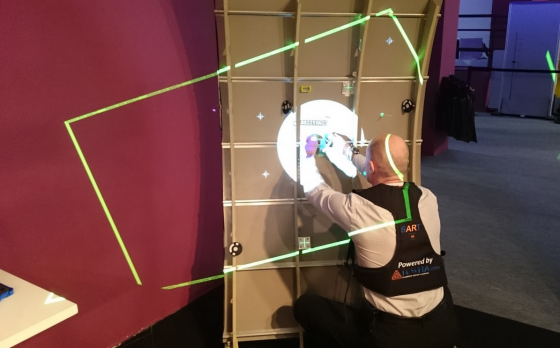 The conference panel agreed the first best place to apply AR to industrial productivity is where the cost of errors are high and there is a human in the loop. Aerospace fits this description, but it also has one other advantage that makes AR a good fit: 3D assets. Aerospace companies were the first adopters of 3D CAD and have the most comprehensive digital assets. Other industries with less comprehensive use of 3D CAD may have pain points that suggest the use of augmented reality, but without accurate and complete 3D models, it might be hard to put together a solution. "Customer requirements are always custom requirements," noted Pontus Blomburg of Studio 3D Blomburg in Finland.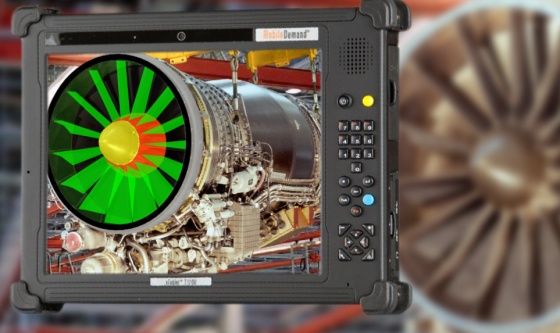 Outside of aerospace, AR adopters are still bleeding edge. Much of Blomburg's work is helping heavy industry find its way in AR. For example, many clients looking to automate inspections or quality control say they want an AR solution that includes glasses, but what they really need is a good tablet like the Testia solution. "Glasses are still in the 'promising' phase."
Sebastian Knodel of Diota agrees: "A simple camera combined with a 3D model [on a tablet] can do a lot." Diota makes a device-agnostic system that connects a manufacturer's PLM system to the device for access to geometric and procedural data. The design information is converted on the fly for AR visualization. It works with a tablet, AR glasses, or projection systems.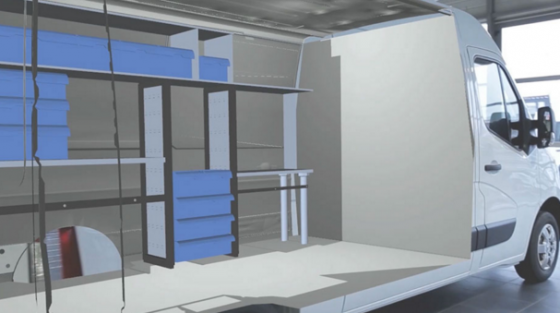 Novack was more blunt about glasses being not ready for prime time in industrial AR. "There are hardware issues, and their are social issues … and legs are a problem. Legs step on glasses and legs walk away with glasses." Marie-Julie Percoult of Diginext sees another social angle to complicate AR adoption, jealousy. "AR provokes strong reactions from people in the field. Older operators see it as a way to let non-specialists do the work."
One solution to the jealousy problem is to ask those who feel threatened by AR to become part of the solution. Blomburg sees plenty of opportunity in harvesting the "tacit knowledge" inside the heads of experiences workers to train the next generation, using AR as the medium to turn intuitive knowledge into a sharable workflow.