Sales were strongest outside North America. Seventeen sales were $1 million or higher.
Ansys (NASDAQ: ANSS) today reported first quarter revenue of $158 million, 16% higher than a year ago. Traditionally the first quarter is the lowest revenue quarter of the year for Ansys; this quarter's revenue makes it the second highest in the company's history.
Only 33% of revenue came from North America, as customers globally took advantage of the weak US Dollar. Ansys says currency fluctuations added $2.4 million to the quarter's revenue total.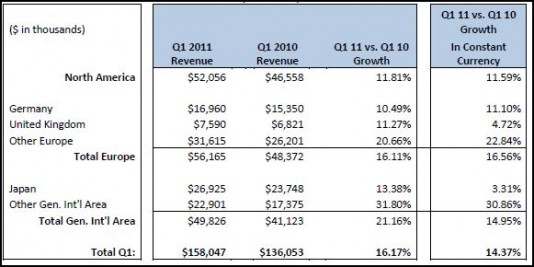 Revenue from software was $95.9 million, up 17.5% year-over-year; revenue from maintenance and services in the first quarter was $62.2 million, up 14% from $54.5 million in 1Q10.
Ansys recorded 17 7-figure sales in the quarter, with 25% of those deals contributing to new business and the rest building deferred revenue balances.
Net income was $42.2 million in the first quarter of 2011, up 30% from $32.4 million a year earlier. This is the second-highest quarterly net income on record, second only to 4Q10's $49.1 million.
The record results come despite stock-based compensation charges of approximately $5.1 million during the first quarter of 2011. Ansys repurchased 247,443 shares of stock at an average price of $51.34. (The stock closed today at $54.60). The Company currently has approximately 1.1 million shares remaining in its authorized repurchase program.
Ansys says it is seeing "continued strength" in its high-performance computing (HPC) product, which enable parallel processing for the solution of larger and more complex simulation problems. Ansys is compatible with a variety of HPC approaches, including multi-computer methods from Microsoft and Red Hat and a general-purpose GPU solution from Nvidia.
Ansys revenue split between direct sales and the indirect channel was 74% / 26% in the quarter.
Cash per share on March 31, 2011 was $5.98, up from $5.20 three months ago. Ansys has twice the cash on hand of PTC, and twice the market capitalization ($5.11 billion vs. $2.66 billion).
Five custom charts follow.
Contributing Analyst L. Stephen Wolfe, P.E., provided research for this report.