Two new desk-side workstations and three mobile workstations are running the new CPU with graphics on-board.
By Alex Herrera
Intel officially launched its latest Sandy Bridge generation of processors at CES in January. But when Intel found its now much-documented bug in the companion Cougar Point chipset, we knew it would take a little longer than planned for the first round of processors to make it to workstations.
Well, that time came in April (really May if we count first shipments), later than originally hoped, but all things considered, still quite timely. Like every other major workstation supplier, HP was ready to roll Sandy Bridge into its entry desk-side and mobile workstation lines, announcing a follow-on to its lowest-priced Z200 line, the Z210, and not one or two, but three new EliteBook mobile workstations, models 8460w, 8560w and top-end 8760w.
Why mobiles and entry desk-sides, but not mid-range desk-sides and above? Simply because—as has been Intel's roll-out M.O.—the single-socket versions came first, and the dual-socket Sandy Bridge-EPs have not yet seen the light of day; they are expected this summer. For single-socket desk-sides, Intel is pushing Sandy Bridge bearing the Xeon E3 brand, following on the 3000-series designation from Westmere and previous generations. And for mobile workstations, the company is offering the familiar Core i3/i5/i7 family.
Entry-class desk-side workstations
Like its predecessor, the Z210 comes in both convertible mini-tower (starting at $659) and small form factor (SFF) configurations ($569). The mini-tower can accommodate up to 32 GB of ECC (or non-ECC) DDR3-1333 memory, while the SFF model can manage 16 GB. Similarly, the tower bests the SFF on storage, allowing up to three bays (4.5 TB max) compared to the SFF's two (one shared with optical), for 2.0 TB maximum.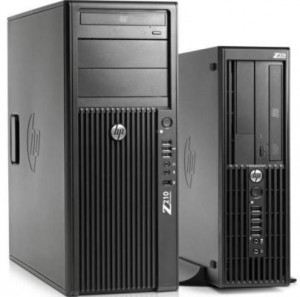 As is becoming common in workstations at all levels, the Z210 in both form factors supports SATA solid-state drives (SSDs), 160 GB each (480 GB total max).
Sandy Bridge's integrated HD 3000 graphics isn't cheap; it consumes a fair amount of die area, so HP needed to decide whether to take it on, or not. In its Z200, HP took the step to allow Westmere integrated graphics as a base option, though it knew customers would more likely than not opt to upgrade to a professional AIB (and those Westmere Core i3, i5 and i7 SKUs are still available). Other OEMs stuck with professional AIBs as mandatory equipment. Accordingly, in its Xeon E3 series, Intel includes SKUs both with and without the HD graphics. In fact, the company pretty much has one version of each at each power/L3 level, designated by the "1's" digit in the processor number: a "5" for graphics and a "0" without.
With the Z200, we expected—and HP reported—an attach rate near 100% for professional graphics. To allow the Z210 to also ship on the cheap, without a graphics AIB, HP includes a Xeon E3 processor without graphics, but only one model. By contrast, the company includes four E3 SKUs without graphics, clearly recognizing the trend of purchasing graphics AIBs will continue. We also expect the attach rate to stay strong, but we also anticipate more customers will opt for Intel's graphics, considering both the improvement Intel has made and given that customers for Z200 class machines are definitely looking to pinch a few pennies.
For professional graphics AIBs, HP chose a range of 2D and 3D options from Nvidia and AMD. AMD is represented with AIBs based on the company's Evergreen generation of GPUs, including 2D FirePro 2270, 3D entry-class FirePro V3800 and V4800, as well as mid-range V5800. Nvidia shows up a bit more often with the Quadro NVS 295 and 300 2D AIBs, as well as a midrange Quadro 2000 and 4000 and the entry-class Quadro 600 and 400. The $169 (MSRP) Quadro 400 was co-launched in conjunction with the Sandy Bridge Xeon E3.
Three new EliteBook mobile workstations
The mobile side of the HP workstation landscape saw not one but three new models. As the mobile workstation market has matured, the number of model tiers has risen from one to two, and now three is the norm among Tier 1 OEMs. The tiers are primarily differentiated by the size, resolution and precision of the display: from the 8460w's 14.0" LED-backlit anti-glare 1366×768 screen, to the 8560w's 15.6" and 8760w's 17.3" 1920×1080 displays.
The EliteBook 8760w and 8560w displays support (optional) DreamColor, an HP-specific technology which supports 10-bit precision per channel (i.e., 30 bits for conventional RGB color), as well color-space calibration. In addition, all models support AMD's EyeFinity technology, allowing up to five displays (with AMD graphics and the companion HP Advanced Docking Station).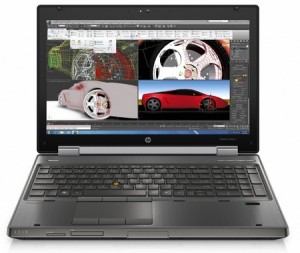 In the age of component commoditization, styling matters for workstations, more than ever. With its breakthrough Z series, HP clearly acknowledged as much. Attention to styling with this new round of EliteBooks is further testament, with the company employing its Forge mobile workstation-specific "design language." "Design language" is HP vernacular for look-and-feel, something they try to make unique and appealing compared to the competition, but similar and consistent over time and across their own models (or at least common across SKUs of similar price and performance bands). Carrying over the radial brushed gunmetal finish from its predecessors, the new models' Forge design language incorporates the same basic look-and-feel, with a few new twists, including a reinforced DisplaySafe frame and enhanced touch pad. DisplaySafe helps the new models achieve MIL-SD 810G standard for ruggedness.
Computing has undoubtedly entered the Touch Era, and workstations are no exception when it comes to exploiting — or at least attending to—the trend. In some professional applications, like CAD, touch is an obvious, elegant, and constructive enhancement. But touching the screen—and leaving the fingerprints and smudges —may not make a lot of sense for professional applications where visual precision is incredibly important. Imagine shelling out that extra coin to buy 30-bit DreamColor, only to have grubby fingers distorting all the imagery. Instead, OEMs like HP are moving to multi-touch while keeping fingers off the screen, with all the new EliteBooks shipping with a durable "chemically strengthened" glass touch pad.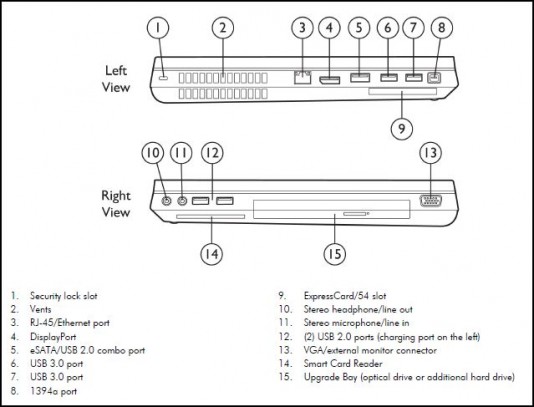 With Sandy Bridge, all the new EliteBooks can exploit Intel's CPU-integrated HD 3000 graphics. And they do, but in the mobile workstation space, that doesn't mean they don't incorporate discrete GPUs. The three tap a range of mobile professional GPUs from AMD and Nvidia, including Nvidia's recent top-of-the line 4 GB Fermi-based addition, the Quadro 5010M.
What do we think?
So why would Intel, HP and buyers accept the burden of redundant GPUs? Well, workstation-class users need the performance of the discrete GPU for their hard-core work. But that doesn't mean they are always doing hardcore work. A lot of power and battery hours can be saved if the discrete is switched off when reading email, browsing the web, or kicking back to enjoy a DVD. Nvidia's Optimus technology on Windows7, for example, can seamlessly switch between the Quadro GPU and Intel's HD 3000.
Alex Herrera is a Jon Peddie Research analyst.