Medium for sculpting and Quill for illustrative storytelling will be bundled with new hand-held controllers for use with the Rift VR headset.
Oculus, the company behind the Oculus Rift virtual reality (VR) headset recently released its new Oculus Touch controllers with two new VR art applications. The applications, Oculus Medium and Oculus Quill will allow artists tools for working in VR, and both are bundled free with the purchase of the company's new Touch controllers.
Oculus Medium will serve as the company's new modelling and sculpting tool, utilizing the Touch controllers to create an immersive and intuitive new VR design experience. The main aim of Medium is to provide a "true hand presence" to artists, allowing them to manipulate and create objects almost as if they were sculpting with their own hands.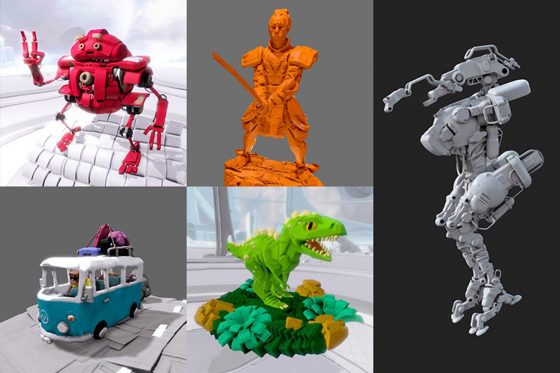 The tool allows designers to "add clay strokes and shapes and it's as easy as drawing in space," says Oculus in a statement announcing the new software. It includes a 3D stamp library with a set of standard (and customizable) shapes that allows for the quick assembly of anything from a car to a robot dinosaur. The toolset also includes smoothing and painting options, allowing users to "customize their sculpts down to the last pixel."
In addition to Medium, the company also launched Oculus Quill, an application aimed at illustrative VR storytelling. Quill was created to aid in the development of Dear Angelica, a virtual reality short story made completely in VR, and showcased for the first time at the recent Sundance film festival.
Quill allows artists and illustrators to design directly within VR, opening the door to what might eventually become an entirely new art form. The project's art director Wesley Allsbrook describes Quill as allowing her to "no longer be limited by the edge of the page and to be able to create an endless world around her."
Quill was developed with the goal of allowing artists to create their own art in VR with as much freedom as possible. This means that the software doesn't "add anything" to an artist's creation, with every stroke being fully controllable and shapeable by the creator.
The Oculus Rift along with its new Touch controllers are available now.