Several new consumers models are in the pipeline.
[Editor: The magic of virtual reality needs new hardware if it is going to be a consumer sensation. Here's a roundup of new VR cameras from the Jon Peddie Research team's coverage of recent events for TechWatch, a subscription newsletter for clients.]
As we count down all the differences between VR of the nineties and today's VR, we should add cameras to the emerging ecosystem in addition to editing software, custom content, and affordable gear. These cameras are distinguished by their humble aspirations—they're cute little cameras for consumers.
Samsung Gear 360
Samsung's new 3D camera, the Gear 360 has been talked about for sometime now. It is a ball with two fish-eye sensors—for front and rear views. The sensors are high resolution, capturing 3840 × 1920 pixels each, and they're more sensitive than you'd expect, with F2.0 Bright Lens technology. The image processor in the Gear 360 camera is DRIMe5s which can be used in several ways. People can choose to shoot with just one of the cameras for a wide-angle shot, and they can create video, or 30-megapixel still images.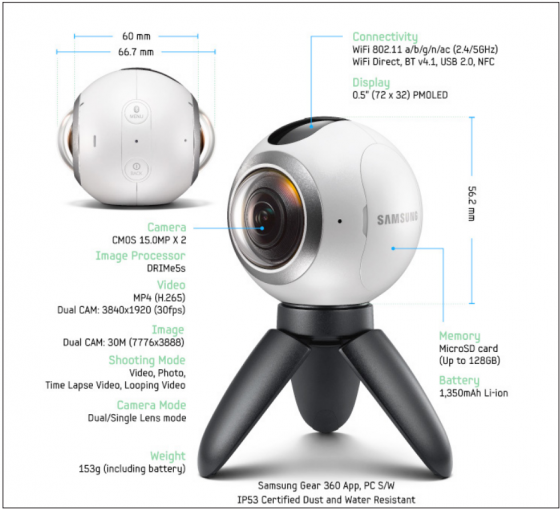 The Gear 360 is a complement to Samsung's Gear VR, a headset for Samsung's mobile phones. At the recent Mobile World Congress in Barcelona, Samsung also showed off its Galaxy S7 with a 5.1-inch screen and the S7 Edge with a 5.5-inch curved screen. These phones have stitching software for the two 180-degree shots taken by the camera, and of course they have the viewing software for the Gear headset. Samsung says they will introduce software to support other Samsung phones, but they didn't say whether it would ever work with phones outside the Samsung universe. However, the company says there will be software available to support PCs. It seems obvious the files can be shown on other phones, but Samsung certainly isn't going out of its way to spell it all out.
The Gear 360 camera is coming in the second quarter. There is no information on prices.
IC Real Tech ALLie Go 360
IC Real Tech unveiled its ALLie Go 360 camera for consumers at CES 2016. The company has been building products for surveillance, and it has had a home camera. In addition to the ALLie Go 360, the company also showed VR headsets, and its IC720 professional surveillance camera at CES 2016 in January.
IC Real Tech says VR environments can be created by moving the device around in the air, and it also has finger-based gesture control. The company says it's the first to share user-generated 360-degree video and pictures to Facebook, and also streams user content to the Oculus Rift VR headset.
IC Real Tech is a Qualcomm partner, and the new Go camera uses a Qualcomm Snapdragon 800 processor. It has two microphones, a built-in speaker, storage for recording, and a rechargeable battery. IC Real Tech says its camera will ship mid-2016 and will have an MSRP of $599, which might help set expectations for the Samsung Gear 360.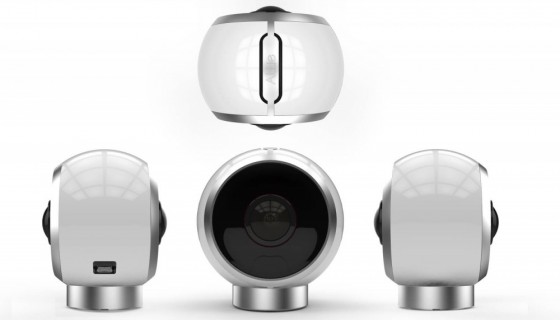 Bubl
The Bubl is another take on the ball cam approach like Samsung and IC Real Tech. It was introduced as a Kickstarter campaign by a Canadian company headed by Sean Ramsey. Shipments began August 2015. The Bubl camera uses the baseball design, but it has 4 5-megapixel lenses. It works with iOS and Android phones via Wi-Fi for trigger control. It shoots video and stills, and it has an f2.0 aperture with 190-degree FOV (field of view). It supports SD memory and has 64 MB flash. It's based on a 438-Mhz TI-TMS320DM368 processor. If you could buy the thing, it would be $799, but according to the Kickstarter site, the company is still fulfilling its investor commitments. The Bubl website is taking pre-orders at the $799 price tag. Bubl is also building an online site to allow customers to share their panoramas.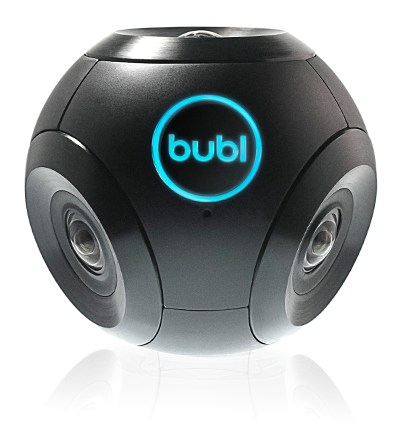 LG 360
The memo apparently went out just after CES 2016 that 360 cameras would be part of the dress code at the Mobile World Congress in Barcelona. LG complied with the 360 cam, a wand-style camera that captures spherical video and pictures. Like the other consumer cameras arriving this year, the camera has two sensors to capture a front and back view that can be stitched together to create a 360 image. The camera has a tripod mount and a slot for a microSD card; it also supports Bluetooth to transfer images. It's one of the first Friend accessories being introduced by LG for the G5, which can be used as a remote viewfinder and camera control.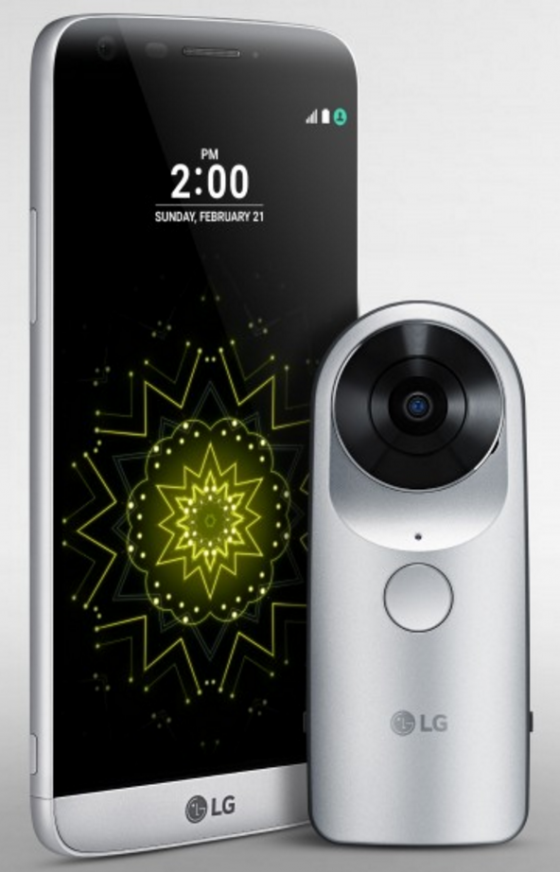 Ricoh Theta S
Ricoh might well be one of the first companies to introduce a consumer 360 camera. Their original Theta was introduced in September 2013. It's as small as a TV remote control. The latest model, the Theta S, captures images up to 14 megapixels and supports full HD video 1020 × 180 at 30 fps (frames per second). It can record up to 25 minutes.The two cameras have F2.0 lenses.
Ricoh hosts a webpage, theta360.com, for content uploads from the camera, and it also supports shares via Facebook, Twitter, and Tumblr. Spherical images can also be posted to Google Maps, Google+, and YouTube 360. Ricoh is using Google's Open Spherical Camera API for compatibility for Google's service, and as a matter of fact, Google Maps has introduced the new Google Street View app for community uploads to Street View.
The Theta S has 8GB internal memory and sells for US $349.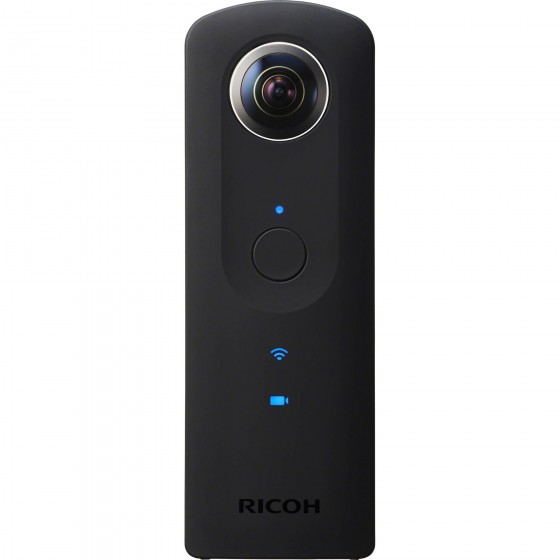 What do we think?
It really doesn't matter whether the Samsung camera works with any other phone, does it? There are already several competitively priced products on the market, including the Ricoh Theta S, the IC Real Tech Allie, the Bubl, and the LG 360. Higher priced contenders include the square 4K Nikon Keymission 360, various implementations of the GoPro including the company's own, the Jaunt, and the Nokia Ozo. The point is there are plenty of 360 cameras coming out that will work with the smartphone you have.
These low-cost cameras have the power to bring VR immediately to the mainstream … soon. They could be a little cheaper. This isn't the same as consumer 3D cameras—which didn't get beyond geek adoption because VR camera snapshots can bring people immediately into a place and introduce the viewer to whole rooms of people. They'll communicate scale. However, we'd also like to caution that VR videos from these things might have another immediate effect on the viewer—they will make them sick. When you see the ads of people waving these things around to catch the picture, the uh-oh button immediately starts flashing. These things may have to come with a warning label.