High-end vendor Imagination Technologies takes a low-end consumer approach. Only $19.95 for a camera inside the model.
A new app for SketchUp takes virtual photos inside 3D designs with a one-click ease of use.
Imagination Technologies has taken its high-end visualization technology and scaled it down for the users of the world's most popular 3D modeler. SketchUp is available in both free (SketchUp Make) and paid (SketchUp Pro) versions. New SketchUp owner Trimble says there are more than 30 million total users and several million active users every week.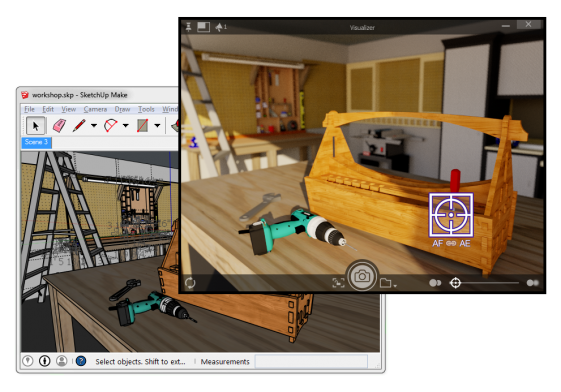 Visualizer presents itself like a smartphone camera within SketchUp.  As modeling work progresses, the image in the Visualizer updates in real time and provides instant visual feedback for the design in progress.  When the user is happy with the results, the shutter button allows them to take an instant picture that can be shared with others, used for client presentations, or just provide a better understanding of how the design is going to look.
By accurately simulating the pathways of light in 3D space, users can see shadows, subtle lighting details and even the focal depth and exposure of the virtual camera itself.  Using the physical dimensions and geo-location information provided by SketchUp, the resulting picture conveys what a photograph of the model will look like in real-life. Visualizer uses Imagination Technologies' PowerVR Ray Tracing technology, also used in their add-in boards for architectural visualization. Visualizer specifically uses path tracing, which takes advantage of ray tracing technology but works from pre-sets to simplify use.
John Bacus, Director of SketchUp product management at Trimble, says: "Visualizer sits in a great place for SketchUp users.  While we don't see it as a replacement for high-end renderers, now there's a simple, easy way to turn out quick, photo-real images from SketchUp."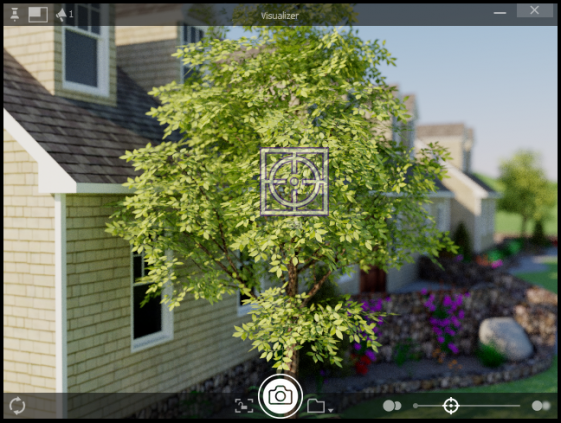 There are traditional rendering software products on the market for SketchUp, designed for professional use. Imagination Technologies says Visualizer for SketchUp takes a different approach by going minimalist. Visualizer uses interface elements already familiar to anyone who uses a smartphone. Visualizer infers material properties directly from the information already provided in the SketchUp model without any alteration. To control focus and exposure, users can drag an exposure and focus point around on the image and the picture updates in real-time.  When the user is happy with the image, they click the shutter button and a photo is captured.
James McCombe, GM of the Visualizer Group at Imagination, says: "We were inspired by how SketchUp had taken a traditionally complex process of making 3D forms and made it accessible and fun for creative people everywhere to express their ideas."
A free seven-day trial of Visualizer for SketchUp can be downloaded at getvisualizer.com; a license costs $19.99.