The pioneer in visualization/simulation has a new deal with ZSpace.
Virtalis has been very busy over the past 90 days, most recently showing its technology at PTC Live, where it demonstrated its new plug-in for Creo View and an­nounced a strategic partnership with ZSpace. The company has seen consid­erable expansion in the past few years.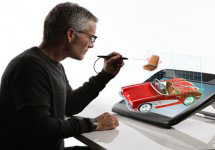 Founded in 1991, Virtalis is a pio­neer in the viz-sim industry and has been quietly going about its business creating 3D visualizations for its clients. The company, based in Manchester, was reported to have had its first profitable quarter in 2010 and reported revenue of £5 million ($8.5 million) in 2011. Most recently, the com­pany has announced increased hiring in order to complete new projects for 2014.
The company has created a software tool for ZSpace using Virtalis' Visionary Render software. The company says the deal gives Virtalis' interactive 3D visualization tools access to the desktop. The company's apps are being used in CAVEs and they're joining the crowd to create applications for Oculus Rift.
There is a significant ecosystem growing up around ZSpace tech­nology. Users interact with 3D objects as they seem to float in space between the screen and the viewer wearing 3D glasses. In addition to developing apps for the ZSpace platform, Virtalis and ZSpace have signed mutual reseller agreements. Virtalis has a strong presence in Europe, and the compa­nies say this deal will be targeting markets in edu­cation, manufac­ture, medicine, and research.
"Our integration into Vision­ary Render will allow users of ZSpace to interact with and view high-qual­ity virtual mod­els at their desk­top like never before," claims Paul Kellenberger, CEO at ZSpace.
Visionary Render, introduced in 2013, renders large VR models in real time, enabling stereoscopic 3D with low latency and fast refresh. The sys­tem allows customers to create VR en­vironments and simulations and share models. Visualizations can be published to third parties. Virtalis describes it as a collaborative, sharable sandbox. The company has been building its business with practical applications.
The work Virtalis is doing with PTC is a case in point. Virtalis debuted its Virtual Reality Extension for PTC Creo View at PTC Live last month in Boston. The demonstration was a big hit with at­tendees and is nominated for TenLinks's Best of Show. Virtalis' VP of North American Operations Paul Ewing said the application was co-developed by PTC and Virtalis to enable interactive 3D work with Creo View data models. The application is built on Virtalis' Vi­sionary Render.
What do we think?
VR never went away for industrial use. It's been a solid, even, mature busi­ness. It's just that people don't really think that much about it because the industry hasn't changed all that much. Sure, the graphics improve, the speed is better, and the latency starts to go away, but that's the natural progression of technology. However, what's also been happening with the arrival of upstarts like Oculus and ZSpace, and additional research being done for machine vision, collaboration, virtualization, etc., is the development of a broad and vibrant ecosystem. So, one of these days when an engineer calls and offers to walk you through a design, that's exactly what she will mean, and you will both be able to get online, don your VR headsets, or visit your nearby caves and check it out.