Users will be able to review and share models and drawings in real time, using CadFaster's compression technology.
CadFaster has extended its CadFaster|Collaborate cloud platform to users of Nemetschek Vectorworks and Bentley's architectural software. This new version of CadFaster|Collaborate plug-in software allows for real-time markup and co-viewing of 3D CAD and Building Information Models.
The update also enables fast export for both EXE and iPad, improved image quality, and the ability to represent reference files as separate entities. For iPad users model download times have been greatly reduced. Standard features include  turntable mode navigation, selection of rotation center, standard views, and measurement/markup in section view
For Nemetschek Vectorworks this announcement comes on the heels of the recent launch of Vectorworks Cloud Services (see also "Vectorworks enters the cloud.")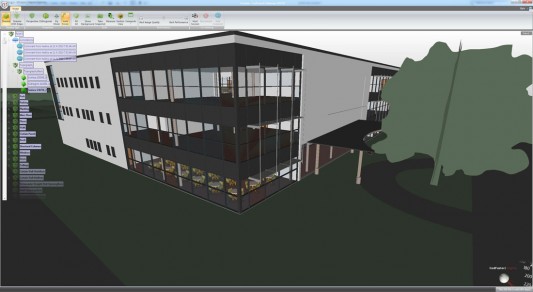 CadFaster|Collaborate compresses the original data so that huge files can be shrunk to a size that can be emailed or downloaded from a link. Users do not need a desktop client to view the exported file; a simple double-click will launch the file, along with its own interface for viewing and annotation.
Still a step ahead
When we first profiled CadFaster, it was a start-up ahead of the big players with its ability to bring not only viewing but also markup to the iPad environment. Extending their unique collaboration environment to Bentley and Vectorworks shows that CadFaster is still a step ahead. Its ability to collapse files to make them pass quickly from desktop to iPad is a great feature that speeds remote collaboration.