Confirming weeks of rumors, the two makers of industrial 3D printers will unite under the Stratasys name in an all-stock transaction. The combined company will be worth $1.4 billion.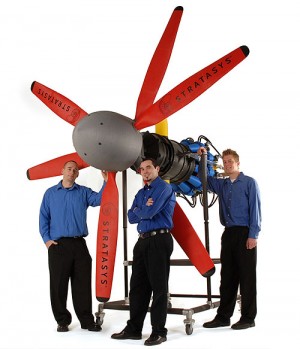 By Randall S. Newton
In a deal that unites two complimentary makers of 3D printers for manufacturing, Stratasys (NASDAQ: SSYS) and privately held Objet Ltd. today announced they will merge in an all-stock transaction. The deal is expected to close in the third quarter of this year. The estimated market value of the combined company is $1.4 billion.
The two companies currently make 3D printers that rely on different technologies. Stratasys CEO Scott Crump and his wife Lisa Crump were the inventors of the fused deposition modeling process that has become popular in large manufacturing operations. Objet sells PolyJet technology that uses a process similar to ink jet printing to print with a variety of materials. The Objet Connex line of multi-material 3D printers uses the world's only technology to simultaneously jet two materials.
For the last two years Stratasys has been in a marketing partnership with HP. In a call with Wall Street analysts, Crump said the HP deal will continue as originally established. The merged company will have over 260 resellers and 42 direct channel managers, with a presence in 72 countries.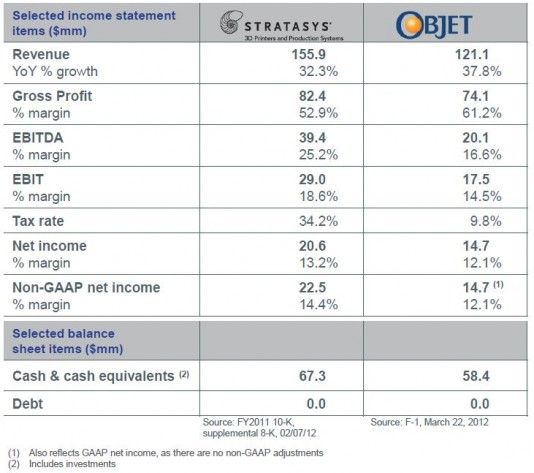 The new company will still be called Stratasys. When the merger closes, Crump will become chairman of the board, and current Objet CEO David Reis will become Stratasys CEO. Both the Eden Prairie, Minnesota offices of Stratasys and the Rehovot, Israel offices of Objet will remain open in the new company.
Under the terms of the agreement, Stratasys will merge with a subsidiary of Objet, and Stratasys shareholders will receive one share of the new combined company in exchange for each share of Stratasys common stock they currently own. Upon closing of the transaction, Stratasys shareholders are expected to own 55% and Objet shareholders are expected to own 45% of the combined company. The company will continue to trade on NASDAQ under the ticker SSYS.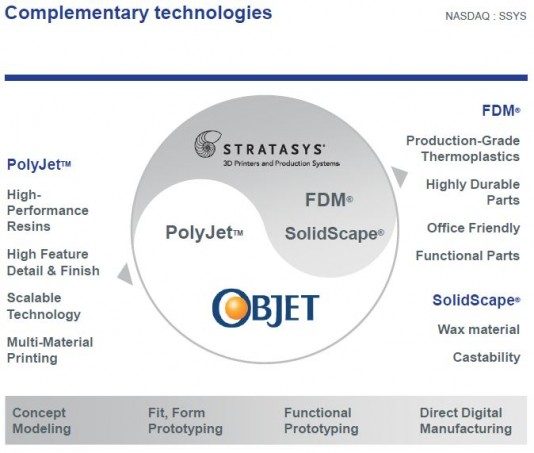 Last month Objet had announced plans to go public by floating a stock offering in Israel. There was speculation at the time that initial investors were pressuring Objet to cash them out. Current Objet CEO Reis did not comment on the rumor during the announcement call, but did say that talks with Stratasys have been going on for several months.
Based on a stock price of $35.98, Stratasys has a market value of $765 million. The announced combined value of the merged companies is $1.4 billion, which means Objet is being valued at $34 million in the deal. This is less than half the $75 million Objet announced as the goal of an IPO. During today's conference call, both Crump and Reis talked about the "tremendous opportunities" for synergy by combining their complementary operations. After the market opened this morning Stratasys stock went up 22% to 43.95 in early trading while rival 3D Systems stock went up 9% to 26.61.
Greater than the sum of the parts
2011 was the year of the Maker Movement in 3D printing, with a growing consumer market that might someday be as large as the existing industrial market. This deal is about the existing fast-growing market for 3D printing in manufacturing.  This is a win-win for the two companies on many levels:
Technology: Stratasys is a leader in the use of 3D printing for functional testing and direct digital manufacturing; Objet is seen as strongest in design verification and visualization. There is very little overlap in targeted uses. Stratasys also recently acquired the leading 3D printing technology for creating complex wax patterns for the investment casting process of finished parts.
Reseller channel: Stratasys is far ahead of Objet in the number of North American resellers, but the two are almost at par in Asia/Pacific and Europe. There are only a few overlapping local markets to resolve.
Revenue and income growth: Stratasys closed 2011 with $156 million in total revenue and $22 million in net income. Objet had $121 million in revenue and $15 million in net income in 2011. The two companies expect the deal to be accretive within 12 months, meaning that the benefits of the merger will outweigh the costs one year out.  Both companies have outstanding compound annual growth rates (CAGR) for both revenue and income from 2009-2011; Stratasys revenue CAGR 2009-2011 was 25.5% and net income CAGR was a staggering 98%. Objet revenue CAGR 2009-2011 was 33.9% and net income CAGR was 39%.
Competitive stature: The combined estimated market cap of the new Stratasys is $1.4 billion; leading rival 3D Systems (NYSC: DDD) has a market cap of $1.3 billion. The remaining manufacturers of industrial 3D printers, including EOS and Envisiontec, are much lower in size and number of product sold. The next two years will probably see considerable market consolidation as a result of this deal and how remaining competitors react.  In 2011 3D Systems acquires several smaller manufacturers, mostly in the consumer sector; largest acquisition Z Corp. had both commercial and consumer products.