Ontario's tech hub nurtures content creators. Clara.io is a 3D modeling and animation tool that's inviting to beginners, and handy for professionals … at least that's the idea. The tool is getting regular updates thanks to its cloud-based state of existence. 
The Exocortex crew is a talented bunch of developers based in Ottawa. The team has been very active on several fronts. They create content for games and visual effects and as part of that work, they're tool makers. They've created translators for the DCC exchange tool Alembic, fluid dynamics tools, particle rendering, the Species character creation tool, and Clara.io an online modeling and rendering tool. Currently, the company is devoting a lot of its resources on Clara.io and they are taking advantage of the cloud to add enhancements as they can.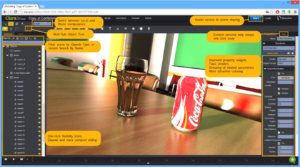 Clara.io is a full fledged 3D modeler. It lives in the cloud, and because it is still in beta, it's free to play with. The company says it has reached 26,000 registered uses. People can experiment with Clara.io by opening pre-made scenes or they can create their own geometry. The company is announcing new updates to their UI, new tools, new scenes, and new resources. The Clara.io team has just made the official announcement that Marc Petit has joined Clara.io as an investor and advisor.
Clara.io says they have improved their UI to make it more attractive. A quick look shows it to be more informative as well. One of the design goals behind Clara.io has been to present a clean, uncluttered face to users. Modeling tools are tucked away into logical menu tabs for working with edges, faces, or vertices. New features include the ability to switch between local and global manipulators, scene filter buttons, search by name, one click visibility icons, context sensitive help, one click access to scene sharing, and more is on the way says the company.
Last summer Clara.io announced a relationship with VRay to enable VRay rendering within Clara.io.  With their latest update, the company has added automatic setups for lights including: Overhead Light, 3-Point lights, and sun/sky light. Camera presets include overhead camera and turntable camera. They've also added a command "Select by Material," which makes it easier to switch materials for multiple scene modes.
One of the nice features of Clara.io is the addition of sample scenes to get new users started. The feature makes Clara.io a great learning tool for people and they're regularly adding new instructional videos. This update brings new scenes for people to work with as well.
What do we think?
It's all happening in the cloud. One of the trends that's becoming increasingly obvious is that a lot of really talented people are working on making 3D modeling, rendering, and animation easier and more affordable. It's happening on the design side with tools like Autodesk's Fusion, Trimble's now venerable Sketchup, 3DVia Shape, and numerous apps appearing for mobile devices. It has taken forever for a groundswell of interest in 3D content creation to bubble up among consumers and casual users; the tools have been too hard and/or too expensive, but these young (and youngish) companies are making it happen.
As for the crop of young companies appearing in Canada's tech hubs,  stay tuned, clearly they're just getting started. There is great work being done  and there is talent swapping around Softimage/Autodesk, Exocortex, Fabric Engine and other groups in the region.
It wouldn't be a surprise to see these small companies start coming together or to become acquisition targets. Out of curiosity, I went and looked to see who Mark Petit has been working with lately. The group includes Clara.io, Fabric Engine, Mixamo, and Verold. Not drawing any conclusions here, just figure it's an interesting vector to watch. 
The story has been updated to correct a wrong-headed insistence that the Exocortex team is in Montreal. They are not. They are proud to be working in Ottawa.