Dassault Systèmes and Autodesk invested in the advanced 3D construction documentation technology, but Trimble is better positioned to move it forward.
Today Trimble (NASDAQ: TRMB) announced it is acquiring Gehry Technologies (GT), the 3D construction management software and services firm founded by notable architect Frank Gehry in 2002. Autodesk and Dassault Systèmes combined over the years to provide $24.7 million in funding, but never could work out more than arms-length partnerships with the firm, which has remained co-located with the Gehry Partners architectural practice in Los Angeles.  Terms of the deal were not disclosed.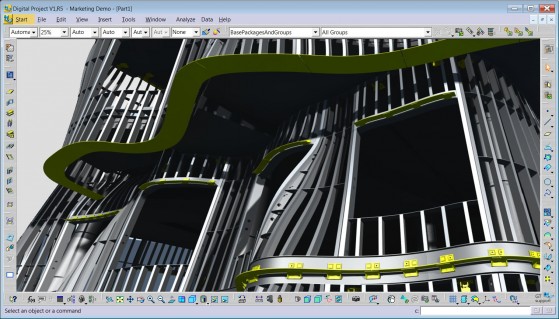 GT was formed to advance the vision often articulated by Gehry, who has signature architecture projects around the world. Without ever going hands-on with CAD, Gehry envisioned and often spoke on how a 3D computational approach to architectural design and construction documentation could transform the trillion-dollar industry.
Trimble has for years been acquiring pieces of what is now its Building Design, Construction, and Operations portfolio, very much a construction-oriented approach to Building Information Modeling (BIM) when compared to the design-oriented approach taken by other AEC vendors. Trimble now owns 3D architectural product lines SketchUp (3D drafting), Tekla (3D structural engineering), Vico (3D project management visualization), and Maybim (BIM services for mechanical/electrical/plumbing systems).
GT today sells two software products:
GTeam, a Web-based 3D file management and project collaboration platform, building information modeling (BIM) technology.
Digital Project, GT's first product, an advanced BIM modeling suite based on Dassault Systèmes Catia V5 but extended by GT to be useful with a wide variety of AEC products and file types.
What do we think?
In hindsight, Trimble's construction-focused approach to AEC technologies makes better sense as a home for Gehry Technologies than either Autodesk or Dassault Systèmes, which both focus on design issues. GT has software solutions, but primarily sells software to clients as part of its world-class project management consulting services. GT is legendary for helping construction firms figure out how to build the complex signature designs from architects like Frank Gehry.