News of the iOS app traveled through social media outlets today. It is well designed and runs fast.
SolidWorks has released an iPhone/iPad app for attendees of the upcoming Solidworks World 2011 event in San Antonio, Texas next week. News of the app traveled rapidly through Twitter, Facebook, and the SolidWorks blogger community.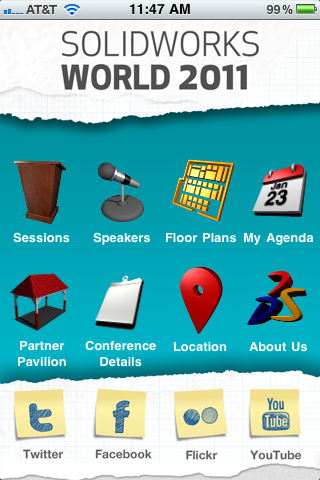 Some features of the app:
All sessions listed by schedule and by speaker
Biographies of all speakers
Floor plans for all conference locations
A link to an attendees' personal schedule (requires login)
Exhibitor directory and other show floor details
Addresses and maps for all off-site events and primary hotels.
The app is free to download for all iPhone / iPad users, either from the App Store on the device or by sync'ing with iTunes. The app requires the most recent version of iOS.
The app also links directly to the Twitter, Facebook, Flickr, and YouTube feeds linked to the show.
"Our events team really ran the project," says Matthew West, manager of social media for SolidWorks marketing. "The idea was to give people an easy way to navigate the show and stay up to date on the news. It also gives people who aren't regular Twitter/Facebook/Flickr users a way to see those updates in a single interface."
What we think
This app is simply brilliant in design and execution. All the logos are 3D and spin when selected. The information is well organized. SolidWorks raises the bar for what conference attendees should expect from their hosts.