Building a unique toolset at the intersection of design and explanation.
Corel has released an update to its popular CorelDraw Technical Suite, a mix of CAD and illustration tools for technical communications. The 2017 edition features enhanced support for 3D CAD formats, technical publication standards, and text translation. It also includes updates to isometric drawing, boundary tools, support for the latest hardware and devices, and more.
The target market for CorelDraw Technical Suite is the creation of technical illustrations and documentation for a variety of industries including manufacturing, aerospace, engineering, and architecture.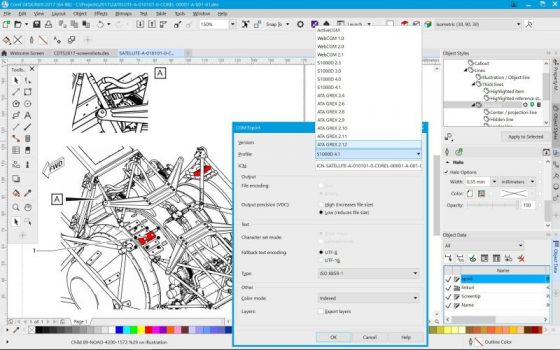 Isometric or other parallel projections may now be created by dynamically drawing on a projected plane. It is also possible to automatically extend curves to create closed shapes when correcting errors in legacy CAD data.
This update adds 3D CAD import and viewing technology from Lattice3D, allowing Technical Suite users to transform high-quality 3D CAD renderings imported from .dwg files, CATIA models, and IGES models. Once imported, these files can be converted into vector illustrations using 'Send to Corel Designer' or 'Send to CorelDraw.'
Other new features or enhancements include:
Translation Memory System (TMS) support: Enhanced XLIFF export and import make it easier and more cost-effective to create technical graphics with descriptive text in multiple languages.
Customizable User Interface: There are new flexible desktop color scheme options, as well as the ability to import legacy workspaces from Corel Designer (X6 & X7), CorelDraw, and Corel Photo-Paint (X6, X7 & X8).
File format & standards compatibility: Enhanced support for technical publication standards and formats, including WebCGM, S1000D, ATA iSpec 2200, SVG, and PDF, Adobe CS/CC, and others.
Design tools: The illustration tools have added support for hide and display of items, and the ability to split vector objects, text, and bitmaps.
Hardware support: There is new support for Ultra HD 5K monitors, support for advanced stylus and touch-enabled devices like Microsoft Surface and Wacom tablets, as well as the Microsoft Surface Dial. There is also a new Tablet Mode to sketch and annotate on the fly and make quick adjustments using touch or a stylus.
Image editing: Straighten Image, to correct perspective distortions, has been enhanced. Remove unwanted spots and imperfections from any image with the Healing Clone tool. Eliminate unwanted areas with Smart Carver and obscure parts of images with Gaussian Blur.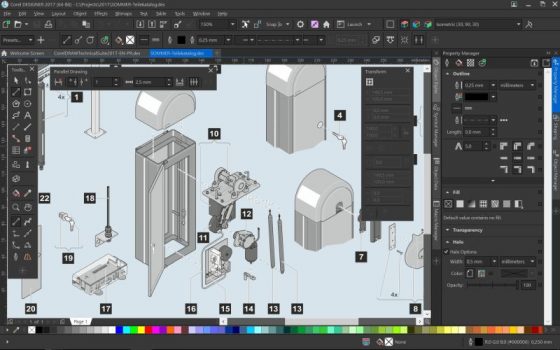 LiveSketch tool: Free form sketching can now be converted into precise vector curves. This feature takes advantage of artificial intelligence technology to adjust and combine hand-drawn strokes to existing vector curves. Corel says LiveSketch eliminates "the time-consuming task of sketching on paper, scanning, and tracing to vector."
The CorelDraw Technical Suite 2017 set includes:
Corel Designer 2017 — Precision illustration and technical design

CorelDraw 2017 — Vector illustration and page layout

Corel Photo-Paint 2017 — Professional image editing

Corel PowerTrace 2017 — Bitmap-to-vector tracing

Corel Font Manager 2017 — Font management for illustration

Lattice3D Studio Corel Edition — 3D visualization and authoring

Corel Connect — Content finder

Corel Capture 2017 — Screen capture

PhotoZoom Pro 4 — Plug-in to export and enlarge digital images from Photo-Paint.
An extended version of the Lattice3D Studio is available as an add-on. It provides advanced authoring tools to leverage 3D CAD data. It supports native assembly and part file formats for Dassault Systemès Catia and  SolidWorks, Siemens NX, Autodesk Inventor, PTC Creo, and others. Publish animated 3D visualizations as a 3D PDF or Lattice3D file format for instant sharing and publishing via online and mobile.
This year Corel also updates the business model and licensing issues associated with the product line. Customers can own or rent; 30-day and 365-day subscriptions are available. Corel says the percentage of customers who want subscriptions are a small minority. Corel is moving its release cycle to annual, matching an annual subscription, to make the whole process easier. Those who buy a perpetual license will have access to the upgrades as well.
What do we think?
Corel has been in the graphics business for more than 30 years; they have made a nice living as the go-to brand for professional graphics created and edited by people with other jobs. Nobody wants to buy a site license of Catia just to illustrate a technical manual. The broad range of functionality means customers don't go elsewhere to create their own portfolio of point tools, each one creating new ways to confuse and complicate the corporate workflow.