Carriots created a Platform-as-a-Service environment for enabling smart connected products. Altair wants to extend "design thinking" into the IoT conversation.
Mechanical simulation software specialist Altair has acquired Carriots S.L., an Internet of Things (IoT) technology company from Madrid, Spain founded in 2011. Carriots has developed an IoT application enablement platform (AEP) designed to connect and manage devices, collect and analyze data, and build intelligent applications together with enterprise business systems.
"Combining  Altair's software suites with Carriots' solutions for the IoT will provide our customers with the complete stack of technology they need to create, simulate and manage their new connected products over complete lifecycles," says Miguel Castillo, founder of Carriots.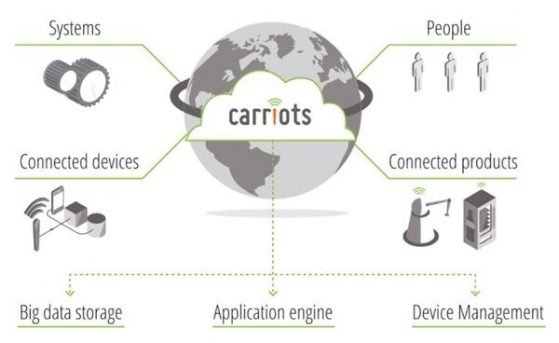 The Carriots platform lets customers choose their own hardware or infrastructure provider, tailor and build custom applications, integrate with third party solutions and corporate IT systems, or on-board devices directly to Carriots as a turn-key Platform-as-a-Service offering. Carriots claims it offers specific advantages in speed of deployment and scalability for broad use cases ranging from smart cities, energy, and agriculture to consumer products and logistics.
Terms of the deal and price were not disclosed.
What do we think?
Altair is jumping on the IoT bandwagon with a different point of view. Another way to describe simulation and analysis is to call it design intelligence; Altair wants to align its strengths in design intelligence to product utilization and performance. Instead of bearings sending notification to home base that failure is imminent (so maintenance can be scheduled), Altair wants to be in the loop to study the usage data that lead to the imminent failure. Altair calls this the extension of design thinking to product usage. Altair wants to offer continual performance optimization as part of a product lifecycle strategy.
Design intelligence in the IoT data stream also provides Altair with a seat at the table for creating and utilizing the digital twin — the idea that every product is perfectly represented by an exact digital model. The general assumption has been that the CAD model — the geometry — will be the host of the digital twin. Altair wants it to make sure the simulation data is there as well.
The normative idea of digital twin is a singular digital model that represents every instantiation of the physical model. Altair's vision would mean there is a digital twin for each and every product in service. If you think simulation of a product during the design phase creates a lot of data, wait until you have to host a digital twin that includes real-time continuous capture of performance data. This would explain Altair's deal with Oracle for cloud services. Altair can provide the server space for all this new IoT-generated data as well as help you sort it out.