Google threw a party for developers and gathered all the news coming out of CES, Apple's Developer Conference, Microsoft's Developer announcements and Surface announcement, Intel's Ultrabooks news and device ambitions, and Amazon's products and services. And then the company developed its own answer. Google has chalked out its competitive position and claimed considerable territory.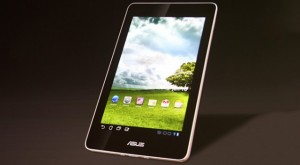 One of the most anticipated, and most widely leaked, announcements coming out of Google I/O was news of a new Google-branded tablet. Well, it's here now. The company introduced the Nexus 7 tablet, built by Asus, and emphasized its talents with Google's expanded media services through Google Play. It got a nice applause. Then the price was announced, $199 and it got much bigger applause, but the tablet does not stand alone. Google also introduced the Nexus Q, a cute little miniature bowling ball that ships music and media to the household speakers and the TV. It's similar to the ill-fated Orb, which we all loved for about 20 minutes, or the re-imagined Apple TV, which no one seems to have liked much.
The new devices, the Nexus 7 and the Q snuggle right in the continuum of devices. At $199 for the Nexus 7, Google is going to give Amazon a run for its money … lots of money especially with all the work Google is doing adding downloadable and streaming content. As an Android product it has hipster cred and coupled with Q it's yet another elaboration of a TV/multimedia product that Apple seems to be working its way towards. In this case, Google has gone a long way towards redefining how we interact with media.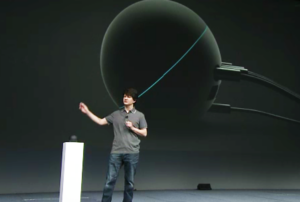 The Q streams content from the Google cloud in much the same way Amazon offers content from the Amazon cloud, so the idea is that people can share their content. They can grab their connected device, access content from the cloud and play it through the Q. You bought a movie in Google Play? You can go to a friend's house so everyone can watch it together. Or, you can share YouTube videos and music. The system will work with any connected device. To make the point, Google demonstrated the Q  working with the iPad. So, obviously, the service is every bit as important to Google as the device. At $199, the device is being sold at break even pricing or possibly subsidized.
The Asus Nexus 7 is built using Nvidia's Tegra 3. As the 7 in the name implies, it has a 7-inch screen and a 1280 by 800 resolution. The Tegra 3 features a quad-core CPU. Actually, it's a quad-core 4-Plus-1 meaning it has an extra little core that helps offload some duties to save battery life. The technology comes from ARM but Nvidia has created their unique design taking advantage of ARM's register set. And then there's the Nvidia graphics technology. The Tegra 3 features 12 graphics cores. Google showed off 3D games Horn and Dead Trigger to emphasize the Nexus 7's talent for gaming.
Nvdia is crowing about their role in the new tablet and it's a berth worth crowing about, but TI and by extension Imagination have crowing rights for the Nexus Q. The Q is built around an OMAP 4460 processor, which has an SGX640 graphics core. It's got 16GB of storage and 1 GB of RAM. It has its own 25W class D amplifier and it can work with home systems. The Q has support for WiFi, Ethernet, Bluetooth, and NFC to allow media and data to be exchanged. With two Q balls, music can be routed through the whole house giving it power comparable to the high-end Sonos systems from Logitech. Connectivity options include Micro HDMI (Type D), S/PDIF, 10/100Base-T Ethernet, Micro AB USB, and Banana jack speaker outputs. It's priced at $299.
So, how does it all fit together? At $199, wealthy gadget consuming households will think nothing of buying a Nexus 7 tablet. That is,  if they decide to go for Google's media vision with the Q. But, after the Google TV debacle, which has pretty much destroyed Logitech and sorely tried the patience of partners Sony and Samsung, that's not a sure bet. Google is long on technology but short on helping people actually put the stuff to work. That Google seems to get this, is evident in the improvements being made in the Google Play store and the advances coming with the Jelly Bean version of Android, Android 4.
There is going to be a lot of choice around tablets and there's also going to be much clearer definition between the products. The introduction of Microsoft's Surface has helped to define the issues with a Pro version to accommodate Windows workers with the Windows 8 OS and a not-so-pro version using Windows 8 RT. So, increasingly tablets will settle into tablets for work categories and tablets for play categories. There will be plenty of cross over but also as prices come down, there will be more than one tablet in people's lives, and in fact, some of those tablets will be phones.
All that said, there is also going to be an absolute Armageddon as customers take their time and make their choices. If you're not talking about work devices, but rather media devices, these things are going to accumulate. People will buy iPads, because that's what people do, but they have Kindles, and maybe Kindle Fires, and maybe the Nexus 7, and maybe the Microsoft Surface. After a while even the most heedless consumer is going to get sick of all the digital screens just screaming for attention around the house. And then … boom.