The acquisition was as much for the talent as for the IP.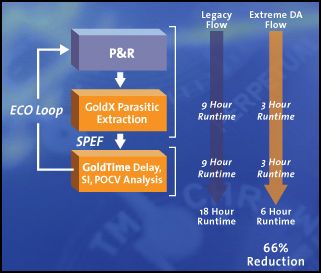 Synopsys has acquired Extreme DA, a privately held company that develops software to improve integrated circuit (IC) design performance, power consumption and manufacturing yields. The acquisition extends Synopsys' reach in static timing analysis and multicore software development by adding technology and engineering talent to accelerate advancements in Synopsys' timing analysis solutions. The terms of the acquisition, which closed October 6, have not been disclosed.
Extreme DA is recognized for ushering in the first commercial statistical static timing analysis (SSTA) tool suite, and for later introducing the ability to statistically model on-chip variation without the need for expensive cell library characterization in its GoldTime static timing analysis tool.
Synopsys senior VP Antun Domic says the acquisition will help Synopsys scale up to deliver design tools for the next generation of massive chip designs. He noted the quality of the engineering team as a leading factor in making the acquisition.