A majority of potential users have not yet migrated to building information modeling.
The most recent CAD market survey from Business Advantage Group finds that use of building information modeling (BIM) technology is starting to grow after several years with little market growth. Currently, across all professional disciplines 35% of relevant companies are using BIM technology in some fashion.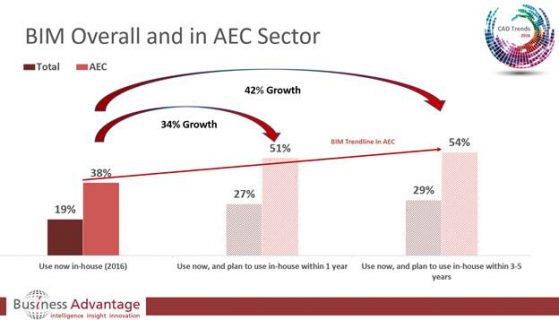 "BIM has been in flux over the last year with predicted growth not met," says Chris Turner, CEO of Business Advantage Group. "However, 19% of professional CAD users and managers across all industry sectors now use BIM and that is forecast to grow to 29% in the next 3-5 years."
The reports shows current and future BIM usage will continue to be dominated by the Architecture, Engineering and Construction (AEC) sector. In the AEC sector 38% of companies responding use BIM now. Responses to the survey predict 34% growth in 2016, bringing the percentage of potential companies actually working with BIM technology to 51% of the AEC industry.
The Worldwide CAD Trends 2016 Survey is based on responses from CAD users, designers, engineers, and other professionals including managers and senior executives. Business Advantage Group conducts the survey annually.
BIM continues to be a significant trend in the CAD market. In the current survey it is the seventh most important of the 15 CAD trends studied in this year's report. BIM is one of the few trends to rate as both "high importance" and "high usage."
The survey also reveals 5% usage of BIM in the manufacturing sector, which is expected to increase to 10% in the next 3-5 years. Overall, BIM users (as well as those planning on using BIM) perceive the main benefits of using BIM to be:
Design improvements (62%)

Savings on design time (47%)

Cost savings (40%)

Faster response time to market (35%)
Current BIM usage is highest in large companies (30%) and about the same in medium sized (15%) and small (13%) companies. By region, current BIM usage is highest in EMEA (22%) and N. America (20%), followed by APAC (11%).
The use of BIM moves users from 2D drawings to 3D models; the survey asked if users think the importance of 2D drawings is diminishing ("How important to your company are 2D drawings which are automatically [either fully or partially] generated from 3D CAD or BIM models?"). 45% of AEC users report that the importance of 2D drawings has not changed, 27% report a net decrease in importance and 23% report a net increase. "The main message is that the overall importance of 2D drawings remains the same and is not diminishing as a component of AEC design," notes Turner.