More than 1 billion mobile graphics processing units will be shipped in 2012. Intel is not the market leader.
While working on the most recent editions of the various market reports published by JPR, the research team thought it might be interesting to look at the total shipments of all mobile GPUs: in­tegrated, discrete, mobile PCs, vehicles, handheld game machines, smartphones, and tablets; physical units, not IP. Going in, we thought the top vendor would be a no-brainer, Intel. When the dust settled, we went, Hmmm—Qualcomm?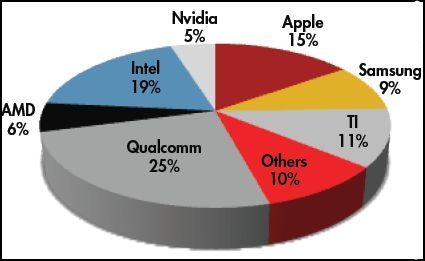 All told, almost 900 million GPUs of all types shipped in mobile devices of all types, and Qualcomm shipped the most, as the pie chart shows. Companies in the "Others" category include Allwinner, Amlog­ic, Broadcom, DMP, Freescale, Mar­vell, MediaTek, Rockchip, ST-Ericcson, Wonder Media, and ZiLabs.
Imagination Technologies is still the big winner on IP, being in more than 35% of the units. Right now only GPUs on the PC are open for parallel process­ing work. Next year, more than half of the mobile devices will also be avail­able for parallel process and doing SIMD processing on things like computational photography, AR, physics, and application processing. When desktop and TV GPUs are added, we expect something north of 1.3 bil­lion GPUs will ship in 2012.
GPUs—they're everywhere.