ARM's Mali GPU racks up wins. An expanded road map is now available.
Graphics capability is becoming a key factor in consumer purchasing decisions, helped in no small part by Apple. Rich graphics is now a prior­ity for anything with a screen, and for the System on a Chip (SoC) suppliers to the smartphone and tablet makers, as well as handheld game machines and in-vehicle entertain­ment (from automobiles to airplanes and boats).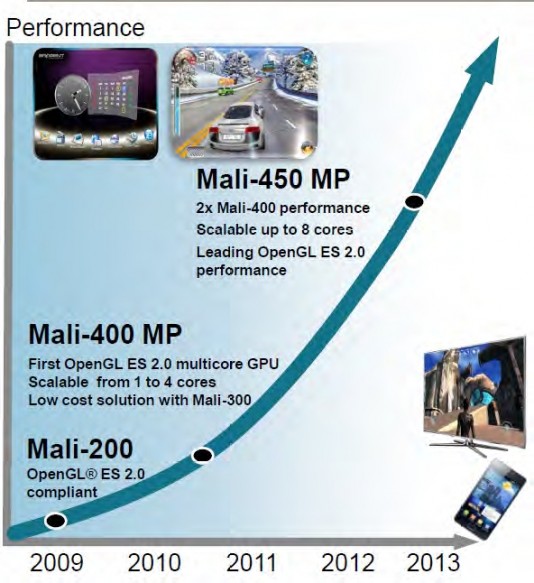 All of that creates a large and grow­ing market for GPUs—it's reckoned there will be more than 4 billion In­ternet connected screens in 2016, most with embedded graphics—and ARM plans on being a major player in that huge market. So do a few other compa­nies, just a few …
ARM is making tremen­dous progress in the field since they en­tered just under two years ago. ARM's Mali GPU is number one in graphics-enabled DTVs (over 70% market share), more than 20% market share in An­droid smartphones, and claims to be number one in Android tablets (over 50% market share).
ARM says Mali GPUs are the most widely licensed graphics processors with 60 licenses and 48 partners: 32 licens­es for Mali-400, seven for ARM's new Mali-T600. And ARM claims Mali GPU shipments are outpacing the industry growth rate and gaining market share, citing 12 partners who shipped 48 mil­lion units in 2011. They expect 25 part­ners to ship more than 100 million units in 2012—that is a sizeable number.
The big validation win for ARM has to be the Samsung Galaxy S2 and S3 (in their Exynos 4 and 5 SoCs). The com­pany has done well in tablets, too, just not with brands that are well known by consumers.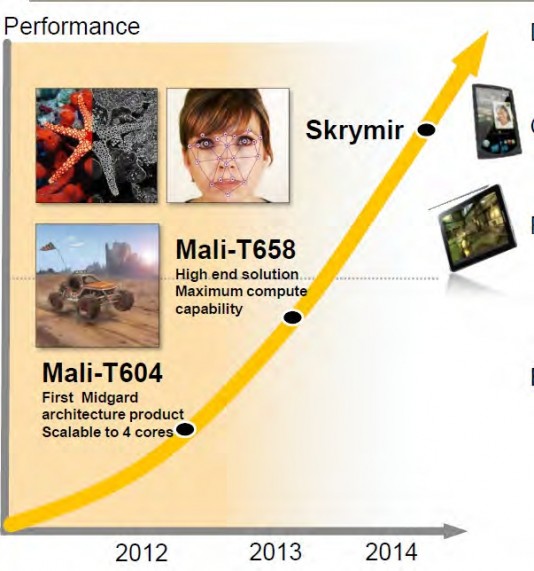 One of the major claims ARM is making is that it has the smallest mm2 of silicon per benchmark score—that's a new metric the company is introducing, but one that will resonant with many SoC builders in competitive markets like low-cost tablets in Asia.
Now the company has introduced the Mali-450 MP, which should start showing up in systems late this year.
ARM claims the Mali-450 MP main­tains the smallest mm2 of silicon per benchmark score and scales very well, doubling the cores of the Mali-400, and according to ARM, double the perfor­mance of the 400 MP.
If you want even more performance, then there are also the ARM Mali T-6xx processors.
Designed for GPU compute, ARM says the T-600 series will offer a com­mon software platform and thereby re­duce costs and time to market.
ARM says Mali-T600 silicon will be shipping in consumer products in 2H 2012. Its Skrymir is driving design wins in next-generation super-smartphones and mobile computers.
The market opportunity seems endless
Computational photography applications—panorama stitching, image recognition (face, smile, landmark, context, etc.), image improvement, stabilization, editing, and filtering, plus physics in games and photo editing—are the targets for GPU-compute in a mobile device, just as they are in the PC now. ARM is definitely picking up market share, as we predict­ed in our last bulletin, and getting a big-name win like Samsung certainly has helped their cause. However, Apple, TI, and Intel are still the big guns in the in­dustry, and they all rely on Imagination (as does Samsung in other less famous products). So even though ARM knows everyone in the industry through their processor licenses, the existing GPU IP suppliers are formidable and well en­trenched and will not be easy for anyone to overwhelm.