Sunglass adds management tools to its existing 3D viewing and collaboration in an effort to enhance the ability to collaborate in the design process. Models can slide back and forth between desktop CAD and web viewing. The company claims to be the first to enable cross format access.

Browser-based 3D design collaboration software Sunglass opens up new features today that make it the first to bring to market online tools for managing projects using diverse 3D model types. The founders compare what they offer to GitHub, a popular web-based service for software development, by adding a communications layer to their existing file viewing and markup.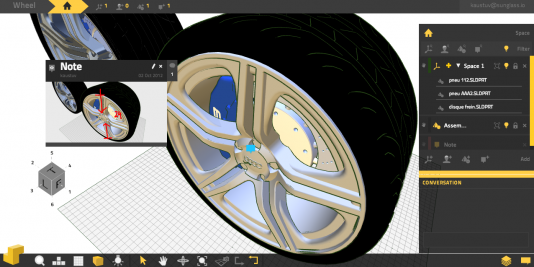 New features in Sunglass leaving beta testing and going into general availability today include:
Version browser: seamlessly browse through multiple revisions in a visual environment
Integrated plugins: edit and sync 3D files in real-time, maintaining full integrity between the desktop and cloud
Share spaces: selectively control access to individual parts of a larger project
Collaborative assembly: work with others on constructing the same design concurrently
Rich media annotations: beyond text comments, users can now pin images, PDFs, videos and hyperlinks as notes on 3D models.
Sunglass currently offers plugins to SolidWorks, Autodesk Inventor and SketchUp files, with support for Catia and Rhino coming soon. Sunglass users will be able to push and pull models from their CAD software to Sunglass as they make changes, to stream edits in real-time while carrying on live discussions with clients and collaborators in the browser. A particularly interesting feature is the ability for Sunglass users to work on assemblies simultaneously and share projects on a part-by-part basis, keeping certain layers of complex designs private.
Our view
The back-end architecture of Sunglass sets it apart right now. By supporting the two-direction use of CAD data as defined by the original software—not "dumbed down" for a lowest-common denominator review—Sunglass is presenting a serious cloud-based design environment. Consider the following scenario, as suggested to us by Sunglass: a San Francisco-based design team building a bike in SolidWorks can share a select part, such as the bike frame, with a manufacturer in Hong Kong as an interactive 3D model. The manufacturer and designer can have a complete conversation around the model, and as the manufacturer provides visual notes and feedback, the designer can make these changes in SolidWorks and sync the changes instantly back to the cloud.
Related
GrabCAD, Sunglass, and TinkerCAD are leading a CAD industry pivot
New Sunglass API connects to popular CAD tools, cloud storage sites