Teams will be rewarded for open design innovations. Dean Kamen is among the prestigious judging panel. Challenging orthodoxy is heady work.
Two small ambitious companies are sponsoring a competition for new designs for 3D printed rocket engines. DIYRockets and Sunglass are using the competition to encourage the use of open design processes as well as set the stage for disrupting the space transportation industry.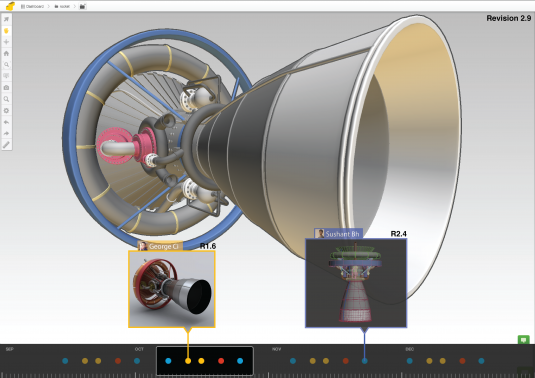 The challenge goes out to "makers, designers, and space entrepreneurs to create open source rocket engines that will serve the growing market for small payload delivery into low earth orbit and ultimately disrupt the space transportation industry," says DIYRockets co-founder and co-president Darlene Damm.
DIYRockets was started to drive down the cost of technology in the space industry, says Damm. The company focuses on crowdsourcing engineering techniques and encouraging the design of open source hardware. Sunglass co-founder Nitin Rao says Sunglass leaped at the opportunity to participate, believing the Sunglass design collaboration platform is a natural fit for DIYRocket's efforts. Damm and Rao were introduced by a mutual Facebook friend, says Damm. "I was blown away by what Sunglass is doing; it is several years ahead of what we thought possible."
As the leading prize sponsor of the challenge, Sunglass will award a total of $10,000 in prizes for the winning designs, focusing on technical aspects as well as collaborative teamwork. The 3D printing marketplace and community Shapeways.com will provide $500 in free 3D printing to help create each of the top two designs, which will be judged by legendary inventor Dean Kamen, TED Senior Fellow and Crew Commander of the NASA-funded HI-SEAS Mars simulation, Angelo Vermeulen, and a panel of industry experts hailing from NASA, MIT, and TED among others. "We will be recognizing people who give good feedback with an award for best contribution to open design," says Rao. "Some can participate without directly designing the product but by contributing to the open design process."
Participants are welcome to use any CAD product for their design work; Sunglass is not an authoring tool but a version control tool as well as a platform for collaboration. "Sunglass can help manage version at a granular level, providing help to small teams lacking large PDM and version control solutions," says Rao.
Sign up for the DIYRockets and Sunglass 3D Rocket Engine Design Challenge here: http://www.openspaceuniversity.org/#!rocketchallenge/c22xk
Our take
Challenging orthodoxy is heady work; sometimes you need a partner. Sunglass is trying to convince the product development world it needs an open design methodology, where everyone shares cloud-based access to models and participates in a transparent team approach to problem solving. DIYRockets wants to bust the space transportation market wide open by seeding open source hardware into the business equation. Together they are tilting at rather large windmills—or shall we say silos?
For the most part product development—whether it is a new electric tea kettle or a new jet fighter—is a process of one person's labor sent to another, sent to another, etc. Most feedback or "collaboration" is hierarchical in nature. It is steeped in a culture that assumes intellectual scarcity, where creativity is hard to find and must always be protected. Open source development is based on a culture that assumes intellectual abundance in a world where creativity is everywhere just waiting to be put to work.
DIYRockets and Sunglass are forerunners, and they are not alone. Automotive designer Local Motors has been using collaboration and open source designs (and contests) successfully for a while now. But what makes this particular contest significant is the use of Sunglass as a collaboration platform. The invention of the World Wide Web transformed open source software development, by simplifying group interaction. Sunglass, or some other software yet to come to market, can provide a similar catalyst to open source hardware development. Just don't ask me what happens when somebody in a rogue state can download and print a 3D rocket engine.