High-end additive fabrication units remain the top sellers.
Stratasys, Inc. (NASDAQ: SSYS) announced record second quarter financial results, with revenue of $49.4 million for the second quarter ended June 30, 2012, a 31% increase from the $37.8 million for the same period last year. During the announcement Stratasys also announced it is ending its distribution deal with Hewlett Packard.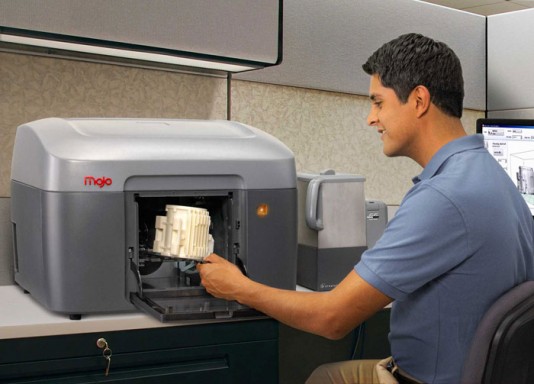 System shipments totaled 776 units in the quarter, compared to 735 units for the same period last year. As usual, Stratasys says sales of its high-end Fortus drove the strong revenue results.
Net income in the second quarter was $3.0 million, down from $4.0 million for the same period last year. Charges related to the on-going acquisition of 3D printer manufacturer Objet and the ending of the distribution deal with HP (see below) impacted net income.
Revenue from product sales in the quarter was $41.4 million, up 34% from a year ago. Revenue from services was $8 million, up 12.6% from a year ago.  Stratasys says revenue from consumables (material for 3D printing) increased 34%, based on growth in the total volume of units sold.
Late in the quarter Stratasys began shipping its new consumer class Mojo 3D printer. Revenue was negligible in the second quarter, but Stratasys says initial orders are "strong." Stratasys has recruited 120 sales agents who will focus exclusive on the low-end Mojo 3D and uPrint product lines, and expects to add 30 more before the end of the year.
Continuing a trend in the engineering industry, Stratasys revised its financial guidance for the fiscal year ending December 31, 2012. It now expects total revenue in 2012 to be between $193 million and $198 million, up from previous guidance of $183 million to $193 million.
According to Wohlers Report 2012, Stratasys had a 41.5% market share for additive fabrication/3D printing in 2011, and has been the unit market leader for the tenth consecutive year.
Goodbye HP
At the same time it announced quarterly results, Stratasys said it was ending its distribution deal with Hewlett Packard. The deal began January 2010 as a way for Stratasys to expand its dealer network, first in Europe. Stratasys provided HP with an exclusive line of 3D printers, which were branded as HP product.
In explaining the end of the relationship, Stratasys CFO Robert Gallagher said it was simple economics. "It really comes down to the relationship didn't work financially for us. It's as simple as that. Given the volumes and pricing within the channel, it simply was a financial decision."
Stratasys does not expect the end of the agreement to have a material impact on its financial results for the current year.