Revenue rose 20%, net income was up 10% from a year earlier.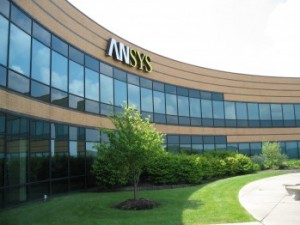 Ansys (NASDAQ: ANSS) today announced second quarter 2012 of $195 million, up 20% from a year ago; in constant currencies the gain was 24%. The company says total paid-up licenses increased 20%, with growth spread across all product lines and a broad array of customer industry segments. The amount represents a record for second quarter revenue at Pittsburgh-based Ansys.
During the quarter Ansys continued its share repurchase plan, acquiring 1 million shares of its stock. This is a common way for technology companies—who seldom issue dividends—to provide growth to shareholders, as a decrease in available shares generally makes the remaining ones more valuable.
Ansys stock was up 10% to 66.22 on early trading following the earnings announcement.
Revenue from licenses in the quarter (ending June 30, 2012) was $123.4 million, up 26% from a year earlier. Revenue from maintenance and services was $71.7 million, up 10.6% from 2Q11. Ansys says recurring business is now 70% of total revenue.
Revenue by regions for the quarter (based on non-GAAP reporting):
North America:  $69.6 million, up 36% from a year ago;
Europe: $62.2 million, up 7.4% from a year ago;
Rest of world: $63.2 million; 18% increase from 2Q11.
Ansys CEO Jim Cashman says despite "obvious macro-economic issues affecting our customers' buying patterns, we continued to see an increased customer reliance on engineering innovation as a priority."
Net income for the quarter was $50.3 million, up 10.8% from a year ago.
On August 1, 2012 Ansys closed the acquisition of Esterel Technologies, a vendor of embedded systems (mechatronic) simulation software and services.
Ansys continues to reward its executives well: the quarter's results reflect stock-based compensation charges of approximately $8 million.
Like other public engineering software companies, Ansys has revised upward its guidance for the rest of 2012. Ansys now expects third quarter revenue to be in the range of $194 million to $202 million, and full year revenue to be in the range of $801 million to $824 million.
Cash per share on June 30, 2012 was $5.92, a slight drop from $6.00 three months earlier and ending a rising trend. The cash drop will likely continue next quarter, when the Esterel acquisition goes on the books.
Five of our custom charts follow.
L. Stephen Wolfe, P.E., a contributing analyst for Jon Peddie Research, provided research for this report.