There are "several orders of magnitude" between what professionals and consumers do with Autodesk products, but Carl Bass and his team are watching consumers very closely.
In the past year Autodesk has gone on a spending spree. It has acquired a wide variety of consumer-based technologies and companies far removed from the home markets in professional design and digital media. While some openly wonder if CEO Carl Bass has gone mad, he insists otherwise.
"In some ways you shouldn't care that we are in the consumer space," he recently told a gathering of industry press and analysts at Autodesk University. "We might make $20 million to $30 million there this year." The key, Bass insists, is that "as students of culture, we will have 100 million users with only a small intersection with our professional customers. People we barely knew existed are jumping in because of the broad access to tools."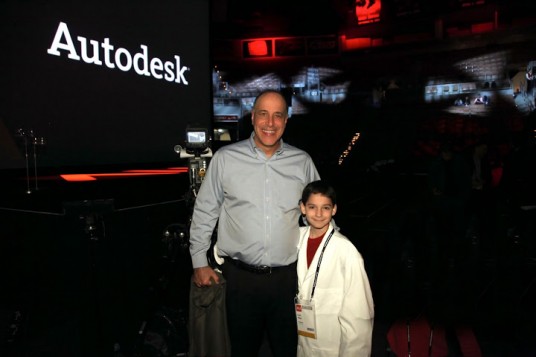 Bass says the consumer market "informs" the company's work on professional products. The company's hearty and early endorsement of cloud technology and mobile apps came from what they saw consumers doing, not what the professional market was doing or asking for.
Bass says he no longer uses company-issued devices, but brings his own smartphone and tablet into his professional life. "Why can't I have the same utility and convenience in my professional life as in my personal life?" he asks, adding that "being behind the firewall no longer interests me."
Throughout the hour-long press conference Bass and CTO Jeff Kowalski kept circling back to the theme of improving the professional product line by studying the consumer market. More than 50% of all mentions of Autodesk in the media are now based on its consumer initiatives, a form of marketing money can't buy. It was clear Autodesk's top leadership intends to keep the company agile by "watching what smart people do in their spare time," said Bass, paraphrasing book publisher Tim O'Reilly. But the consumer/professional nexus wasn't the only thing Bass and Kowalski wanted to talk about. Other topics and comments:
Building a relationship with geoscanner vendor Topcon while its rival Bentley Systems is doing the same thing with Trimble: There is room for co-existence in the civil engineering market, Bass said. "This is not a zero-sum game. We bring an abundance mentality to the table, not a scarcity one."
Design space exploration: Moving to 3D modeling was never meant to be an end in itself, Kowalski noted. The benefit of having a new product like Fusion 360—a cloud-based 3D modeling tool that can edit parts and assemblies from other 3D CAD tools—is the ability to add attribution as well as design flexibility. "We want our digital tools to be as flexible as tools in the shop," Bass added.
Mechatronics: The CAD industry still over-emphasizes form and geometry at the expense of function, says Bass.  What Autodesk currently does to enable functional design "is not enough; you will see more."
3D kernel technology: Kowalski said Autodesk is researching on many fronts, following its re-engineering of its Shape Manager 3D kernel for Fusion 360. "We want to change design so that simulation is upfront in the process," he said, adding the company is exploring the use of mesh models as well as various avenues of research on making geometry creation a more derivative process. "Thinking about kernels is the wrong level of abstraction," added Bass. "No one should care about the kernel."
On helping its professional users increase productivity: There is a large subset of Autodesk users who get locked into a specific set of features and don't advance in their knowledge of the product, Bass said. "We want to give them access to other ideas and features, to get them to another plateau." Both Bass and Kowalski pointed to social media tools as one possibility. "We are using social tools to solve pain points," said Bass. "Think about Yammer or Jive [social networking tools targeted for business use] or Pinterest [a site for sharing ideas using photos]; that's where we are going."
On building the direct channel: Autodesk's competitors in professional design and engineering primarily sell direct to their end users, while Autodesk has always been mostly about selling via resellers. But they are shifting. "Every time we add capacity [to our direct sales] we gain customers. Today 30% of our revenue comes from 0.1% of our customers."
On continuing to invest in cloud technology: "I do believe everything is moving to the cloud," said Bass. "The Internet is the greatest connectivity and communications device ever." Bass also noted that the mainstream will continue to downplay the importance of cloud technology while students will embrace it enthusiastically. "SMB will embrace the cloud; our customers will have a choice for the foreseeable future."