The latest brainchild of CAD industry legend Michael Payne, Kenesto may be the unPLM some businesses are waiting for.

The year of the cloud in engineering automation rolls on as start-up Kenesto ends its private beta and releases its new cloud-based manufacturing process automation system, Kenesto 2012, for general availability. It is designed to put users in charge of designing and deploying business process tools to match existing procedures, and offers zero client installation, plug-in-free, browser-based end user access to any engineering drawing or model, 2D or 3D.
Kenesto is the latest brainchild of Michael Payne, who previously was a co-founder of three successful paradigm-shifting CAD companies, PTC, SolidWorks, and SpaceClaim. Each of his other successful ventures took aim at an existing industry attitude or assumption, and Kenesto is no different in that regard. This time Payne is pointing the disruptor beam at server-based, consultant-installed, technician-managed product lifecycle management (PLM) and business process management (BPM) systems. Kenesto is designed so that anybody in an organization can create a business process workflow operation. "When we had to make a decision about how to implement a feature, we always went with ease of use," notes Payne.
Kenesto is aimed at manufacturing companies that want to capture, document, and automate loosely coupled long-running product-centric processes. Kenesto can capture processes as they are being executed, allowing a user to teach the software the business process to be automated.
Since the initial beta release Kenesto has added new features including:
Integrated forms capability: Users can transform paper-based processes into Kenesto processes, using just their browser. Forms created in Kenesto remain with the process on the cloud, are searchable and are access-controlled.
Enhanced reporting: Visibility into a company's processes assists managers in making decisions. Kenesto 2012 reports are customizable to answer questions like "How fast are we working on a given set of processes?" or "Which processes are in a specific step and how long have they been that way?" Standard reports included in Kenesto 2012 include Activities by Users, Process Throughput, Process by Time and Process Steps by Time.
3D viewing of parts and streaming of common video formats: Product-based processes almost always require that artwork be attached to the process, but the complexity of 3D has for the most part limited its use within the wider manufacturing enterprise. Kenesto supports most 2D drawing formats as well as most 3D parts files, plus Dassault Systèmes SolidWorks assemblies. All files are rendered in a browser with no client installation required. Kenesto also supports .mp4 and .wmv video formats."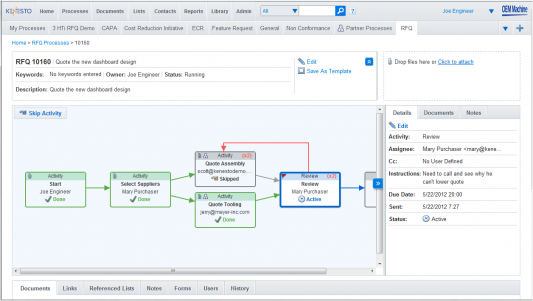 3D for all, minus the proprietary headaches
Kenesto thinks the widespread access to 3D models in the enterprise may wind up being a major selling point. "3D has historically been seen as something incredibly complicated," notes Payne. "Users must have special viewers, and there are all the interoperability issues. It has limited the growth of 3D. The days of paying Oracle to install AutoVue to look at things are over. This whole cloud thing opens up 3D for more people."
Kenesto has been working closely with TechSoft 3D, provider of component toolkits and platforms other companies use to create technical graphics solutions. As GraphicSpeak reported in April, (See "Twilight of the desktop tops the TechSoft 3D agenda,") TechSoft 3D recently launched a cloud-based initiative for the delivery of its services; Kenesto becomes the first vendor to ship a 3D solution using TechSoft technology.
An early beta tester was Metso Automation, a global supplier of technology and services to the process manufacturing industry. "Kenesto will make a significant difference in the way we process engineering changes and other workflow processes in our company," says Bruce Wetherbee, senior manager, engineering systems at Metso. "Many crucial processes in our business still run on paper because we had not found a system that is easy enough or flexible enough to replace our paper processes. Kenesto meets those requirements and now we can finally automate these processes and realize the benefits of greater control and visibility into our business."
Kenesto runs in any HTML5-capable browser, including mobile devices running Android and iOS.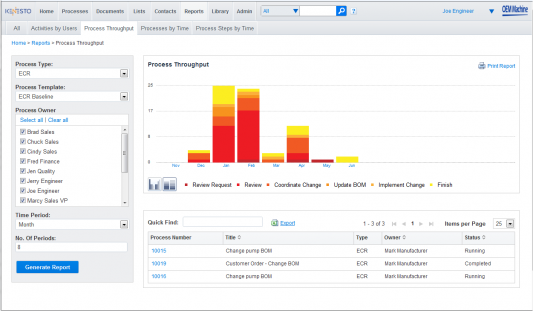 Pricing is no secret
Unlike most PLM or business process automation products, Kenesto does not hide its pricing model. The service is offered in a series of Process Plans. Each Process Plan allows a company to initiate up to a specified number of processes each month. Every Kenesto process includes access by an unlimited number of users, so everyone inside and outside a company may participate in Kenesto processes. And, each process may have an unlimited number of documents and/or attachments added to it. Intellectual property attached to Kenesto processes may be easily access-controlled to prevent leakage or loss of a company's IP.
Here are the currently available Kenesto process plans and the associated yearly costs:
| | |
| --- | --- |
| Kenesto Process Plans | Annual Charge |
| Up to 100 initiated processes/month | $6,000 |
| Up to 250 initiated processes/month | $12,000 |
| Up to 667 initiated processes/month | $24,000 |
| Up to 2000 initiated processes/month | $48,000 |
| Up to 8000 initiated processes/month | $96,000 |
Comparisons to Autodesk 360 PLM
The first product that comes to mind when looking at Kenesto is Autodesk 360 PLM, the cloud-based product lifecycle management system introduced earlier this year. Look past the cloud deployment, the openness about pricing, and the browser-based work environment and there are many differences. Autodesk 360 is aimed at the traditional PLM market, engineering departments; Kenesto is looking at wider deployment in the enterprise. Autodesk offers a long list of ready-made PLM operations; Kenesto offers a shorter list of business process solutions. Only Kenesto is offering zero-client access to 3D models from all leading CAD vendors. Both are optionally available from resellers who can assist with customization.
Either system could be customized to do most of what the other product offers, with the current exception of Kenesto's access to 3D models. Potential customers should look closely at their own needs and compare them to what each product offers.
When Autodesk introduced its new PLM product, it said it waited until it could do PLM "the Autodesk way" for companies who could not bring themselves to spending the hundreds of thousands or millions of dollars it costs today to deploy typical enterprise PLM. But start-up Kenesto may well have trumped Autodesk by bringing an unPLM to market that by offering less will appeal to more.